WRITE CLUB presents: FOUR STORIES HIGH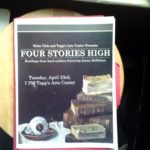 Tonight at Columbia's impressive Tapp's Art Center, a new writing group here in town makes its first public offering with appearances by four local scribes: yours truly, Lorna Festa, Michael Spawn, and Janna McMahan, who'll be appearing in support of her latest novel Anonymity.

As for me, I'll be presenting 'Trailer Trash,' my Saturday Evening Post fiction finalist featured in this anthology.
So, please join us in downtown Columbia's burgeoning arts district at 7pm to enjoy some free snacks and a cash bar, but most importantly to hear four distinct voices offering selections of their writing.
About dmac
James D. McCallister is a South Carolina author of novels, short stories, and creative nonfiction. His latest book, a story collection called The Year They Canceled Christmas, releases in November 2017.