Winding Down an Amazing Year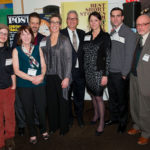 Ah, the holiday season…! It's that time when, for a month or so, this author's other role as a small business owner begins to take precedence over the writing career. I'm sure most working writers will find it easy to sympathize with the necessity of keeping food on the table, roof over head, et cetera—these days, trying to accomplish that only from writing fiction and magazine articles can be a tough, if all but impossible, row to hoe.
And so, here in early December I begin to think not only of future plans, but also of summation. As such, here's a rundown of all that happened in my writing career in the last eleven months, much of which has been documented thoroughly elsewhere at Edgewater County Confidential, but reiterated here both for those following my writer's journey, as well as the scribe himself. To remind him of all that he's accomplished, and to inspire all that's surely to come. Why he is referring to himself in the third person suddenly is anyone's guess… maybe because the successes enjoyed this year are so substantial as to seem almost unreal. Read on to find out why I feel this way.
WINTER
2013 began on a number of high notes: my dream-project, small-press Grateful Dead-themed novel Fellow Traveler had been issued in November 2012 in print and e-book form (my second novel after King's Highway), and an agent that had signed me began repping another ms., DOGS OF PARSONS HOLLOW, to all of the Big Six publishers. I said to myself, self, this is all none too shabby.
My first substantial writing project of the year involved the crafting of my first screenplay in several years, an adaptation of DOGS that my agent advised would be a good document to have on hand—it's a cinematic novel in the first place, so why not spread my scriptwriting wings again?
In only the second week of January, however, and before the year really got underway, I found myself honored with a trip to New York as one of the 2012 Saturday Evening Post Fiction Award finalists for my story 'Trailer Trash.' In addition, a story very close to my heart called 'Patterns of Recognition' reached publication in an e-zine called Fiction365. Again, not a bad way of getting the year up and running!
With this type of successful wind beneath my authorial wings, the next few months were spent on the screenplay, submissions of various short stories, and an intensive revision of the novel I wrote in 2012 called LET THE GLORY PASS AWAY, which itself is now out to beta-readers and a few submissions to independent presses and contests. Recognition is wonderful, but the muse does not lie low for very long—for many reasons, it cannot. Not if one is to continue enjoying accolades and publication opportunities.
More wind: As I promoted Fellow Traveler in February to a fairly rapturous reception at an academic conference in New Mexico, I received word from my agent about high-level requests for DOGS from editors at the following houses:
Hachette/Livre (Grand Central), Penguin Group (Putnam) Harper Collins (William Morrow), MacMillan (St Martin's), Random House (Doubleday), Simon & Schuster, and a couple of other imprints and independents.
"I'm feeling terribly accomplished at this news," I thumbed in response from my seat at the academic conference.
"You should be," she replied. "Let's keep our fingers crossed that we'll connect."
Top of the world. Add in a number of positive notices regarding Fellow Traveler, and you've got one happy writer on your hands. Not only had I pleased myself with this 'rock & roll fable,' but I had pleased fellow Deadheads. Mission accomplished.
The winter season closed out with another rather meaningful event: the release of another Muddy Ford Press title, The Limelight, a collection of essays from South Carolina artists regarding their mentors and influences. The collection closes with my piece about the Southern novelist and short story author Robert Lamb, whose guiding hand in my career has meant so much to me on a professional and personal level. Getting the opportunity to describe in print his effect on my writer's journey remains one of the great honors of my career.
SPRING
In April, I suffered the loss of a longtime best friend and influence on my life, and honestly it sent me into a bit of an existential funk, as the death of loved ones will often do. But then, I knew that to properly honor a friend who'd had so much impact on me, I'd need to redouble my efforts.
And then… the DOGS rejections. A few 'not right for me' responses, a couple of 'didn't connect the way I wanted to with the character's plight,' a 'didn't like the voice,' and a blunt, 'no suspense.'
One response—'I found it to be strong on the level of the sentence… but had problems with the plot,' gave me pause. I had a few plot issues myself. Maybe another revision in order.
Or, maybe not. Maybe we simply hadn't found the right advocate. And that is what's necessary, after all: An editor can't simply 'like' a manuscript enough to say yes. The editors have to go and pitch up the ladder the way writers do to get an agent, and the way agents must to get the material read by editors. And round and round we go.
The real problem, I suspected, is that, like all my work, DOGS OF PARSONS HOLLOW isn't 'escapism'. It has no vampires, no wizards, no bondage, only a bereaved mother assuaging her grief by attempting to rescue a group of abused fighting dogs from their atavistic, redneck keepers. As I read in one of the writing magazines, 'hard economic times mean people are looking to escape, not see the world depicted as it is.' Well, to that I say, I did not get into this game to 'escape,' I began crafting literary fiction to indeed depict the world as I see it, albeit through my writerly lens. As a fellow writer also says, one equally frustrated by the near-impossibility of getting thoughtful work read and picked up by the Big Six, 'Sorry, I guarantee all my work to be 100% vampire free.' Same here. And I will continue to do so.
With all of this steam and juice fueling my writer's engine, I embarked in May on a long-desired retreat to get started on Novel 2013, which happened to be the biggest and most ambitious project of my career, and that I'd been planning and dreaming about and prepping for many years. My would-be masterpiece. The big one. No escapism, or trashy Twilight fanfic, or dystopian teenagers, however. Guaranteed.
More Fellow Traveler accolades came: a request from the official Grateful Dead archivist at UC-Santa Cruz to accession my papers and early drafts relating to Fellow Traveler, an amazing and humbling honor! Writing may not pay very well, but knowing that my efforts to document the Dead experience in a literary fashion would rest alongside the band's own papers will surely be a difficult moment to top.
After the first of several writing retreats it would take to get DIXIANA written, I came back to the SC Book Festival to promote Fellow Traveler and moderate panels of authors discussing their own work, which itself is always a thrill and an honor. At this juncture I also received news that under the aegis of a key writing influence, the inimitable Pat Conroy, my alma mater's academic press would be starting a fiction imprint called Story River, designed to offer publication for what Conroy termed mid-list (and unpublished) authors writing South Carolina-specific literary fiction. Zing! I jumped at the chance to offer them yet another novel, my first literary epic entitled MANSION OF HIGH GHOSTS.
SUMMER
Unfortunately, this effort on my part would lead to the dissolution of my relationship with my agent, the nature and details of which have been covered and need no further commentary here, except to say that I have at least managed to maintain a friendship if not a professional relationship with this agent and fellow author, for whom I wish only the best.
The good news in all this drama is that MANSION has been well received enough to escape the rejection pile, garnering a semi-firm commitment to be included the second round of releases from Story River, a group of titles that should become available in the Fall of 2015. Triumph! My most ambitious literary effort, prior to DIXIANA, anyway, receiving recognition not only from the university I attended, but one of my literary idols. Dreams coming true.
More dreams: By August, I had my epic down on paper (mostly): Coming in at 300,000 words, I know that DIXIANA, in whatever form it will eventually take, will be as tough a sell as my other work—probably much more so, in fact. But again, I'm writing for the art, craft, and love of the game, so I went into the project believing that it had to be as long as necessary to say what I wished to say with the piece. And to be honest, I watch it continue to watch it grow into the second draft, too. So be it.
At the end of August, I received word that, like Fellow Traveler in 2012, my latest completed effort in the form of LET THE GLORY PASS AWAY had been shortlisted for finalist in the annual Pirate's Alley/Faulkner-Wisdom Competition. An honor, to be sure, but not quite making the finalist with what I felt was a strong entry confirmed what I already knew. After (only) four drafts, LTGPA needed another pass, a fine-tuning, and a few darlings killed.
All still a relative win, though. It would've once taken me many more drafts to get a novel into that kind of shape. Fellow Traveler took 12 years and innumerable drafts; MANSION OF HIGH GHOSTS eight years; and DOGS OF PARSONS HOLLOW through 17 numbered drafts in order to work out its various plot, character and style issues. Getting LTGPA read and appreciated so early in its life felt, and feels, as though I'm becoming the writer I've always striven to be. Add in DIXIANA, and we're back to the top of the world.
AUTUMN
The season began with a milestone: every serious writer dreams of being published in the New Yorker (or maybe they once did), and while I have not broken through to that level, an interview I gave to a journalist regarding a religious sect that I used to encounter at Grateful Dead concerts provided a truly thrilling moment when he quoted 'the author James McCallister' in his piece the magazine published about the Twelve Tribes. Now if that didn't feel like I'd truly arrived as a writer, I don't know what would.
More good submission news came in the first week of September: Two stories I submitted to a blind-judged national competition (that for now must remain nameless, by request of the journal) made the cut as finalists! With these two stories—'Locked in the Punch,' an Andy Kaufman tribute and also a 2012 Faulkner-Wisdom finalist, and 'Brenda, Becoming,' a romantic story inspired by my first trip to New York as a screenwriting college student back in 1987—making their stylistically-diverse presences known, I again got a boost I needed to Press On. The ultimate fate of these pieces will be known in January 2014.
With this fresh fuel for my creative fire, I began to build DIXIANA's second draft—certain scenes and plot threads needed to be better fleshed out, if not written outright—and I embarked upon another season of submissions. I tend to send short stories and novel queries out in the spring and autumn, usually basing these decisions around deadlines for competitions and reading periods.
After hitting somewhat of a creative wall with DIXIANA—not really; I just needed a little break from the endless research and work on the manuscript proper—I realized it was time to do a second draft of the DOGS screenplay, about which I'd made many notes, but had thus far found no time or energy to address. With my first attempt at teaching a basic screenwriting class underway at Midlands Technical College, I certainly had, and have, the screenplay form not only on my mind, but well in hand.
Not only did I have screenplays on my mind, but a casual meeting with a local filmmaker looking to shoot a feature project in 2014 (or at least a partner to consider writing one) led me to feel that it was time to work on DOGS, at least in that form, one more time for the year. A couple of weeks of work flew by, and now I have one more piece of (reasonably) polished writing in hand.
Between this script project, DIXIANA research, short story submissions, and teaching, one may rest easy that the dearth of blog posts over the last couple of months indicates only that this author has been so busy typing away that there simply hasn't been much time or juice left to document the process. One aspect of running this blog that I very much enjoy, and that acts as a kind of writing-related hobby for me, is the writing of reviews of concerts and movies that I enjoy (or otherwise), and I hope soon to get back to those regular posts as well.
If there's time.
THE PRESENT
Here in the first week of December, there's no real news, only another round of submissions of stories, story collections, LTGPA, and now this blog post, which I realize has been somewhat epic, but when you've had a year like I have, it takes more than a few tossed off words to properly document the journey. If there's any news between now and 2014, I'll be certain to relay it here and through social media, but for now, everyone have a lovely holiday season, and I'll check in with you next year.
Speaking of the future: Will 2014 bring anything close to the excitement of this frame now winding down? Hard to say, but rest assured, when I do know, so will all of you. Thank you for your continued support, and in the meantime, please come out to see me this Saturday, December 7, at the Richland County Public Library, where I will close out 2013 with their annual Local Author Showcase, one final honor to enjoy here in my amazing writing year.
About dmac
James D. McCallister is a South Carolina author of novels, short stories, and creative nonfiction. His latest book, a story collection called The Year They Canceled Christmas, releases in November 2017.