THE LIMELIGHT Drops This Sunday!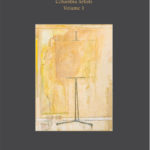 How exciting is this? We're less than a week from the release of The Limelight—A Compendium of Contemporary Columbia Artists, Muddy Ford Press's anthology of essays documenting some of the most vital members of our local arts community. I'm quite honored to be included with some thoughts about novelist Robert Lamb and his influence on my career, but there are plenty of other fine writers, musicians, performers, and visual artists profiled in the pages of The Limelight as well.
Here's the press release from MFP:
—
For Immediate Release – February 11, 2013
Columbia, SC
The Limelight – A Compendium of Contemporary Columbia Artists, volume 1 will release on Sunday, February 24, 2013 with a launch party from 5 – 8 pm at Tapp's Arts Center on Main Street in Columbia. The $15 admission to the event includes a copy of The Limelight ($18 after 2/11/13), music, food, and the opportunity to gather signatures from authors and artists in attendance at the launch. For couples wishing to share a book, admission is $25. There will be a cash bar.
The Limelight, published by Muddy Ford Press, LLC, is the first volume in a serialized collection of 18 first-person, narrative essays written by professional Columbia authors and artists about professional Columbia authors and artists. It is the sixth book to be published by Muddy Ford Press since February 2012.
Among the authors in this collection are Janna McMahan, Ed Madden, Ray McManus, Don McCallister, Jeffrey Day, Aida Rogers, and Michael Miller. Subjects include Pat Conroy, James Dickey, Nikky Finney, Gilmer Petroff, Stephen Chesley, James Busby, Blue Sky, and more. 
The Limelight is edited by Cynthia Boiter, editor of Jasper Magazine and author of Buttered Biscuits – Short Fiction from the South (Muddy Ford Press, 2012).
For more information or to pre-order copies, please go to www.MuddyFordPress.com.  Books are also available at Amazon.com and barnesandnoble.com. You may contact the publisher, Dr. Robert Jolley, at [email protected] or the editor, Cynthia Boiter, at [email protected] or 803-622-6606. 
—
Hope to see lots of folks there on Sunday for this cool pre-Oscars local literary event!
About dmac
James D. McCallister is a South Carolina author of novels, short stories, and creative nonfiction. His latest book, a story collection called The Year They Canceled Christmas, releases in November 2017.