Review (VOD): THE MAN IN THE HIGH CASTLE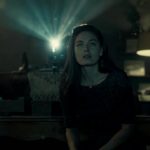 "You ever think how different life could be if you could just change one thing?"
Okay, I'll bite: How about if the Axis powers had won World War 2 instead of the Allies, with the United States partitioned by Japan and Germany into two occupied territories?
And what else? How about that both regimes, one controlling the eastern two-thirds of the country and the other the West Coast (with a lawless Rocky Mountain 'neutral zone' between two former allies absent a common enemy now suspicious of one another), find plenty of collaborators, some more willing than others?
Ready to see American flags with the field of stars replaced by the razor-edges of a swastika? And doesn't that black SS uniform look sharp on Ward Cleaver—I mean, the obergruppenführer of the occupied territory—reading the paper and having a wholesome breakfast with his all-American family before going to his high rise office down the block from Don Draper, but not before a call from an endangered double agent (who might be a triple-agent) as well as an inside-job assassination attempt?
That enough set up?
That's not even the main story.
In realizing, however, that one has entered the mind of the late, prescient, prolific novelist Philip K. Dick, it's clear that a grasp of the brutal realpolitik of this alternate history affords only a partial foundation for understanding the totality of the narrative.
Amazon Prime's The Man in the High Castle expands the narrative of the novel into a wide variety of character relationships and conflicts, a claustrophobic tone of desperation and phildickian paranoia, and strong production values that include slick CGI enhancement of a 1962-set United States chillingly draped with the blood-red of Nazi banners and Japanese rising sun imagery. On every level (except perhaps acting, which is serviceable from its cosmopolitan cast, many working with accents not their original), the show sets another benchmark for video-on-demand original programming.
As for the human drama that must anchor any such narrative, we find our primary characters spread among resistance fighters (Alexa Davalos, Rupert Evans), the double/triple agent (a suitably Aryan yet all-American Luke Kleintank), collaborators and sycophants, San Francisco-based Japanese imperialists and settlers struggling to manage their expanding empire, Obergruppenführer John Smith (Rufus Sewell) who besides managing various plots will face a test of loyalty to his adoptive fascistic cause, a stock-character, remorseless neutral zone bounty hunter (Burn Gorman, typecast) whose application of his own standards of justice bring the first 'act' to culmination in episode four, and a patriotic, meditation-minded, serene Japanese trade minister (Cary-Hiroyuki Tagawa) seeking to amend the balance of power between his nation and the avaricious, brutal Nazis by conspiring with his own German collaborator.
Phew.
And that doesn't even get to the actual human-level plot, initiated by Julia Craine (Davalos) and her desire to avenge her resistance-fighter sister's death, which she does through her involvement with the smuggling of enigmatic 16mm films that seem to depict an alternate reality to this alternate reality, in which the Axis powers did not, in fact, win the war… but other films seem to depict the future of the current timeline… including the death of a character who can't possibly be dead because he's watching the movie of himself being killed.
Meanwhile, Davalos's boyfriend (Evans) becomes so enraged by the occupying forces and their execution of his half-Jewish sister and her kids (yep; the final solution is still in effect here) that he embarks on a mission to assassinate the Japanese prince who's about to make an ill-advised public speech, but not if best friend D.J. Qualls, a cooler head amidst all this hot-blooded wartime vengeance and who'll later find himself in mortal jeopardy over all this, has anything to say.
To be honest, all this unfolds in a more straightforward manner than it might sound, but in the sense of full disclosure I will admit to being a longtime Dick reader, including the novel from which this ambitious, mostly successful original series is sourced.
Executive produced by Ridley Scott and Frank Spotnitz, The Man in the High Castle might not play to the taste of all viewers, especially in these times of high emotion, nationalism, and media-stoked fear of the Other that's a perennial ratings success story, but it does offer multifaceted characters faced with increasingly complex moral choices presented in an imaginative and disturbing milieu—if one is willing to go with the conceit. Viewers less familiar with notions of synchronicity, the collective unconscious, and the multiverse theory may simply find themselves stupefied at what could be perceived as plot contrivances, if not what writer Robert Anton Wilson would have called 'coinkydink.'
In any case, are you shocked by seeing images of uniformed thugs committing summary executions in the street without recourse to due process of law? Then stop watching the news cycle and head over to Amazon to start streaming this light entertainment that shouldn't concern you at all about the way in which your society is heading; or on a metaphysical level, certainly shouldn't put the notion in your head that the reality you are making is your own, and that it is malleable, and that the synchronous, enigmatic forces holding sway over your life in a manner most mysterious are possible to manipulate into the imagination of a better tomorrow.
Really—by the time you get to the end of episode ten, see if that's not what is going on here.
If all that sounds more like a convoluted Philip K. Dick novel than a television series, I suppose the production team should consider their effort a success. Whatever one thinks of this ten-episode season, which leaves any number of story threads dangling (including a surprising, and humanizing, unsolved moral dilemma for the Obergruppenführer, a deft bit of unanticipated, table-turning drama), The Man in the High Castle arrives as the most faithful and worthy live action adaptation of the venerated, mystical author's work since Scott's own Blade Runner in 1982. Highly recommended.
About dmac
James D. McCallister is a South Carolina author of novels, short stories, and creative nonfiction. His latest book, a story collection called The Year They Canceled Christmas, releases in November 2017.