Review (Theatrical): BOYHOOD (2014)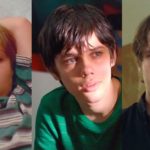 Ambitious, moving, and profound, Richard Linklater's BOYHOOD is hands-down the most artistically successful American movie since THERE WILL BE BLOOD.
Period.
More than simply a cinematic stunt (you watch in amazement as an actual boy grows into young adulthood, over 12 years or so of filming), BOYHOOD exists as both as straightforward text, but also metaphor, about being on the path to physical, emotional, and spiritual maturity, ultimately what we might call wakefulness. It's also quite a lot of fun, full of universal truths and experiences.
Mason Jr (Ellar Coltrane, who will take home all manner of acting trophies this year), ages alongside his sister (Lorelei Linklater, the filmmaker's daughter), mother (Patricia Arquette), and absent father (Ethan Hawke). Across the traverse of literally passing time (versus false cinematic time), we follow Mason and his family through multiple re-marriages of parents, frequent moves, fresh in-laws, new friends, rites of passage, heartbreaks.
Most importantly, he must face a seemingly endless and rocky traverse that are attempts by authority figures, many of whom are literally drunk on alcohol or otherwise their own maladjusted, misguided hubris, to influence his maturing body, mind, and spirit. To make him into their vision of what a human being should be. A man should be this; a man should be that.
Or should he find out for himself?
This is the central conflict of the movie. Can you resist external influences to find your own particular existential truth? "Look at the stars/look how they shine for you/and everything you do," as we hear Coldplay perform over the opening credits. Remember these lyrics as you watch this brilliant, unique movie.
While it's at times also quite amusing, Boyhood is neither family sitcom nor straight drama. Much like the protagonist, you cannot put this movie into a particular box. Trust me: you have never seen anything quite like it.
That's enough. The less said the better. It is a movie to be experienced, lived, and breathed. Highest recommendation.
About dmac
James D. McCallister is a South Carolina author of novels, short stories, and creative nonfiction. His latest book, a story collection called The Year They Canceled Christmas, releases in November 2017.