Review (Blu-ray): A LATE QUARTET (2012)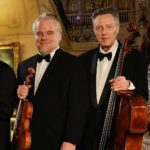 Dir: Yaron Zilburman Scr: Seth Grossman, Yaron Zilburman
An RKO Films Release
A famous string quartet called The Fugue has been around for twenty-five years, as has the marriage of two of its members, Robert (Phillip Seymour Hoffman) and Juliette (Catherine Keener). Both ensemble and relationship are fracturing, however—its cellist and senior member, a widowed music teacher named Peter (Christopher Walken), has been diagnosed with the early stages of Parkinson's, and a distance and staleness that's developed between Robert and Juliette prompts one into an ill-advised affair that threatens to end their relationship for good.
The group's 1st violinist, Daniel (Mark Ivanir), a former pupil of Walken's, also complicates the picture by having had a prior relationship with Juliette, one that's suggested as having been closer to true love than she's ever felt with Robert, with whom she became pregnant. A further-further complication is that a mentoring relationship between tutor Daniel and the couple's budding-musician daughter Alexandra (Imogene Poots) threatens to become a romantic one, mainly owing to her own psychological reasons rather than Daniel's attraction to her.
Worse than all that for Robert, however, is that he's always been 2nd violin to Daniel's 1st (though Robert is quick to point out that in this case the two 'aren't hierarchical in nature'), and that the quartet, too, is stale and ossified into a routine in which Daniel seems to take comfort—Robert, you see, gave up musical ambitions for the stability the quartet and the family offered, and wishes still to play other kinds of music than Beethoven's String Quartet No. 14, opus 131, a challenging piece their execution of which has made them famous.
"It's monotonous," he finally yells at Daniel—they always play it from the charts the same way, and Robert wants to take a risk sometime. "What, are we opening a casino now?" Daniel asks. They have been at this a long time, and change is a threat to them all.
Most devastating of all is Peter's impending retirement due to illness, which may be controlled enough through drug therapy to allow him to play a final concert, or even a season, as the rest of the group hopes—his is the gravitational center not only of the quartet, but of all their lives, the mentor-figure around whom the group coalesced and prospered. While losing him as a member is the plot point around which the rest of the movie revolves, the narrative doesn't spend too much time on his medical journey, with only a few token scenes of him being lonely and taking pills interspersed occasionally among the drama and conflict of the crumbling marriage plot.
A Late Quartet isn't a terribly exciting or unpredictable movie, and in fact becomes quite a bit more of a soap opera than I expected, but it is handsomely mounted and photographed, features serviceable if unsurprising performances from its cast of reliable, award-winning actors, and doesn't overstay its welcome with a portentous running time. Owing to a plot that consistently veers toward the melodramatic, I don't find the movie to be a particularly noteworthy benchmark of modern cinema, but it does offer a decent adult drama—rare, these days—that I'm glad I watched, and that kept my interest and touched me without being overly sentimental or maudlin.
The actors all do a good job with the mimicking of musicianship necessary for parts like these, and in classic movie fashion, inserts, judicious framing and editing helps keep the proceedings, and the actors, from getting bogged down by not actually being capable of playing these instruments. In fact, credulity is strained only by the plot thread of Phil Hoffman being a habitual jogger, which from his body shape seems a bit of a stretch.
Speaking of stretching, I give A Late Quartet two and a half violin strings.
About dmac
James D. McCallister is a South Carolina author of novels, short stories, and creative nonfiction. His latest book, a story collection called The Year They Canceled Christmas, releases in November 2017.