FELLOW TRAVELER Review in Dead Studies Vol. 3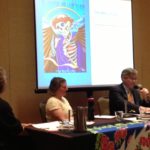 Among the reviews featured in the 2013 edition of Dead Studies, the third volume, is one of Fellow Traveler—a very strong and positive review. Here is a pull-quote.
"The novel is to a large degree about not only how first- and second-generation Deadheads keep in touch with what they learned from the Dead but also how the music and its significance get carried on to another generation. McCallister's narrative shows how this can happen in a way only fiction can achieve. Unburdened by claims to ethnographic truth . . . Fellow Traveler lives up to its epigraph: 'A good traveler has no fixed plans and is not intent upon arriving'."
                                               —Jay Williams, Senior Managing Editor, Critical Inquiry, University of Chicago (writing in Dead Studies Vol. 3)
Dead Studies is an ongoing series of publications documenting the yearly Grateful Dead Caucus meeting and the papers produced and presented there at the conference. Thanks much to Jay for his kind words, Dead Studies editor Nick Meriwether, and to all the attendees of this year's meeting who received Fellow Traveler (and its author) with open minds and hearts. See you all next year!
About dmac
James D. McCallister is a South Carolina author of novels, short stories, and creative nonfiction. His latest book, a story collection called The Year They Canceled Christmas, releases in November 2017.