Dear DIXIANA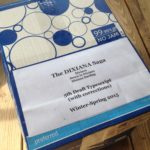 Two years ago, DIXIANA, you were but a gleam in my eye. Out of reach for so long, yet here now I find that you exist. You are one of the great loves of my life. In the room with me. Corporeal. I can touch you. How we began seems like only yesterday. Now, my imagination strives to remember what it felt like to not know you. Weird.
I thought about you so long before you were real, though, that I worried you might never arrive. It's like this bit of Rilke I like:
You who never arrived
in my arms, Beloved, who were lost
from the start,
I don't even know what songs
would please you.
I made that the epigraph of one of the parts of the first novel, since songs are so important to the characters inside your pages.
For so long you were lost to me, DIXIANA, that I believed I could not find you. I knew you were there, but it seemed you would not reveal yourself to me. Not yet, anyway. I didn't realize you were only biding your time. I was naive. I thought I could make you appear at will. Nope. It's a two-way street. Two to tango. Et cetera.
What's that? Oh, yes—what we now call DIXIANA is only the first novel. While you were so busy being born, you turned into triplets! You had so much to say, and I had so much I wanted you to say to others, that when your beloved characters began to come alive, they took off in their own directions and made the journey a much more complicated one than I had at first envisioned.
This attempt at the GAN (Great American Novel) about a South Carolina county like the one in which I grew up (as well as plenty of others in my home state) turned into more of a treatise and examination of much broader topics than a mere Southern literary comedy-drama about a prodigal son returning home and trying, in his psychically wounded and misguided way, to reshape the reality of all those around him. What he must learn, I discovered, is that reality is shaped first on the inside, and in some ways that might be the only place such effort truly matters. This message came to me and through me, somehow. The eleven other major characters go through similar journeys, but only some of them will find their way to a place of redemption and understanding. Maybe the protagonist doesn't quite make it, either. Don't want to spoil anything.
But of course, you, DIXIANA, already know the answer to the question of your ultimate resolution. You know how it comes out—who lives, who dies, who finds redemption, and which characters still have much growth and mastery left to accomplish. You may not know the answers to all of your literary riddles, but then, neither does your author. Much esoteric knowledge and experience came my way over the last two years, and much of it made its way into you, but the truest nature of these alchemical secrets must be kept and held with closeness and intimacy. Even from a fellow initiate like you.
Were that possible. Ha. I've no secrets from you, and you have none from me. Not anymore. We are both keepers of the key. In our own way.
Another question you might have: When will readers get a crack at you? Is that what I heard you ask with a trembling whisper? The answer is that you will arrive in your own time. This is the best I can offer.
But you're so impatient that you want specifics. All right.
You, the DIXIANA saga, must be preceded by LET THE GLORY PASS AWAY, which builds on my first two novels King's Highway and Fellow Traveler in setting up the milieu of Edgewater County, South Carolina, and even features a crucial sequence set inside the walls of The Dixiana, the honkytonk around which all of your action occurs. I also know this: Following you will be MANSION OF HIGH GHOSTS, which despite being admired by those who had considered publishing it, must now serve as a prequel to all that occurs on your pages. A long way off, probably, but then, MoHG can always be better as well, and this gives me time to consider the feedback I received.
But as for you, my three children named DIXIANA, DOWN IN DIXIANA, and DIXIANA DARLING, for now you are fresh out of the oven. You will need to settle and cool completely before I can regard you again with fresh eyes, and consider how best to release you into your ultimate maturity on the shelves and into the e-readers of those wishing to get to know you better, to become intimate with your ideas and emotions.
Each of your volumes is further sub-divided into three parts, so you are much more digestibile than many following our story may realize—right now, though, you loom intimidating in your size! You are like Bruce Banner after getting angry. You are green and ten feet tall. But have no worries. Even at your full length, you remain reducible to a manageable size so that readers won't be afraid to dip their toes into your waters, but without losing any of your strength. Unlike the Hulk, the longer you remain engaged in battle (it's called the editorial process), the smaller you will likely get. Still strong and powerful.
Relax, DIXIANA. You will never be available in 140-character tweets, or any such modern reductionism to suit the tastes and habits of the times. If because of this no one discovers you for a while—even until after I have gone from this world—that will be okay. I had so much fun writing you, to the point that for the most part it felt as though you were writing me, that I am already fulfilled.
I had a couple of book deals fall through while you were in the midst of your becoming, but now I know why they did not succeed: you were more important. You have always been the hero I was waiting to come and rescue me from my limitations. And now you have done it. You have saved and healed me, and when I begin to share you with the world, others, I hope, will see why and how this was possible.
So, dearest, as what we call our two-year Composition Phase draws to a close, let me tell you how much I love you, this deep and abiding love of being alive that I integrated into you along the way. Every time I read some of your pages, I feel that love and effort projected back to me, a circular symmetry that has fed and nurtured my soul in a way that few other activities have in my soon-to-be 50 years here on the spinning rock.
Thank you, DIXIANA. Thank you for being you, and for waiting to come into my life at just the right moment, at the time when I needed you the most. You have completed me. And one day, you, too, will also be complete. If you feel that way already, I don't blame you. But many people in the world who do not understand a relationship like ours may not believe that you are real until somebody prints you and money-energy begins to flow, but I can tell you today that they are mistaken. The validation you require has already occurred. Anything beyond these feelings of accomplishment and satiation will serve as gravy on the biscuit that we've baked together.
In fact, the way I feel having completed you to my satisfaction, it's like Bob Dylan sang, 'beyond here lies nothing.' It's not that I don't have more projects in mind. I do, including the last Edgewater County novel I have planned. It's called WANDO, and features as its protagonist a character named Jasper Glasscock who has been with me for many years, and who so enlivens your DIXIANA pages (as well as those of LET THE GLORY PASS AWAY, in which Jasper has an important cameo). Rest assured, there will be more to say; there will be blood on the tracks yet again. I suspect that nothing, however, will come along to top both the exultation and creative suffering I endured to bring you into the world to stand alongside me as both statement and companion. It's a supposition about which I'll be happy to be wrong, of course. I do have plenty more to say. Believe you me, DIXIANA.
But for now, you are boxed and out to beta-readers and ready for rest. As am I. While much remains to be done in terms of moving this writing career forward, the best and most fulfilling part—the creating—has drawn to a close for you, beloved DIXIANA. You have been my best friend and closest intimate, in a way, for two years now. Saying goodbye to this role—or perhaps only farewell—leaves me grieving and confused, both necessary aspects of the act of attaining closure. I know you will come back around to me, and that you will again need my attention and intimacy, but as with your gestation, only when you are ready, dear. Until then I will wait for you, even if you never arrive. Wait, that's not possible—you're already here. Phew.
Yours,
-dmac
About dmac
James D. McCallister is a South Carolina author of novels, short stories, and creative nonfiction. His latest book, a story collection called The Year They Canceled Christmas, releases in November 2017.