Book Review: BEAR by Robert Greenfield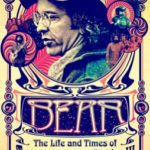 In 1985, when I became initiated into my new life as a latter generation Deadhead—it's called "getting on the bus," referencing a lyric from the Dead's psychedelic classic "That's It for The Other One"—I had certainly heard of Augustus Owsley Stanley III. As an aficionado of the 1960s social revolution I had missed by virtue of being born in the midst of it, my knowledge of important figures of the day included the most famous purveyor of LSD, the "high octane rocket fuel" that helped usher in what many felt was the beginning of a new age.
Even back in 1967's legendary Summer of Love, Owsley, a street chemist nicknamed "Bear," had already acquired a reputation for brilliance and mystery. Credited with manufacturing millions of doses of a drug capable of transforming an individual's worldview as well as that of society itself, Owsley cut a figure of enigmatic renown, in particular because so little seemed known about the man behind the legend. The new biography Bear by journalist and author Robert Greenfield (Dark Star: An Oral History of Jerry Garcia, Timothy Leary: A Biography) seeks to fill in many of those missing details.
From an interesting and somewhat unsettled childhood as grandson of a progressive (for the time) U. S. Senator from Kentucky, and son of a troubled father forever laboring in the shadow of his more accomplished patriarch, Owsley would become far more notable, and notorious, than either could have dreamed. An autodidact with a brilliant, computer-like mind—an epigraph from Garcia that opens the book reads "There's nothing wrong with Bear that the loss of a few billion brain cells wouldn't cure"—Owsley acquired a deserved, if overbearing, reputation for being the smartest person in any given room.
But Bear knew a great deal about more than chemistry: his contributions to live audio reinforcement would make the Grateful Dead famous not only for their lengthy musical improvisations, but for the clarity and power of their sound system. In an era when Beatles performances came piped through baseball stadium PA horns, Bear's commitment to devising new and elaborate methods of amplifying the output of onstage instruments would alter the way music lovers enjoy live rock concerts.
An inveterate womanizer and irascible, intractable egoist, in time Bear would not only wear out his welcome with the band for whom he provided early financial as well as lysergic support, but beginning in 1970 also served a two-year prison stretch. During this incarceration, he learned the fine arts of metallurgy and jewelry making, which would sustain him financially throughout the rest of his life in place of his former chemical endeavors. (Cultivating cannabis would also serve as a vocation, though Bear himself expressed disinterest about using this particular plant for its psychoactive properties.)
Ever the iconoclast, after suffering a series of recurring dreams about environmental disaster in the Northern hemisphere of the Earth, in the early 1980s Bear attempted to persuade the members of the extended Dead family to immigrate to Australia. While finding no takers, Owsley himself made the move, living out the rest of his years in converted shipping containers in a barren and secluded part of that vast continent. While he returned to America to attend Dead shows (I met and spoke with him at a couple), Australia would become his final home.
As health problems began to plague him, the once indomitable Bear began to show signs of frailty and fragility, particularly after a bout with radiation to treat an instance of cancer in his neck, a disease he attributed to breathing second-hand cigarette smoke during his years working in rock & roll sound reinforcement. This illness on top of open heart surgery a few years earlier left this iconic counterculture figure a skeletal version of his former hearty self, though to the end he hosted his own version of Down Under acid tests, as well as lived to see, and criticize, the release of over a dozen of his audio recordings.
While Greenfield includes a thorough bibliography, end notes, and discography, for such a towering, world-famous figure—his name, which became synonymous with LSD itself, enjoys a listing in various dictionaries—this biography ends up feeling somewhat thin and anecdotal. Intended more, perhaps, for the general public than scholars of the Grateful Dead experience for whom much of this material will read as duly familiar, Bear still provides a solid, humanizing overview of a cultural enigma who may have truly changed the world more than few other twentieth-century figures outside of politics or medicine. Augustus Owsley Stanley may have finally been brought to a prosaic end in a roadside traffic accident, but his spirit, intellect, and contributions to sound reinforcement will most assuredly live on.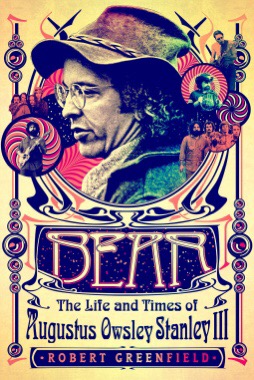 BEAR by Robert Greenfield
St. Martin's Press/Thomas Dunne Books
ISBN 9781250081215 
Pub Date: 15 Nov 2016
FTC Disclaimer: I received an advance copy of this book in exchange for an honest review.
About dmac
James D. McCallister is a South Carolina author of novels, short stories, and creative nonfiction. His latest book, a story collection called The Year They Canceled Christmas, releases in November 2017.