Welcome to EDGEWATER COUNTY
Edgewater County, South Carolina… I write about it, but where is it?
While it's been said by some—well, by me—that the county lies due east of Due West and somewhere north of North, I'm sorry to report that you won't find Edgewater County on any map, and in trying to find it, your GPS will spin in frustration.
In truth? Edgewater County exists only in the mind—that of your humble narrator, as well as readers perusing my novels and short stories.
As you may have figured out by now, the EC, as hipsters call it, is the fictional go-to locale for more or less all my published novels and stories. Alongside a slightly fictionalized capitol city to the south of the county called "Columbia," my hope is that these environments come across as recognizably modern and American in flavor, but more specifically, South Carolinian.
As for the imaginatively not-renamed Columbia, it's a city that will seem familiar to those who know the real place, except for the sort of minor changes that authors like me often make: venerable "Southeastern University" subbing for the even more venerable University of South Carolina, the "Old Market" standing in for the neighborhood known as Five Points, some street names changed, and other such cosmetic differences. No big whoop.
---
BACKGROUND
Such a not-terribly taxing reimagining came about in my early days of writing, mainly in order to feel that I was doing more than simply walking around, observing, and reporting on these oh-so familiar streets. Although I've written and published journalism, I didn't want to write my fiction that way.
It felt strange not to change the milieu—I needed authorial distance. In fiction, we conceive the world of the story rather than report on the real one. In theory, anyway.

By now, though, it should be clear that my fictional world isn't too different from the reality that I know, only enough to give me an internal license to feel creative. I've stayed within these locales not only because I live here, but also to have a ready-made fictional 'universe' from which to pull elements necessary to populate stories—a method of priming the pump, so to speak.
Not to mention that all these pieces now fit together in a particular way. A while after the Edgewater County train left the station, I realized that I had little choice but to stay onboard.
In any case, I'm much more interested in the interactions between characters, subtext, themes, etc, than I am world building, and having a convenient storehouse of locations, characters, and details makes the creation of new stories somewhat easier. As any learned reader knows, many writers have certainly employed a similar rubric—think Faulkner and his "apocryphal county" called Yoknapatawpha. (Not that I'm pretending to be close to Faulkner in artistic achievement.)
It's a conceit, all right, being the demiurge of one's own little playpen. Hey—it's fun. But if I do have a longterm goal, it's that future readers of the entire series of ten completed novels, and now over thirty short stories gathered into several collections, will enjoy the interlocking continuity of setting that I've managed to sustain.
Let's take a look at how all this is relevant to my published output.
---
NOVELS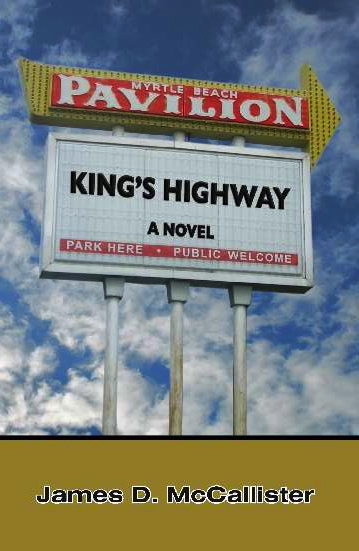 King's Highway's narrator, a scion of the DeKalb family of prominent Edgewater County lawyers and politicos, and who will produce one state representative, one governor, and one Hollywood voice actor, begins his story at Southeastern University in the long-ago Spring of 1978. But not much time is spent in Columbia or the EC—this is a Myrtle Beach story, and other than a few setup scenes, we find most of our narrative situated in that location. As one reviewer put it, "McCallister hits the bullseye with his main character, Myrtle Beach itself, the Cloud Cuckoo-Land of misspent youth."
Fellow Traveler protagonist Ashton Tobias Zemp hails from Charleston, and as
an adult lives on the Eastern shore of Maryland, but by the time of his return as a broken and empty man to South Carolina—they don't call him Z for nothing, or maybe they do—he lands squarely in Edgewater County, where his retired father and stepmother have moved. That FT is an alternate universe story—Jack O'Roses for the Grateful Dead, and 'President Gore' facing 9/11 and running for a second full term following Bill Clinton's 1999 resignation—makes it something of an outlier in the completed and planned series of EC-related novels. Nevertheless, many scenes take place in what would become my familiar fictional locales of Columbia and rural EC. Despite being my attempt to write the Great American Grateful Dead Novel, it just made sense to write this one that way.
Let the Glory Pass Away, poised for a January 2017 launch as the third of my published novels, serves not only as a continuation of the EC environment, but also as a detailed foundational cornerstone of all the other books to come. While at the core it's more of a Columbia story, novelist Cort Beauchamp takes several crucial journeys across the county line to visit relatives and a key location, the legendary honkytonk known as The Dixiana. These visits not only serve to spin the story in different directions, but the places Cort references appear many more times in all the future material in my publication queue.
---
SHORT STORIES
With the notable exception of my first published story "Forever 27," most others are set in the above-described Columbia and/or Edgewater County milieus. In particular, "Howdy from Upstairs" and "Heroes and Villains," my two SC Fiction Project honorees, find themselves well situated in the world I've created, so much so that Howdy himself returns as a key character in my upcoming series called Dixiana.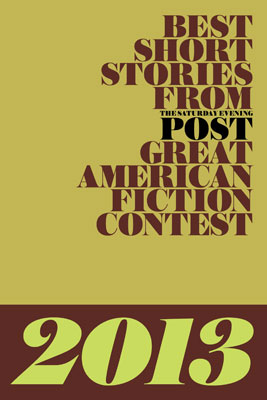 "Trailer Trash," a finalist for the 2013 Saturday Evening Post fiction award, also finds its clay-colored Keds planted firmly in the Edgewater County soil. Part of a series of stories to be published in a future collection called The Night I Prayed to Elvis, its adolescent protagonist interacts with several crucial characters from the Dixiana series, one of which, the legendary Reynolds "Rabbit" Pettus, also makes an appearance in Let the Glory Pass Away.
"Patterns of Recognition," published a few years ago in Fiction 365, is a disturbing psychological tale of dysfunction that is set in Columbia, and mentions the university setting I so often return to—hey, I not only attended USC, but worked there for ten years as a motion picture archivist. For this reason, as well as my continued proximity as a merchant in Five Points, the campus remains like a second home to me.
"Slow and Steady Wins the Race," a South Carolina Writer's Association pick for its Petigru Review publication, doesn't mention exactly where it takes place, but it should be clear to anyone who ever worked out at the downtown YMCA that we're probably in Columbia—I know, I know, where else?
While I do have a few other stories that were published in online journals, here ends this more than sufficient glimpse into the mechanics of Edgewater County, as well as the interlocking nature of my body of fiction. When next we post about this fictional world, we'll feature a look ahead at the different ways that future novels, including the next release Dogs of Parsons Hollow, fit into the grand scheme of things.
About dmac
James D. McCallister is a South Carolina author of novels, short stories, and creative nonfiction. His latest book, a story collection called The Year They Canceled Christmas, releases in November 2017.