Upcoming Author Events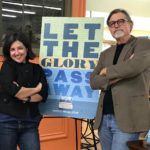 Mark your calendar! Here are a few upcoming opportunities to get signed copies of Let the Glory Pass Away and meet the author—that's me!
Come join me alongside my partner in crime Cat Shuler to find out not only about this new novel, but what Mind Harvest Press has in store for the future!
And from the catching up department, on January 28 I appeared on WUSC from 6–7pm on The Dinner Party, a local talk and music program hosted by Douglas Hartley. We not only discussed LTGPA, but other aspects of my writing career to date, the current state of indie publishing, and more! Have a listen below.
About dmac
James D. McCallister is a South Carolina author of novels, short stories, and creative nonfiction. His latest book, a story collection called The Year They Canceled Christmas, releases in November 2017.