THE APPROACH TO MAX PATCH: My 2013 Writing Retreat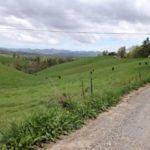 The clinical: after twelve and a half years of serious writing, a decent amount of artistic success, day-job burnout, the recent death of a close friend, and a raging desire to begin Novel 8 a/k/a Novel 2013 a/k/a DIXIANA, I needed a break from the grind and obligations of my daily life. I decided the necessity of this in mid-April, after which I powered through another two weeks of dutiful attention to this n'that, biding my time, and with a building core of magma ready to erupt. How would I direct all this energy and stress? How would I recover my sense of self, my artistic center?
The answer's easy for a writer like me—put all that the energy into a new project. The most ambitious you've undertaken. The one you've put off because of how much the idea of failure had scared you.
But that was the you who hadn't written the other books and stories. This is you Right Now. And you are Ready.
So, thanks to a benefactor and a fortuitous personal situation, I found myself leaving home on the afternoon of April 30, 2013 to go sequester myself in a house set amidst rolling farm country outside Asheville, NC, where I planned to not only get my heart and spirit in order, but also to begin what ought to turn into my grandest literary statement yet, a novel I've thought about and prepared to write for many years now, and which may one day represent the artistic peak of my output. More on this ambitious project in a moment.
After settling in both to an unfamiliar living and workspace, I spread out my notes and set up the Macbook Pro, glanced at the box of research materials I brought (covering several projects—I always carry backup material in case the pilot light's not sparking on the main project at hand), and took a deep breath. Not yet.
I went outside and meditated. Took a bike 'ride'; did a series of yoga poses and stretches. Consulted the Tao. Centered myself, and already began to feel the layers of stress and ordinary life slipping away. Earth and air, elements of great nourishment and abundance, were in evidence. Centered, there amidst rolling lush hills full of quiet and seemingly similarly centered animals content to graze and wander about. Only in this state of mind did I go back inside and begin to write.
I immediately found that going to a new and essentially generic workspace lent the locale a certain sense of tabula rasa, in that it included only a blank wall unadorned by personal totems as back in my home office. This could be anywhere, I thought. This could be everywhere.
I felt years of planning and ambition ready to erupt. I cracked my spine. And 'began'.
—
Truth be told, 'starting' this novel called DIXIANA is a bit of a misnomer: I've been thinking about this one, and working on it, through a couple of versions of the story, which over the years has been known by the following titles:
THE PETTUS-BATES BLOOD FEUD
TILLMAN FALLS
EDGEWATER COUNTY CONFIDENTIAL
EDGEWATER
and now its final title that you already know, with a sub-head:
DIXIANA, A Novel of Edgewater County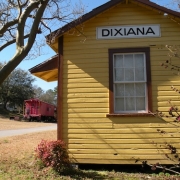 Work on the idea of a small-town epic with a number of major characters hurtling toward a localized but no less apocalyptic ending goes back over 20 years. TILLMAN FALLS, which consisted of about 30,000 words of actual text, was the only actual attempt to write a draft of this story, and it only petered out when I realized that too many pieces of the narrative puzzle were missing, as well as my ability to pull off a project of such ambition. At the time I'd only completed two novels, MANSION OF HIGH GHOSTS and Fellow Traveler. I had to write a few more before I could truly be ready to start on what I intended to be much larger in literary and intellectual scope than what I'd produced.
Also in hand, besides the draft of TF: a detailed, if somewhat outdated, fifteen-page character bible, and about 30 pages of general notes that simply needed to be sifted. No big whoop… except for the fact that I'd go hiking a number of times during my retreat, and with my head swimming with the novel that began to emerge, and with a digital voice recorder at hand, I'd produce over the retreat nearly 50 new notes on the project, notes I'm still transcribing. Good notes. All in all, I sat down to work with a bountiful bevy of riches at hand. Comforting.
—
About those hikes: Other than work, I haven't had much of a hobby in the last ten years, and in doing some day hiking at places like Caesar's Head and Sassafras Mountain, and reminiscing about childhood experiences such as being a Boy Scout and going hiking and camping a few times, I'm finding myself drawn to this peaceful and healthy activity. It's good for the body, hiking, and the soul, and the creative spirit—the notes I produced stand as testament to the power of quiet the mind and the environment.
And wait till you try meditating in the deep woods—staggering levels of insight and satisfaction with the state of being alive, and being part of this conscious universe. Needless to say, I came away from my hikes during the retreat with a new appreciation for the power of solitude and of communing with nature. A power we can all tap into, away from our glowing screens and motor vehicles and hard artificial surfaces that so define the technological program on which humanity, which unlike his tools and works comes to existence as an organic part of the environment, has found itself for so long.
By the time I made it to Max Patch, I found myself not so much on top of the world in a separate sense, but immersed in an ocean of nourishing earth and sky above. An ocean of consciousness. Limitless. Inspiring.
[youtube http://www.youtube.com/watch?v=FNTZu2q7NYI&w=640&h=390]
—
Over the course of the next eight days I'd compose 50,000 words of DIXIANA, but not all  out of thin air: I'd also seed the work by pulling segments out of the old TILLMAN FALLS manuscript. By 'seed' I mean to say that, character behavior, style, and voice from the earlier attempt were now of little use, but what I found I could do was to take a particular element from the old partial manuscript around which to write new text better in line with what I would call the current iteration of my literary epic and more mature writing style.
Perhaps the most fun part of all the work I did on this new novel, which is who-knows how far from existing in a completed first draft form (though I'm giving myself a year on this one) was in discovering how easy the voices of various characters came, all eight major POV players in this little comedy-drama of mine. This is the result of all those years of thinking, all the planning, the prior attempt to write the story, and the intense desire to see this novel get written: I may have done the work, sure, and you can look at all the notes and pages that already existed, but what's made this possible more than any of that is the fact that I've continued to THINK about writing this through all these years and other projects.
Our thoughts are energy; our thoughts can create reality. Through visualization, desire, and directed, positive, high-vibration energy, we can make real our dreams. I have been dreaming of what we now call DIXIANA for many moons, and so to come back with 185 pages of it now in existence isn't the slightest bit miraculous to me. It feels like the pages already existed, and I simply needed to transmigrate them from their place in the ether of my imagination into a more tangible form here in this current reality. This is the essence of successful creative writing—you are transcribing your dreams, or perhaps messages and other realities from other places along the timeline… which is really all the same place, the eternal NOW. That's certainly the way the creation of DIXIANA has felt so far—it is dropping into this reality, page by page, scene by scene. And now it's time to get to today's pages on this long-term project.
So, that's a view of what my 2013 writing retreat did for this scribe. Already ahead of the game in so many ways, after my retreat I not only feel better about who and where I am in life, but I'm well on my way to completing a version of my dream project—my life's work. Thank you for being a part of it by following my career and this blog!
About dmac
James D. McCallister is a South Carolina author of novels, short stories, and creative nonfiction. His latest book, a story collection called The Year They Canceled Christmas, releases in November 2017.