STATE OF THE PROJECTS Fall 2013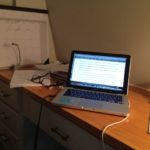 Here's a rundown on my various unpublished manuscripts.
—
DIXIANA—From May 1 to August 21, 'Novel 2013' consumed my life, mind, and soul; since then, I've kinda-sorta been in creative recovery, and for good reason: with this sprawling first draft now 'in the can,' as they say in the moviemaking world, DIXIANA represents the culmination of my entire writing journey. Getting through this massive and difficult project in only three months and three weeks feels as though I've arrived at a new personal-best  benchmark, though not without a remarkable amount of personal drama and painstaking effort, so much so that finishing the initial version of DIXIANA felt like breaking the surface and getting a big gulp of air after being chained to the bottom of a pool all summer. In a good way.
Interestingly enough, the filmmaking analogy works well: twenty years in the making, this epic, multi-character novel that owes as much to Robert Altman's 1970s cinematic masterpiece Nashville as any particular literary precedent. As for being actually finished? Nowhere close. At 1,040 pages and 280,000 words, this manuscript is going to be a bear to get into any sort of submittable state. I'm in no rush—it will take a considerable amount of career steam to get a publisher to take a chance on what will no doubt still be a long book, even in its eventual revised, polished, and presumably more condensed state of being.
These days, however, publishing options abound, even for such a beast: the design of the work involves eight sub-books (plus an epilogue) that, if nothing else, could easily be serialized as e-book novellas followed by an omnibus edition of all segments, a la the recent success of Hugh Howey's self-published SF epic Wool. In other words, with so much change and possibility now evident and available in the publishing world, the last aspect of DIXIANA I'm concerned about right now is its current length.
Honestly, having produced (in a single writing season, mind you) this career-defining project is more than enough right now to make me feel vastly more accomplished than I could ever have imagined back in the early 90s, sitting in my USC media archive office, making notes about a novel or screenplay featuring the character who remains the protagonist of what would become this particular story:
The Logline: Troubled by marital woes and a midlife sense of emptiness, well-off smoothie king Roy Earl Pettus inherits his grandfather's iconic honkytonk The Dixiana and seizes the opportunity to remake his dying Southern small town into his own modernized, moneyed image. Despite his good intentions, Roy runs into opposition from the local organized crime syndicate as well as the Edgewater Ladies' Munificence Society, a neighborhood association that he finds are the true holders of the reigns of power in Tillman Falls.
—
MANSION OF HIGH GHOSTS—As we know from this wonderful news back in July,
MoHG, as my original literary epic is known 'round these parts, sits positioned to come out from Story River Press as part of the second slate of titles from this exciting new fiction imprint at the University of South Carolina Press. We're a long way from a presumptive publication—Fall of 2015, or Spring of 2016—but knowing that the piece has passed muster  at my alma mater's new fiction imprint, one that's been started under the aegis of South Carolina's bestselling favorite literary son and personal influence Pat Conroy, leaves me with the a feeling of satisfaction that dovetails nicely with having gotten DIXIANA, as it happens a quasi-sequel to MoHG, out of my head and onto the page.
Like DIXIANA, MoHG took a long time, fifteen months to write the first draft (May 2004—July 2005) and which came in at a disastrous 270,000 words. Unlike DIXIANA, this was much much MUCH too long for the particular story and theme at hand, but through innumerable revisions and drafts and changes,  in 2011 I finally got the story, tone, length (160k), and overall impact of the novel 'right'—or at least as right as it seemed I could.
The Logline: A grief-stricken, end-stage alcoholic, Devin Rucker, returns home to South Carolina to confront the past that includes his domineering Southern matriarch of a mommy, his unfulfilled, betrayed younger sister, Creedence, and an old college friend, Billy, who we'll find resides at the root of the Rucker siblings' various problems. What no one knows, however, is that Billy, besides being guilty of his past betrayals to both Devin and Creedence, also happens to be a serial rapist and murderer, a fact that Billy himself doesn't seem to realize—he only knows that 'accidents' sometimes occur with women. It'd almost happened with Devin's old college girlfriend Libby. And it could happen again, only this time with Creedence, who has decided to respond to his entreaties to embark upon an impetuous and charged affair.
—
DOGS OF PARSONS HOLLOW—Almost a year after being signed by an agent to represent this particular manuscript, the project has been requested, read, and rejected by no fewer than seven editors, all at Big Six publishing imprints, with one submission still alive as of this writing, at least theoretically, at Penguin. Not a bad run, even if DOGS never sees big-ticket publication, and much about which to be proud. All of the credit for taking this project as far as it got goes to agent Michelle Johnson at Inklings Lit, a class act all the way.
Time will tell if DOGS sells, ends up self- or small-press published, or lies fallow until I give it another revision with some of the rejection criticisms in mind. I don't take the rejections personally—DOGS is what it is, and these pieces can always be better.
The Logline: Bereaved mom Randi Margrave relocates from the city to rural Edgewater County, SC, to recover from the death of her son, but when she discovers she's moved in next to the Macons, a family of backwoods dogfighters, Randi chooses to risk all she has left, even her own life, in freeing the abused pit bulls of Parsons Hollow.
—
LET THE GLORY PASS AWAY—Now out on submission, LTGPA is a mainstream/literary dramedy set in contemporary Columbia, SC, and inspired by our city's recent arts scene renaissance. The novel found itself on the 'Shortlist for Finalist' list in the 2013 Faulkner-Wisdom competition, so I feel good about its overall status and readiness for further submissions, including to Columbia's Muddy Ford Press, who did such a good job with Fellow Traveler.
The latest draft, which is about 10-15 pages shorter than the Faulkner-Wisdom version, tightens up the story considerably by removing one unnecessary subplot, as well as a couple of sloppily resolved narrative threads involving side characters; I can't help but feel that this much improved LTGPA might well have made it to finalist status.
First written in 2012 and completed through a half-dozen revisions, this novel represents the shortest interval yet from in
ception to completed first draft, the polar opposite of DIXIANA's long gestation. LTGPA's sort of a novel-of-the-moment, so I feel a modicum of urgency in seeing it come to publication.
The Logline: Aging Southern novelist Cort Beauchamp, a stodgy, reclusive fussbudget reeling from past tragedies, a failed marriage, and the unrealized ambition of writing a historical novel about the burning of Columbia, is recruited to persuade an even more reclusive and reluctant local rock musician into accepting a downtown monument to the glory of his superstar recording career. The task proves additionally problematic when the musician unexpectedly falls for Cort's new girlfriend, Marcy, an ambitious but middle-aged singer-songwriter longing for a last shot at stardom. 
—
KUNK—A memoirish, mainstream, 80,000 word novel perhaps best considered as an 80s-set companion piece to my 70s tribute, the coming-of-age saga King's Highway. Inspired by my time making films in the USC Media Arts program, KUNK occupies a special place in my heart, but I don't currently have plans to shop it. Every writer needs one in the trunk, right?
Having said that, KUNK ties in nicely with all the other Edgewater County books, and seems to set up this nameless narrator as an important figure in the coming history of Tillman Falls, SC, that will be told in the new novel. That I don't really have a character name for this guy, or any intentions to continue his particular story as part of DIXIANA, exists as a possible anomaly in the Edgewater County tapestry I've created.
The Logline: A nameless narrator recalls his season of collegiate creativity writing scripts and making films under the influence of the streetwise, late-blooming college student Levon Kunkle, a time in which our hero's biggest mistake seems to have been competing for the affections of his dream girl Camille with the one rival he dared not challenge: Kunk. 
—
MIRIAM MULLINS—The least finished of all current novel-length manuscripts, the comparatively brief (<60k words) New Adult or Crossover Fiction piece needs a good solid revision, mainly in its second half, which is much 'younger' than the first half, which had lain in the drawer for a couple of years waiting to be finished. Besides a good solid revision for style and flow and whatnot, I know of at least one major plot turn that needs reconsideration, as well as the innumerable word-choice questions and decisions that come up as the revision process gets down to that level of attention.
The good news is that the first 12.5k words of this W-I-P scored a semi-finalist placement in the 2013 Faulkner-Wisdom comp. Not too bad for young, yearning to be younger 'Miriam.'
The Logline: Mousy and emotionally stunted Courtleigh, who at 25 and following the death of her forever-ailing mother is broke and dumb and at loose ends, makes the terrible decision to take advantage of her youthful appearance by pretending to be 'Miriam', 15, and reliving her lost teen years. When her no-good, drunk father shows up to collect the life insurance money, however, Courtleigh commits an act—murder—that could mean she'll have to stay Miriam Mullins forever.
—
So, that's where we stand on the various unpublished novels here in lovely Autumn 2013. In addition to those manuscripts, two story collections have been sequenced and sent out to a few competitions, described in a pair of posts from back in the spring. Click here for the details on PATTERNS OF RECOGNITION, and here for THE NIGHT I PRAYED TO ELVIS, either of which would make for another solid small-press publication to add to my growing bookshelf.
Thanks for slogging through this detailed update. In the next post I'll provide an update about a couple of individual story submissions that have gotten good feedback this year, including two stories that have been designated as finalists in a national competition-to-be-named-later.
About dmac
James D. McCallister is a South Carolina author of novels, short stories, and creative nonfiction. His latest book, a story collection called The Year They Canceled Christmas, releases in November 2017.