STATE OF THE PROJECTS Autumn 2015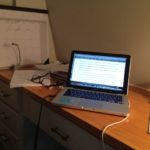 Time again for this writer's report about my various unpublished manuscripts. In this post I will reveal that at least one of these novels will see publication in the next calendar year, although the mechanism for such remains at the moment in a state of TBD.
One way or another, however, I feel secure in announcing that in 2016 the 'official' Edgewater County series will begin emerging into the digital aether, and in the following order:
LET THE GLORY PASS AWAY
DIXIANA (Serialized in three parts)
DOWN IN DIXIANA (Serialized in three parts)
DIXIANA DARLING (Serialized in three parts)
MANSION OF HIGH GHOSTS (Serialized)
WANDO
Of these, only WANDO remains unwritten. The others are all complete and polished, including with some degree of reader feedback incorporated into the revisions.
In other words, almost ready for prime time.
---
History: I began these posts in 2013 while signed with an agent and promoting a small press novel, so I was in career-building mode and tracking along the traditional path to publication. I had given myself until forty to finally get through a novel-length manuscript, and had; by fifty, as I'd set out for the next mega-benchmark, I wanted to have been signed for a book deal with at least a mid-level independent press with national distribution, if not with one of the publisher's row behemoths.
I got close—but no cigar. I turned fifty in August with not only no book deal, but no agent and no prospects. With that in mind, and after a bit of a heartbreaking experience with a youthful influence turned publisher last year, I decided during my post-DIXIANA break this summer to take a step back and reassess not only my career goals, but the path to achieving what I now have in mind for the body of work now in various stages of polish and completion.
Right—so what that I haven't scored that deal I once dreamed of making. I actually wrote the books anyway. Wrote, revised again and again, and now have a body of publishable work that's sitting and waiting attention. As I said, all the manuscripts require some degree of additional work to be put into a publishable state, but I will say that no editor taking a look at this material will be chagrined—much refinement has already occurred, on both macro and micro levels.
Let's get to the material in question:
LET THE GLORY PASS AWAY
LTGPA is a mainstream/literary dramedy set in contemporary Columbia, SC, and inspired by our city's recent arts scene renaissance. The novel found itself on the 'Shortlist for Finalist' list in the 2013 Faulkner-Wisdom competition.
The latest draft, which is about 50 pages shorter than the Faulkner-Wisdom version, tightens up the story considerably by removing several sloppily resolved narrative threads involving side characters, as well as deletes two sequences that ended up being used within  the text of DIXIANA. I can't help but feel that this much improved LTGPA might well have made it to finalist status in Faulkner, and feels the most ready of all my work for publication.
First written in 2012 and completed through ten major revisions, this novel represented the shortest interval yet from inception to completed first draft, the polar opposite of DIXIANA's long gestation. LTGPA feels like novel-of-the-moment, so a modicum of urgency in seeing it come to publication moves me to place it first on the list.
The Logline: Aging Southern novelist Cort Beauchamp, a stodgy, reclusive fussbudget reeling from past tragedies, a failed marriage, and the unrealized ambition of writing a historical novel about the burning of Columbia, repays a debt to a mentor by persuading an even more reclusive and reluctant local rock musician into accepting a downtown monument to the glory of his superstar recording career. The task proves additionally problematic when Cort's new girlfriend, Marcy, an ambitious but middle-aged singer-songwriter longing for a last shot at stardom, falls for the rock superstar. 
---
The DIXIANA Series
From May 1, 2013 to this month, April 2015, this ambitious project consumed my life, mind, and soul: with this sprawling sixth draft now complete and polished, DIXIANA represents culmination, in a sense, of my entire writing journey, and in the end became three long, weird, literary novels: DIXIANA, DOWN IN DIXIANA, and DIXIANA DARLING. I blew my own expectations out of the water. Needless to say, I'm terribly proud of this work.
Blog entries detailing the story may be read here.
The Logline: When cuckolded 'fruitshake' millionaire Roy Earl Pettus inherits his grandfather's iconic honkytonk The Dixiana, he decides to tear it down as part of remaking sleepy Tillman Falls, SC, into his own modernized, moneyed, hubristic image. The Dixiana's more than a honkytonk, however, and many interests want to see it, and its iconic Confederate flag mural, stay just the way it is. With his marital life in tatters and a grandmother for whom he must now care, Roy must choose between returning to his life on Sedge Island, staying on in the hometown to which he swore he'd never, ever, ever return, or a possible third way that's revealed through a burgeoning relationship with a local hippie no-nukes activist and New Age devotee dabbling in her own brand of magical realism, Button Sykes.
This represents the main conflict, but it is only one of a large tapestry I've woven across a dozen major characters. While I'm not sure I'll be shopping this novel anytime soon, I've made one query to an agent specializing in such ambitious material. If that yields a nibble, I'll have an indication I should proceed with an attempt to sell this novel series to a traditional publisher. If not, perhaps I'll consider going it alone and putting my own resources into editing, design, and marketing to then serialize the material as e-books. Or some such plan.
---
MANSION OF HIGH GHOSTS
As we know from this wonderful news back in July, 2013, MoHG, as my original literary epic is known 'round these parts, had been under consideration for publication from Story River Books as part of the second slate of titles from this exciting new fiction imprint at the University of South Carolina Press. After a long wait with periods of heat followed by icy cold, the deal fell through. C'est la vie.
The backstory: Inspired by a terrible car accident in which I was involved, MoHG took a long time, fifteen months to write the first draft (May 2004—July 2005), and that came in at a disastrous 270,000 words. This was much much MUCH too long for the particular story and theme at hand.
Through innumerable revisions and drafts and changes, in 2012 I finally got the story, tone, length and overall impact of the novel 'right,' or, at least as right as it seemed I could. It can always be better, and at 160,000 words, shorter would help. As such, I've taken to heart many of the notes I got in the peer review process at Story River, and have embarked upon a revision that has already shortened the book by 10,000 words. Supporting characters Creedence and Roy Earl are leads in DIXIANA, so MoHG has now been designated as a prequel to that series.
UPDATE: After digesting the peer review from Story River, I gave the manuscript one more pass, cut eighty pages and wrote about seventy new ones, all to the betterment of the material. Well suited for serialization, I'm no longer concerned with MoHG's 150,000 word length.
The Logline: Tormented end-stage alcoholic Devin Rucker returns home to settle a score he can barely remember with an old college friend, Billy, and a dead girlfriend, Libby, over whose sacred memory they will do psychological battle. What no one knows, not even Billy himself, is that Devin's handsome co-protagonist also happens to be a charming murderer: unfortunate 'accidents' occur with women, that's all. Happened with Libby, once, but worse, it's about to happen again… this time with Devin's sister. Here's hoping he sobers up long enough to stop Billy once and for all.
---
DOGS OF PARSONS HOLLOW
Two and a half years after the thrill of being signed by an agent to represent this particular manuscript, the project was requested, read, and rejected by no fewer than seven editors, all at Big Six publishing imprints. Not a bad run, but no sale. All of the credit for taking this project as far as it got goes to agent Michelle Johnson, working at both Corvisiero Literary and Inklings Lit during the submission period, a class act all the way.
Time will tell if DOGS lies fallow until I give it another revision with some of the rejection criticisms in mind. I don't take the rejections personally—DOGS is what it is, and these pieces can always be better. A recent idea I had would necessitate a complete revision of the second half, but I think it could make this into an even more marketable book than the one for which I've already been signed by someone who believed in it as it was. Perhaps this summer I'll give it a fresh draft.
The Logline: Bereaved mom Randi Margrave relocates from the city to rural Edgewater County, SC, to recover from the death of her son, but when she discovers she's moved in next to the Macons, a family of backwoods dogfighters, Randi chooses to risk all she has left, even her own life, in freeing the abused pit bulls of Parsons Hollow.


---

 RECONSTRUCTION OF THE FABLES
A memoirish, mainstream, 80,000 word novel perhaps best considered as an 80s-set companion piece to my 70s tribute, the coming-of-age saga King's Highway. Inspired by my time making films in the USC Media Arts program, RECONSTRUCTION OF THE FABLES occupies a special place in my heart, but I don't currently have plans to shop it. Every writer needs one in the trunk, right?
Having said that, ROTF ties in nicely with all the other Edgewater County books, and seems to set up this mostly-nameless narrator as an important figure in the coming history of Tillman Falls, SC, that will be told in the new novel. This character, revealed near the end as 'Porter Bucknam,' has a critical scene in DIXIANA, fully linking these manuscripts as part of the overall Edgewater County tapestry.
The Logline: Our middle-aged, downsized journalist of a narrator, whose identity is [REDACTED] for much of the text, recalls a season of collegiate creativity writing scripts and making films under the influence of the streetwise, late-blooming college student Levon Kunkle, a time in which our hero's biggest mistake seems to have been competing for the affections of his dream girl Camille with the one rival he dared not challenge: Kunk. 
---

MIRIAM MULLINS
The least finished of all current novel-length manuscripts, the comparatively brief (<60k words) New Adult or Crossover Fiction piece needs a good solid revision, mainly in its second half, which is much 'younger' than the first half, which had lain in the drawer for a couple of years waiting to be finished. Besides a good solid revision for style and flow and whatnot, I know of at least one major plot turn that needs reconsideration, as well as the innumerable word-choice questions and decisions that come up as the revision process gets down to that level of attention.
The good news is that the first 12.5k words of this W-I-P scored a semi-finalist placement in the 2013 Faulkner-Wisdom comp. Not too bad for young, yearning to be younger 'Miriam.' I have some interesting ideas for how to revise this work into a more vital part of the Edgewater County lore, as well as a possible screenplay adaption. Stay tuned.
The Logline: Mousy and emotionally stunted Courtleigh, 25 and reeling from the death of her forever-ailing mother, finds herself broke, uneducated, and at loose ends, makes a misguided, possibly insane decision: to take advantage of her youthful appearance by pretending to be fifteen year-old 'Miriam,' allowing  her to relive teen years lost to care taking for her mom. When her no-good, drunk father shows up to collect the life insurance money, however, Courtleigh commits an act—murder—that might mean she'll have to stay Miriam Mullins forever.
---
Wait—there's more.
In addition to those novel length projects, two story collections have been sequenced and sent out to a few competitions (UPDATE: rejections all around, no finishes), and described in a pair of posts from back in the spring. Click here for the details on PATTERNS OF RECOGNITION, and here for THE NIGHT I PRAYED TO ELVIS, either of which would make for another solid small-press publication to add to my growing bookshelf.
Thanks for slogging through this detailed update.
About dmac
James D. McCallister is a South Carolina author of novels, short stories, and creative nonfiction. His latest book, a story collection called The Year They Canceled Christmas, releases in November 2017.