SO MANY ROADS: Grateful Dead Academic Symposium Schedule Now Set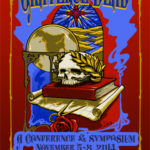 Somebody pinch me.
This may not constitute new news to regular readers of this blog, but today I'm beyond honored and energized to report that I've received notification of the scheduling of my appearance promoting and discussing Fellow Traveler at the upcoming Grateful Dead academic conference called So Many Roads: The World in the Grateful Dead! As we make our way toward 2015 and the 50th anniversary of the founding of the band, this conference marks a major step forward in firmly establishing the Dead's place as an artistic and cultural phenomenon worthy of academic scrutiny.
Needless to say, my inclusion on the roster of participants and presenters at this historic symposium, to be held November 5–8, 2014, signifies a high water mark of my literary and Deadhead life.
Not only will I be sharing the stage and the conference with many notables from the extended Deadhead family (including founding band member Bill Kreutzman, lyricist John Perry Barlow, Carolyn 'Mountain Girl' Garcia and Trixie Garcia, tape archivist David Lemieux, and Mark Pinkus of Rhino Records, among too many others to list), but I'll also enjoy the company of a veritable plethora of personal friends from my years attending the original scholarly caucus, an annual event held every February as part of the Texas/Southwest Popular Culture Association meeting in Albuquerque.
Here are the particulars of my panel:
'When Your Dreams Come True': History, Memoirs, and the Literary Grateful Dead." Thursday, November 6, 9am, featuring:
David Browne, Rolling Stone: "Re-Estimating Prophets and Writing the Dead."
Rhoney Stanley, Independent Scholar: "The Writing of Owsley and Me: My LSD Family: The Lessons of Collaboration."
James D. McCallister, Independent Scholar: "Fellow Traveler: A Deadhead's Literary Journey of Redemption."
Chair: Christian Crumlish, CloudOn, Inc.
Rest assured that when the dust has settled I'll provide reflections and media from my appearance in San Jose. For now, interested parties may inspect blog posts like this one to get a taste of how I'll go about describing Fellow Traveler's long genesis as a novel, as well as its relationship to my own life and the work of the rock band that made all of this possible.
More info from the San Jose State 'So Many Roads' website:
This conference represents the culmination of more than five decades of academic work on the Grateful Dead phenomenon. It builds on seventeen years of academic conference meetings devoted to the topic, including "Unbroken Chain: The Grateful Dead in Music, Memory and History," a three-day conference held at the University of Massachusetts–Amherst in November 2007, and seventeen years of meetings of the Grateful Dead Area of the Southwest Popular Culture and American Culture Association, a large annual conference that draws an international constituency.
The conference title summarizes both the appeal of the topic as an academic subject and the approach taken by much of the academic work on the Grateful Dead phenomenon: the Dead are a fascinating and significant topic for scholarly inquiry, and they are a skeleton key to many other critical issues of great interest to scholars from a wide array of fields. In short, the Grateful Dead phenomenon immediately invokes, and lends itself to explicating, broader issues that are at the forefront of a number of academic discourses today. The Dead phenomenon represents a world in itself, and it also invokes the broader world around it. 
See you on the left coast in about a month!
About dmac
James D. McCallister is a South Carolina author of novels, short stories, and creative nonfiction. His latest book, a story collection called The Year They Canceled Christmas, releases in November 2017.