SC Book Festival Wrap-up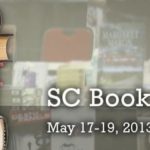 Another year, another Book Fest done. Chatted with many fellow writers including the esteemed Pat Conroy, mingled with more than a few interested supporters of the festival and curious readers, and even managed to buy a couple of books myself. Always a good time.
\
Could there have been more readers and buyers? Probably. A general sense of down attendance, and for the second year in a row, came whispering upon the lips of folks manning booths and working the festival.
My take: In my experience as a retail business owner, one whose level of traffic depends on how active (and more importantly, present) the USC student body happens to be, I'm wondering if holding this event on the weekend after the university's spring semester ends, when a mini-city within the city a few blocks away empties out for a few weeks, might not be the best time. Springtime, yes—let's get everyone ready for a summer reading wave. But maybe while the downtown area is still fully populated. April, perhaps?
Certainly no shortage of writers, aspiring and otherwise, were in attendance. In fact, many of the sessions offered today seemed like those found at a typical writer's workshop, with general sessions on craft, the business side of publishing, and using Amazon's services to publish your work DIY. Add in the master classes offered on Friday, and what you have truly feels like a writer's conference as much as a book festival. That's a potent mix to offer for a world-class book festival, but again, perhaps the timing could be finessed to better take advantage of a fully-populated downtown Columbia.
As for my official participation, all weekend I was engaged in signing copies of Fellow Traveler, as well as the fine set of essays to which I contributed called The Limelight, both from Muddy Ford Press. Columbia' family-owned boutique publisher, in its second appearance at the fest, made a wonderful showing, both on panels and in its exhibitor presence on the floor.
In addition, I was most honored to moderate the Fabulous Fiction panel, which included my friends Janna McMahan and Erika Marks, as well as new pals Tiffany L. Warren and Susan Tekulve, the 2012 SC First Novel Competition winner.
Perhaps the greatest surprise came in that, following our well-attended, peppy and informative panel, I not only got to sign alongside these authors, but found myself sharing a table with the super nice and humble poet, storyteller and gentleman Ron Rash:
Besides enjoying the attention of potential readers and making a number of important contacts regarding future publications of my stories and novels, as always I simply had a grand time finding myself immersed for a couple of days in the world of books, their authors, and the readers who so admire, dare I say love, the work we do. Thanks to all of them, and to friends old and new. See you all in 2014!
About dmac
James D. McCallister is a South Carolina author of novels, short stories, and creative nonfiction. His latest book, a story collection called The Year They Canceled Christmas, releases in November 2017.