Review (VOD): MASTER OF NONE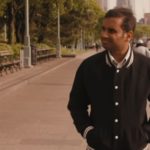 Filed under Local Kid Makes Good Department:
Late to the pop culture party, my exposure to Bennettsville, SC's principal comedy export Aziz Ansari prior to this Netflix original series was limited to a few episodes of Parks & Recreation. Charming, quick, and quirky of spirit, I enjoyed his character. Ansari's sitcom sidekick schtick felt familiar in content, but appealing in execution. That I heard he came from around these parts made me smile. Good for him.
Like his stand-up routines (mostly unseen by me) and a book now in print, and a new autobiographical series dropping this week on Netflix, Master of None, Ansari's success is clearly predicated on drawing from his own life experience. A young Indian-American actor from South Carolina lives in New York, and when we meet him he's doing commercials, but also making the leap to parts like Ansari played on Parks & Rec, as well as supporting roles in low-budget movies.
Shocker: Dev's day-to-day life results in often hilarious situations, though for the most part these plots also explore various moral dilemmas that present themselves to the protagonist—should he sleep with an available but married woman? Should he and his friend report a flasher on the subway? The consequences of the decisions provide surprising conclusions. (The infidelity episode is actually more interested in issues of class, for instance, than sex.) Each offers a compelling little narrative, not simply jokes and slapstick thrown at the fourth wall.
Instances of Dev's ethnicity prevail in the first couple of episodes, but this angle's importance diminishes as we settle into the situation. Created and mostly written by him (along with Asian-American Alan Yang), Ansari also explores these issues in a good-humored but teachable-moment manner that not only feels right, but right-now.
The details of his life outside work: "Dev" pals around with a posse of other 'misfits,' i.e., people of color, a group that includes a lesbian and a sardonic caucasian giant. Dating travails. Shooting a 'black virus movie' call The Sickening. Getting into scrapes that remind at times of a less-acerbic, minor key Curb Your Enthusiasm.
But not only is all this much more grounded than a show like Ansari's former sitcom berth, Master of None enjoys terrific production values and features lovely, widescreen photography that also set it apart from most typical half-hour comedies. The pilot, directed by features helmer James Ponsoldt (The Spectacular Now, End of the Tour), sets a visual tone for a show that often feels more like short cinema than a TV sitcom. Any way you slice Master of None, the show's consistent high quality make this a winner.
The moment is here: Streaming services have now officially changed the game, and this and other fine new original programming released in the past year on Netflix and Amazon (including Emmy-award winning material like Transparent) mean that such services appear fully poised to supplant cable as the new home of gold standard television content. (Forget the networks. Just forget them.)
Kudos to Netflix, Ansari and all involved. I'm sure his parents over in Bennettsville are duly proud of their talented son.
About dmac
James D. McCallister is a South Carolina author of novels, short stories, and creative nonfiction. His latest book, a story collection called The Year They Canceled Christmas, releases in November 2017.