Review (VOD): COMPLIANCE (2012)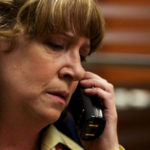 Dir-Scr: Craig Zobel
After causing a minor stir at Sundance but then not really getting distributed to any significant degree, Craig Zobel's Compliance examines a true story from 2006 about a fast food manager Sandra (Ann Dowd) who receives a call from alleged police officer claiming that an attractive, young female employee Becky (Dreama Walker) is suspected of a crime and must be detained and interrogated. Sandra, flustered at yet another problem on a busy Friday night, then proceeds to follow the caller's every absurd instruction, up to and including a strip search. Worse, the manager goes on to press others into service in degrading the purported 'criminal.' That Sandra goes along with this for so long may seem hard to buy, but hey, it's a hectic weekend night at the understaffed 'Chikwich' restaurant (in reality, it'd been a McDonald's in Kentucky). And the manager must Manage.
What would you do?
The man on the phone's an authority figure claiming to not only have the victim of the crime at hand (the details of which changed over the course of the call, all having to do with 'missing money'), but also the Chikwich district manager held supposedly on 'another line.' (That the caller [Pat Healy] has the district manager's name right goes a long way toward persuaded the easily-persuaded Sandra that this is all on the level—she's already been in trouble once today with the home office, over some spoiled bacon and pickles that will affect the restaurant's bottom line over the weekend.) Sandra is a worker. She's doing her job. The police are our friends. The district manager expects the restaurant's appearance to be in line with the corporate image of cleanness and order, and of course to have good sales. And what's more, there might be a 'secret shopper' from corporate coming to spy that busy night. Sandra doesn't have time to think—she has to manage.
So, as the situation continues for what begins to feel like real time, the question becomes for the delighted pervert 'Officer Daniels,' how far will these dupes go? Only after many hours when finally the drunken maintenance man is pressed into service in 'guarding' and 'searching' the girl does someone finally muster the lucidity and critical thinking to suggest that none of what's happening seems on the level. "He's asking me to do things that aren't right," he says to his boss Sandra, and it's this observation that finally snaps her out of her reverie of compliance.
An epilogue, however, in which we find out not only that this wasn't an isolated case, but that Sandra herself may not see her own culpability and lack of critical thinking skills—"Are you brainwashed?" she's asked quite directly—demonstrates that maybe Sandra hasn't learned anything from this. It's a blatant and inelegant thematic tell on the part of the filmmaker to ask such a question of the character, but perhaps an important one: Brainwashed, conditioned minds are often immune to subtleties and subtext, and sometimes you have to be a little on-the-nose to get a point across.
But in terms of the greater message, who, here, is the real criminal? The guy who thought this scam up (and to what end? We don't see him particularly sexually aroused by it all, only amused) is a clever sociopath, but what of the people he so easily manipulates into behaving like the military guards at Abu Gharib?
In other words, what happened to Sandra's bullshit detector? In the face of authority figures, she found herself unable to think, only to comply.
Compliance is not only a portrait of these sad and intellectually shallow times of ours, but there are also any number of ways to examine the disintegration of our society through the very real, but also symbolically significant, fast food restaurant setting—we're fed shit for food, but we just keep eating it up, like Sandra taking the orders from the authority figure instructing her to behave in no way that's either legally, or morally, justifiable.
All of the actors in the movie offer strongly naturalistic portrayals of these ordinary rural folks caught up in some asshole's Friday night phone-prank shenanigans, in particular that of Dowd, who gives a truly awards-worthy perf. The movie's real value, however, is in its lesson that our minds must be nimble, and able to consider the situation at face value rather than react in a conditioned manner. Have you wondered yet today if your own mind is conditioned? Maybe you should. It's a good way to start the day on a note of intellectual engagement rather than lock-step duty and obeisance to authority figures who aren't in the room—indeed, who may not even be real. In this spirit I give Craig Zobel's Compliance my highest recommendation.
About dmac
James D. McCallister is a South Carolina author of novels, short stories, and creative nonfiction. His latest book, a story collection called The Year They Canceled Christmas, releases in November 2017.