Review (VOD): BLOODLINE (2015)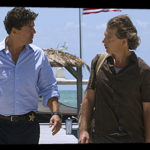 "There's clearly some things going on with our family."
So says Sally, matriarch of the Rayburn clan (Sissy Spacek) in the penultimate episode of the new Netflix drama series Bloodline. Coming at the arguable peak of the dysfunctional family dynamic on display in this mostly compelling new offering from the on-demand service, this plays as quite the amusing understatement.
Set in the sticky, sweaty, rainy blue water resort towns of the Florida Keys (principally Marathon), this novelistic offering more than earns its binge-watching keep with a tightening tension and numerous horrifying revelations about the way this family has treated one another, in particular the purported black sheep by the rest of his supposedly more upstanding siblings.
If at times it's lacking in verisimilitude and narrative credibility, overall Bloodline tightens the screws in an effective and pleasing manner, with the character of Danny in particular displaying remarkable depth and charm as what becomes a byzantine plot of filial revenge unfolds.
A slow burn sets up the family dynamic, and it's a wicked toxic affair full of guilt, recriminations, lies and secrets: at a ceremony celebrating the forty-fifth anniversary of quaint oceanfront inn the Rayburn House, black sheep and eldest son Danny (Ben Mendelsohn, a starmaking part for the veteran character actor) returns to nobody's pleasure except perhaps Mama. Beefy boy scout John (top-billed Kyle Chandler) is a Sheriff's Department investigator who seems to want Danny to reintegrate into the family, while attorney Meg (Linda Cardellini, once seen leaving in a Deadhead van at the end of Freaks & Geeks) is a good girl with a hidden promiscuity issue who isn't so sure, but at least didn't cut his oldest boy out of the will like her father had asked her to do. Kevin (Norbert Leo Butz, realistically louche and unappealing) is the baby, owns a boat yard and has a hot wife and drinks beer, but also comes off like a doofus who doesn't connect with the rest, including, as it turns out, his wife. He thinks Danny's a low-life and a mooch. So much animosity among this outwardly respectable family.
The patriarch, Robert, (Sam Shepard, grizzled and outdoorsy) is well-loved in town—they're going to dedicate a pier to the Rayburns—but as the first episodes unfold, it's clear the issues buried deep in the past between him and the mostly-respectable pillar of the community that his family represents are horrible indeed. Who is and isn't a villain of the piece takes the whole of the series to be fully revealed, bit by bit along its thirteen-episode path.
Bloodline, shot on location and with a depth of realistic casting (especially in the flashback scenes of the childhood versions of everyone), employs flashbacks, flash-forwards, the hallucination of a deceased sibling by one character, voiceover narration, gotcha dream sequences, comeuppances, violence, and tightening screws as Danny, supposedly turning over a new leaf, actually weaves a web of destruction to put every one of his disloyal family members in their place. It feels a touch overcooked at times, with the best scenes allowed to unfold between the capable and appealing actors.
What becomes fun about Bloodline over its run is the naughty thrill of starting to pull for Danny to get one over on the various players to whom he feels betrayed, which is pretty much everyone. On a number of occasions he seems beaten, but never count out Danny Rayburn. He might seem like a greasy Florida redneck, but by the end you'll admire his intelligence and perseverance, the frightening charisma of a memorably dangerous character and performance.
The remainder of the cast acquit themselves well, with the only false notes coming from pothole-sized plotholes and questions of realism—after a while, it's rare that you see a guest at the once bustling hotel, with what seems like a big staff in the first episode or two all disappear as the plot takes precedent over atmosphere; a character addicted to painkillers just decides to quit with no apparent withdrawal or consequences, and a severe beat-down that ought to have sent that same character to the hospital is dismissed with handkerchief to a bloodied lip. Stuff happens, and some of it makes sense. How'd he get off the bus and get back to pull off that one gotcha? Sometimes you have to let such stuff go. Thankfully, Bloodline earns this dispensation.
Despite the few nitpicks, Bloodline, from the team behind Damages, makes for a strong new VOD series for 2015, a handsome production indeed that could garner awards recognition in the style of other well-done series from Netflix. Recommended.
About dmac
James D. McCallister is a South Carolina author of novels, short stories, and creative nonfiction. His latest book, a story collection called The Year They Canceled Christmas, releases in November 2017.