Review (Theatrical): NEBRASKA (2013)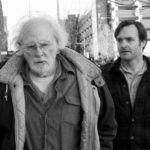 From its initial silvery, widescreen, black & white frames, Alexander Payne's Nebraska unfolds at an unhurried pace, much like the shuffling steps of its principal character, the taciturn, boozy, elderly Woody Grant (Bruce Dern, in a career-best performance). When we first meet him, Woody trudges along a freeway ramp up and out of Billings MT, but it's not to escape any particular part of his fading, empty life, rather to go achieve its triumphal apotheosis: he's so desperate to get to Lincoln, NE to collect the million dollars he believes he's won from a Publisher's Clearing House-style sweepstakes mailer that he's willing to walk the 750 miles. If he has to. And so he will, making a second attempt after his first is forestalled by a cop who takes him downtown, not under arrest, but clearly for his own safety.
His wife and youngest son, Davey (Will Forte, formerly of Saturday Night Live) both try to explain to Woody that it's only a marketing scam. That his certificate, legitimate-looking enough to a confused old drunk like him, is only intended to sell magazines. He won't be dissuaded, however—he's got to get to Lincoln. If he doesn't go to collect his prize, he says, "they'll give it to somebody else."
"If you wanted a million dollars," his irascible, irritated wife Kate (June Squibb) retorts, "then you should've worked harder for it when you had the chance."
And that's what the movie's about, on one level, at least. Another chance. For a son to know his father; for the father, way late in the game and one step away from the nursing home to which his weary wife would just as soon consign him, to have one last shot to make something out of his life, a shot it sounds as though he's never bothered to take in the first place.
But it's not visions of wealth and grandeur that seemingly motivate Woody, who declares to his son that he only wants the money to get a new truck—thanks to his boozing, a lifelong predilection, he hasn't driven the one he owns in ten years. He also needs a new air compressor, he says, to replace the one his old business partner Ed Pegram back home in Hawthorne, Nebraska (Stacy Keach) stole from him years ago.
Davey has his own troubles: working at a low-rent electronics store, he's been dumped by his live-in girlfriend, and toils in the shadow of his older brother Ross (Bob Odenkirk, Saul from Breaking Bad), a local TV news anchor. So, in order to keep the peace, Davey calls in sick for a few days and offers to drive his addled old Dad to Nebraska. To let him try to collect.
Kate thinks her son as mad as her annoying, crusty old husband, but as Davey puts it to her, if he's so bad, then just enjoy being away from him for a few days.
A road movie filled with charm, humor, pathos, and actors playing characters who seem as real as the day is long, the bulk of Nebraska actually takes place not in transit but in Woody's hometown of Hawthorne, where after a head injury they stop to visit his brothers, and where his wife and other son will come to meet him for an impromptu family reunion, perhaps as a way to get his mind off the nonexistent fortune he's traveling to supposedly receive.
A dying, dusty place—the one-horse town lies nearly deserted and fallow like an outtake from the indelible classic The Last Picture Show, which director Alexander Payne (Sideways, The Descendants) no doubt reveres—Hawthorne is populated by others like Woody, who spend their time in front of television sets or in rundown bars, and who react with wonder and excitement at the new millionaire in their midst, but also slowly reveal their own avarice, fueled by old scores that suddenly need settling.
A film of enormous beauty and sadness, Nebraska, while at times funny as hell, also seems to exist as allegory for the declining fortunes of America itself—an aging population of baby boomers watching the great nation in which they once prospered turn to dust and desolation. "The economy's hit Hawthorne hard," as one character says.
And so it has for many of us, in Hawthornes all over the country, with not much help from the next generation, represented here by a few either shiftless characters like Woody's greedy and dunderheaded nephews, or Davey himself, who we'll find has had his own issues with the bottle, and who probably decided to make the trip because back in Billings he had even less than his own broken-down dad: at least Woody still has his Kate, who for all her complaints is more than willing to hop on a bus and meet them in Hawthorne.
By the time Woody reveals to Davey the true nature of his desire for the money, however, the movie takes on another poignant dimension, and concludes on a note of such redemption that it's hard to imagine a fortune of any size having more significance and meaning that what occurs between the father and son, perhaps an apt metaphor for what truly matters in life: no amount of money can replace love, in particular between oneself and one's family, those with whom you make your own sepia-toned road trip through life.
Nebraska, after earning Dern a Best Actor award earlier this year at Cannes, rolls out this holiday season as not only one of the best films of the year, but Payne's finest in a string of accomplished movies. Perhaps best of all the piece represents a career-capping, moving, naturalistic performance by Bruce Dern, who's already delivered four decades' worth of memorable work in films like Coming Home, the criminally underseen and underrated The King of Marvin Gardens, and the original green-consciousness sci-fi epic Silent Running.
A sure bet for additional awards-season recognition, from acting to glorious photography to a minimalist but affecting score and a wondrous, sharply observed script by first-time screenwriter Bob Nelson (who after selling the script waited nine long years for the movie to be made), Nebraska receives my highest and most heartfelt recommendation. It's a movie worth seeing with someone you love.
[youtube=http://www.youtube.com/watch?v=ZuIBvmxIN4w&w=640&h=360]
About dmac
James D. McCallister is a South Carolina author of novels, short stories, and creative nonfiction. His latest book, a story collection called The Year They Canceled Christmas, releases in November 2017.