Review (Live Music): PHISH in Bangor, ME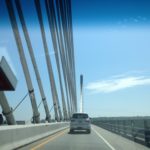 Travel to Phish shows. Whether hitchhiking, driving across country, or choosing more upmarket conveyances, it's always a thrill, more so when it's show day and you have planes and rental cars and rigmarole and miles to go, and the potential for delays and misadventure hanging over your head. And all that's also why in getting to Bangor, Maine, about as remote a place as I've seen Phish, I chose to jet my way there the day before, on July 2.
CLT>BOS>Bangor>PHISH, as I posted my Facebook status that morning.
July 2; an important date in my personal history seeing these so-called jam bands, the details of which may be read here. Travel on this day feels profound, and the idea of going off to see Phish kick off their 30th year of touring on the anniversary of the last time I saw my other favorite band, the Grateful Dead, feels fraught with portent and potential. Back then, 1995, Jerry and the Dead had been going 30 years as well. But barely, and thanks to riots and death threats and a fatal heart attack, they, and he in a literal sense, wouldn't make it out of their anniversary tour alive.
An ignominious end to a storied career for those cats that summer—Jerry effin' died, man, as a result of indulgences and obligations and addictions internal as well as external. Bummer, as the Dude would put it, but that doesn't tell the half of it, not for the many thousands who loved the band and the man. And who grieve still.
The way Phish 'phans' dig their band, and their guy. And they way we grieved when they quit back in 2004.
By contrast, Trey Anastasio, the 'Jerry' of the Phish world, tore down his professional and personal life back in the mid aughts in order to get clean and more fully recognize and realize his potential as a musician and human being, only to return in a sort of resurrection that's yielded much fruit. Now, five years into their return from rock & roll heaven, Phish embarks on a 22 date summer tour to kick off what's expected to be a full half-year of touring, but not behind a new album (though that's supposedly also in the works): it's time to acknowledge the passage of time.
—
Bangor, Maine, is a quaint, small city in a state of cities small and quaint. Portland's seaport bustles and Augusta's the capitol, but in Bangor you've got a beautiful, placid blackwater river gently brushing against the shores where Estevan Gomez planted his flag, and you've got Stephen King's house; on a postcard-perfect New England summer day, you've also got Vermont's prog-rock heroes Phish performing a concert on a grassy knoll beside that same Penobscot River rolling along its lazy way, untroubled by the vibrations and stampeding of the people on its shore: the phans. The faithful. The family, gathering to wish their musical heroes the best on their comparatively short trek across the country this time. The rumors are that a full fall tour, including the much-desired Halloween gig, is in the works, as is an actual, date-specific anniversary run of shows to be held after Thanksgiving.
If all that turns out to be true, the shorter summer tour can easily be forgiven. These guys are getting up in years, after all—right? With keyboardist Page McConnell recently turning fifty (the New Year's golf gag seemed to reflect this male-aging milestone—time to hit the links?), and the economy remaining stagnant, a lighter summer run this time seems prudent both from a creative as well as business standpoint.
And make no mistake, there is a strong marketing aspect to any decision for this, or any band, to undertake a traditional large-scale rock tour, even true artists and visionaries like the four vituosi from Vermont, who tour because it's a business, sure—think of the people and families their business benefits, down to the heads who follow along and vend in the lots—but also clearly keep reaching for new artistic highs as well. Red Light Management, however, looks very closely at past tours, ticket sales, and so on in making the booking agreements; Phish themselves know their personal limitations, and plan their lives accordingly. If it's to be a fall season of shows, too, then this more limited run makes sense.
Here in Bangor, they've inaugurated a series of concerts on this slight rise of green between the railroad tracks along Main Street and the riverfront park, with boat slips, a jogging trail, and a few monuments nearby. The freestanding boxy stage, a hallmark of Phish's outdoor-field setup, appeared large and looming from outside the fenced-off concert area. Once the band came out to soundcheck, what had seemed likely became obvious—the sound outside the venue for those without tickets would be pretty sweet.
And what a soundcheck it was, including a new reggae-infused Mike Gordon tune ('Honeycomb' seemed to be a repeated word, and may be the title UPDATE: 'Yarmouth Road,' and as of tonight now officially debuted at SPAC) and a rare 'My Soul' that led into a glorious fifteen minute funk-minimalist jam, the open-air, clear as a bell music of the Darling's Waterfront Pavilion soundcheck would go down to be the most adventurous music of the evening. Thanks to an enterprising youtuber, the bulk of this entertaining and creative jam may be enjoyed below.
[youtube http://www.youtube.com/watch?v=nddk1mQmKQk&w=640&h=390]
None of which is to say that the music during the show proper wasn't solid. Phish came out in the daylight to the appreciation of the 16,000 who'd paid to see them, and proceeded to lay down a set of Phish classic tunes, one after another, which seemed to be their way of warming up and setting sail yet again on the good ship Phish, here thirty years upon the seas of musical creativity and inspiration.
The mood onstage appeared to be not so much tentative as not particularly relaxed; bassist Mike Gordon switched instruments at one point and a tech could be seen fiddling with gear. It's a new stage setup, with drummer Jon Fishman in the middle, done so as to provide lead guitarist Anastasio with a clear and direct link to the sound of the drums, rather than getting this fed to him through monitors from all the way over on Fishman's traditional (or nontraditional, as the case may be with drum risers) position on the far right of the stage (or stage-left, from his perspective). Phish isn't only getting used to being on tour, they're getting used to a new setup, sort of like when you rearrange the living room and sit down the first time to watch TV stream Hulu, and it all feels different. Gotta get used to it. Settle into the groove.
Which Phish did, and nicely so. As the first set bubbled along, a Wolfman's Brother groove, funky but fairly standard, represented the only real jamming potential of the set, though the Mike's Song trifecta, here sandwiched with a Horse-less Silent in the Morning rather than I Am Hydrogen, offered a slightly down-tempo, groovy jam that hinted at the potential for great jams to come probably more so than feeling like a fully realized peak of its own. Only Rift seemed to cause Anastasio any real trouble and not much of that, [Maine accent] but boy, that there's a lightning-fast guitar hook to have to bust off, eh? And hey, remember, these Gen X guys, sheesh, boy, I tell ya. They're getting kinda old. Thirty years. Boy, I tell ya. Eh? Ya know what I mean? [/Maine accent]
As for the venue itself, fine; decent sound in front of the soundboard, not so much farther back, especially as the wind blew the sound waves around. The setup, too, with only one small set of stairs leading down to the vending area to accommodate that many concertgoers, proved a difficult negotiation, and with very few other vending options, led to enormous lines at the two stands inside the concert ground proper. Having had some experience in event planning, I don't see how this design works or could be considered safe, and should be re-thought before other events of this magnitude are held.
Second set, full dark, and it's a statement of modern Phish with  the appearance of 'Golden Age,' a key cover (TV on the Radio) of the modern, 3.0 era of the band. Also, here, with the tune clocking in at 14:44 we have the significant jam segment of the evening, and one that indicates not so much a frenzy of improvisation and ideas to come as patience, and a willingness to let grooves develop. Anastasio in particular seems in a listening rather than a leading mode, and overall that's a good thing—Type I jams benefit from this approach, whereas Type II, the more purely improvisational sort of musical peregrination, develops more from groupthink rather than guitar-god antics.
In rock & roll, however, you want some guitar antics, and by the time Phish made their way through a nice segue into Twist, a pair of flow-stopping but tasty modern originals in the form of 'Backwards Down the Number Line' and 'Ocelot,' in its first second set appearance, providing a tight and energetic pair of standalones there in the middle of the second set. That's generally anathema to the serious Phish scholar (it disrupts the 'flow' of the music), but here seems of a piece with the rest of the show: a tease of glories to come, and a statement of purpose, competence, and enthusiasm.
The Velvet Underground's 'Rock & Roll,' a cover staple since 1998, made for a surprise cold-start offering to kick off the second half of the second frame, and itself devolved briefly into what could have been a snippet taken from one of the band's quiet and introspective late 90s 'ambient' jams, but here quickly became the signifier for another Phish hallmark, their take on Diodido's take on Strauss's 'Also Sprach Zarathustra,' an arrangement that's proved perfectly suited to Phish's own prog and fusion sensibilities. Here it's funky and danceable and quickly over: '2001' as we like to shorthand this piece felt very much like a version from the early days of its inclusion in the repertoire, which seemed welcome but all too brief.
With the appearance of 'Golgi Apparatus' 'Cavern' rather than a Trey ballad ('Show of Life', 'Joy') or build-up showcase (like 'Slave to the Traffic Light'), the end of the set felt imminent, and with the first notes of 'Run Like an Antelope' right about the 11pm hour, the end was nigh. But surprise, surprise, here Phish produced one more intriguing piece of music for the night, a loose and interesting Type II segment in the midst of this standard set-closing piece that portends of further stretching of this tune in shows to come. Good stuff. With a gorgeous if standard 'Harry Hood' appearing as a meaty and welcome encore—check out McConnell's vocoder work at about one minute into the tune, a surprise and a delight for the crowd and his fellow musicians—Phish's 2013 start to the tour, in a fresh venue full of happy and satisfied fans, came to a conclusion on a classic and happy note. Maybe not an all-timer, and hopefully soon to be overshadowed by many highlights to come, the Bangor Darling's Phish concert was well worth the travel to this out-of-the-way, charming city in the far northeastern corner of America. Best of luck to Phish as they embark on this special year of activity and music.
Here's the full setlist and notes, courtesy phish.net:
PHISH Wednesday, 07/03/2013 Darling's Waterfront Pavilion, Bangor, ME
Soundcheck: Blues Jam, Corona, Funky Instrumental, Unknown Reggae-themed song (Mike vocals), Frost, My Soul, Jam (15+min)
Set 1: Possum > Runaway Jim, Stash, NICU > Wolfman's Brother, Rift, Theme From the Bottom > Chalk Dust Torture, Mike's Song > Silent in the Morning > Weekapaug Groove
Set 2: Golden Age[1] > Twist > Backwards Down the Number Line, Ocelot, Rock and Roll > Also Sprach Zarathustra > Cavern > Run Like an Antelope
Encore: Harry Hood[2]
[1] Manteca teases (Page).
[2] Divided Sky tease.
Notes: Golden Age featured Manteca teases from Page. Hood featured a Divided Sky tease from Trey.
About dmac
James D. McCallister is a South Carolina author of novels, short stories, and creative nonfiction. His latest book, a story collection called The Year They Canceled Christmas, releases in November 2017.