Review (Live Music): PHISH in Alpharetta, GA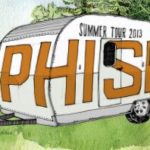 After a one year hiatus from Verizon Wireless Amphitheatre at Encore Park, an acoustically pleasing, smallish shed (~12k) set amidst a pine forest in northern Georgia, Vermont's prog-rock favorite sons returned this week to the American South to present a pair of shows that fairly crackled with energy, engagement, thoughtful song selection, and yes, rain again during the second show, but nothing like the supercell T-storm that all but shut down the Phish machine back in 2011.
Before we get to the fun and excitement of Alpharetta 2013, here's a quick look back at the pre-show storm from two years ago, which would ebb and flow and cause the first set to be wound down in the middle of highly desired Mike Gordon-sung rarity 'Mound,' as well as force the second, truncated frame into a seemingly rushed and passionless effort to get everyone out of the venue in relative safety and without much further ado:
[youtube https://www.youtube.com/watch?v=ZjuhCxFhrw0&w=640&h=390]
And here, a brief clip of the storm as it continued raging during the forced set break, which is not the kind of 'raging' that under normal circumstances Phish phans tend to enjoy:
[youtube https://www.youtube.com/watch?v=OnD9vwezQ5I&w=640&h=390]
So, with a memorable experience like last time sending Phish on their way, surely the band would remember and bring the heat for 2013, here on the first leg of its 30th anniversary tour… right? In a nutshell, of course they did, but then, you can usually count on the Phish from Vermont to give their best effort.
—
PHISH
Verizon Wireless Amphitheatre at Encore Park, Alpharetta, GA
Soundcheck: Jam > Sentimental Lady, Frost
Set 1: Kill Devil Falls, Mound > Bathtub Gin, Army of One, Rift, Horn > Possum[1], Pebbles and Marbles, Ocelot > Cavern > Run Like an Antelope
Set 2: Rock and Roll -> Heartbreaker[2] -> Makisupa Policeman > Chalk Dust Torture[3] > Wilson[4] > Tweezer[4] -> Silent in the Morning > Birds of a Feather, Joy > Harry Hood[4] > Character Zero[4]
Encore: A Day in the Life > Tweezer Reprise
[1] Horn teases.
[2] Incomplete.
[3] Unfinished.
[4] Heartbreaker tease.
Notes: Possum contained Horn teases. Heartbreaker was incomplete and Chalk Dust was unfinished. Wilson, Tweezer, Hood and Character Zero all contained Heartbreaker teases.
(Setlists, notes, and links courtesy phish.net)
With a late lot scene (gates didn't open until just before five) and a blazing summer sun overhead, the Phish traveling circus pulled into upscale Encore Park, the outdoor home of the Atlanta Symphony Orchestra. On a weekday afternoon mercifully free of the torrential rains that of late have blessed the South with inconvenience, along with much needed fresh water, happy phans filled the lots and surrounding office parks of this northern Atlanta suburb.
No matter the meteorological travails of the 2011 stand, however, this is a crowd who gathers expecting great things from its favorite band; we expect to be transported, and not by a swirling tornado. In what's known as the 3.0 era, however, does it really matter what they play, or even how they play the material, in terms of our level of gratitude for the ability to see them at all, in any form? Perhaps not, except to the nattering internet nabobs who sit poised to opine, waiting for their precious observations to fall upon unsuspecting eyeballs, thereby lending validation and meaning to their late-night, furious typing and air-breathing and wildly subjective and often absurdly uninformed notions.
In a word sound effect? Pfffffffft.
But a personal caveat: if Phish weren't playing at the absolute top of their game, maybe I too would complain and nitpick as well. But guess what? They're doing just that, i.e. bringing the passion and heat, and from this reviewer's modest perch as a 20-year veteran of seeing the band, I have no complaints at all.
With my 2013 Phish experience beginning in Bangor, ME two weeks ago, I arrived at the venue in the hopes not only of seeing my favorite working musical act, but to also promote my novel Fellow Traveler, which is certainly designed to be appreciated by the type of jam band fans who populate these music concerts:
With little time and the afternoon waning and the vibrations of the soundcheck long faded away, vending soon took a backseat to the stroll into the venue, with kind and generous Southern greetings in store for us from the nice folks who staff Encore Park. As the sun sank, the phaithful filed into the pit, reserved seats, and relatively small lawn—one need only compare this one to the literal ski-slope of a place like Alpine Valley or Shoreline Amphitheatre to realize just how 'intimate' this shed feels compared to certain other typical summer stops on Phish tour. In other words, Encore Park offers a treat of a shed.
In full daylight and with the sun peeking, still, over the Georgia pines, Phish came out about 8:15 to drop a typical uptempo show opener, 'Kill Devil Falls,' Trey's rehab anthem (this time's gonna be different!); KDF's a typical go-to beginning song that gets the band into sync and the feet moving out in the crowd. Nothing surprising here; in a sense, the first song is often a warmup.
Nothing feels better than a wave of happy surprise, though, and when drummer Jon Fishman began the staccato drumbeat of the 'Mound' intro as the second tune of the evening, everyone with enough memory to recall the previous appearance here said, well, at least they're paying attention to their own phishtory. Unlike last time, however, no upset band members had to wind down a happening 'Mound' to say 'they're making us stop.' Audience=happy.
From the solid if unremarkable 'Bathtub Gin' through the next few songs, though, we have a fairly typical and not altogether terribly transcendent first set of material, one that's enlivened not only by the band's note-precise, Type I jammed treatment of tunes in heavy rotation on the tour (no serious complaints or concerns there), but also by the 2013 debut of the poignant 2.0 composition 'Pebbles and Marbles,' appearing here in only its 16th lifetime appearance from the Phish stage. The song's so rare, in fact, that many younger and more casual fans on the lawn seemed perplexed by the mostly-unfamiliar intro. As for this writer and phan, P&M's been near the top of my list for 'gets' on this brief, 3-show summer 2013 tour of mine, so I will leave it to the more imaginative of my readers to envision my reaction at the appearance of this personally-beloved composition.
From there the set concluded with a fairly standard trio of tunes, including an ordinary 'Ocelot' and the second 'Run Like An Antelope' in as many shows, one coming nowhere close to the scintillating, unique version from Bangor. Still, being disappointed in the raging energy produced by a one-two punch like 'Cavern'>'Antelope' seems the province of the small-minded, the setlist and stat chasers who may be oblivious or otherwise blinded to the old Deadhead aphorism, 'It's not what they play, it's HOW they play what they play.'
Second set. The place of magic; the bringer of miracles, of jamband nirvana.
Phish famously played a Led Zeppelin-centric set on 10/30/2010, mainly on the rampant rumors and expectations that the 2010 Halloween 'musical costume' would entail the covering of a Zep album. In prior Eve of All Saints efforts, the band had tackled The Beatles, The Who, Talking Heads, Velvet Underground; the Rolling Stones; they'd also famously covered 'Dark Side of the Moon' on the day after the VU set. Why not Zep? It didn't happen (Little Feat's Waiting for Columbus album would have to suffice), but on 10/30, the band electrified the Atlantic City audience with a show that still looms large in the collective conscious and unconscious of Phish aficionados.
Here, out of the Velvet Underground's 'Rock & Roll,' which since its 1998 debut has been a reliable jam and energy-raising selection, the band teases and then attempts a brief Cactus-led 'Heartbreaker' jam with enough lyrics to warrant a track of its own. Zep fans rejoice! Furthermore, as the set continued and flowed, 'Heartbreaker' teases would continue to appear. Such playfulness is a hallmark of the memorable Phish concert, and also an indicator that the band members are relaxed and enjoying themselves.
After two weeks on the road, a set like this portends a band getting its touring legs back, and the result is a nicely flowing series of selections: a charming and welcome 'Makisupa Policeman'; an unfinished 'Chalkdust Torture' with a compelling Type II improv seg that merits a spot on the jam chart; a short but thrilling 'Tweezer' that includes a butter-smooth transition to a Horse-less 'Silent in the Morning,' the second such 2013 appearance of this Phish chestnut. Good times.
With the set waning, nothing says classic, meaningful Phish quite like their anthem 'Harry Hood,' and coupled with a corker of a 'Character Zero' to end the set on a high note of rock & roll, guitar hero volume and power, we closed the frame with a strong sense of fun and accomplishment both onstage and off.
Encore time: A fairly rare 'A Day in the Life,' last played here in 2010, led into the expected 'Tweeprise,' and faces throughout the venue seemed melted and exultant at the power this band of aging musicians were able to muster. Buzzing and happy, the audience filed out with only one idea in mind about the next show: what they would play; how they would play it.
—
Up next, Part 2 of this review.
About dmac
James D. McCallister is a South Carolina author of novels, short stories, and creative nonfiction. His latest book, a story collection called The Year They Canceled Christmas, releases in November 2017.