Review (Live Music): PHISH in Alpharetta, GA (Part 2)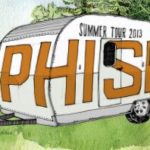 Here's part two of my review of the recent Phish shows in Georgia. Click here for part one.
PHISH
Verizon Wireless Amphitheatre at Encore Park, Alpharetta, GA
Soundcheck: Energy -> Gimme Some Lovin' Jam -> Energy
Set 1: Runaway Jim > The Moma Dance, Funky Bitch, Divided Sky, Gumbo > Nellie Kane > Frost[1], Alaska, Guyute, Stealing Time From the Faulty Plan > Suzy Greenberg
Set 2: Punch You In the Eye > Drowned -> Water in the Sky > Energy[2] -> Fluffhead[3] > Piper[4] > Fast Enough for You > Also Sprach Zarathustra > Mike's Song > The Wedge > Weekapaug Groove
Encore: Quinn the Eskimo
[1] Phish debut.
[2] Fish on the Marimba Lumina.
[3] Unfinished; Heartbreaker tease from Trey.
[4] Energy quotes.
Notes: Mike teased My Favorite Things before Gumbo. This show marked the Phish debut of Frost. The jam in Energy featured Fish on the Marimba Lumina. Fluffhead was unfinished and included a Heartbreaker tease from Trey. Piper contained Energy quotes.
Forty percent chance. Of Rain. Check.
So let's see: Alpharetta night two; Wednesday; summer; thunderboomers are a-comin'. It's simply the way of things this time of year; it's simply the way of things on Phish Tour 2013. With all the Zeppelin love at Alpharetta Night 1, can 'The Rain Song' be far away?
As the slate-gray thunderheads built and grew and inched their way across the otherwise azure southern sky, vendors started prepping for rain, ponchos came out, flip-flops traded for sneakers. Everyone who knew had that look in their eye: not again.
As it would happen, apart from the occasional crackle of lightning and rain that fell mostly in a steady drizzle rather than a downpour (though that would happen briefly as well), weather couldn't shut us down at Encore Park on July 17. During the previous show Page had mentioned how nice it was to have no rain. Thanks, chairman. Ya jinxed us.
With Phish dropping a solid show like Alpharetta 2, though, who could complain?
—
'Runaway Jim': it's a typical show opener, and for anyone who saw the 8/31/12 version in Colorado last summer, there's no Jim that can compare, not in the 3.0 era, and this one's about as standard as they come. But why compare—it's all about being in the moment, and in the moment on this night, the tune gets the pavilion and lawn moving and grooving.
But the moment ends, and what better song to acknowledge this than 'The Moma Dance?' Phish's porno-funk classic always seems to get a thrilled reaction from the audience, and the phans in Georgia on this night were no different. Only the third-slot appearance of Son Seals' 'Funky Bitch,' the first of many tour debuts on this night, would raise the vibration further.
And then… 'Divided Sky' (hey, wait—didn't it used to be 'The Divided Sky?'). The first DS of the tour indicated that this show might elevate from the standard-issue feel of the first three tunes to a more remarkable level. This, a quintessential Phish epic dating all the way back to Goddard College, represents Phish doing what acquired them such a following: composing and performing challenging, complex material, and true to what I'm sure Trey would call their prog-rock roots. With an extended break of silence before 'the note' and an otherwise note-perfect rendition, this 17 minute DS not only felt accomplished and appropriate, but represented the first of three such Anastasio compositions.
And then… another tour debut, another beloved Phish classic, a mouse staring out of a window: 'Gumbo'. An exuberant phan in front of me turned around—he'd worn a Gumbo T-shirt. "You made it happen—they're playing it for you, dude." His eyes spun happily at the thought, and we all grooved to this cool tune, enlivened by a nice 'play it Leo' organ break by Page. Followed by 2013 go-to bluegrass tune 'Nellie Kane,' this set seemed to have turned a corner into keeper territory.
Soundchecks over the last few shows revealed the band's attempt to work up Anastasio solo band tune 'Frost,' and here the group brings out a Trey ballad new to Phish that's terribly poignant and lovely, with an evocative and poetic story in lyrics that's worth parsing. Unlike 'Joy' and a few other Trey ballads, however, this 'Frost,' which along with 'Architect' stands as the second TAB tune to make into the 2013 Phish repertoire, doesn't peak with guitar-god crescendo of electrified power—it's simply a nice tune, sung and played with emotion. A winner, but not much opportunity to stretch this one into a jam vehicle. That's okay—sometimes you get a pretty song; other times you get a face-melting improv that builds and goes on for a half hour. The mix is part of what keeps the music interesting for both audience and band alike.
The first 2013 'Alaska,' builds to a standard if solid peak, but then, oh yeah, the audience collectively levitated as the second major Trey composition came in the form of 'Guyute.' This ugly pig, scampering across the Phish stage for the first time this year, felt fully realized and quite strong, and stood as testament to the band's willingness to prep and present multiple challenging pieces of music, including this remarkable and pleasing 'Guyute.'
From this high water mark of the set we close with the peppy call to meditation 'Stealing Time From the Faulty Plan' and an assembly line 'Suzy Greenberg.' Both songs did their job, and gave the audience, now getting seriously wet out on the lawn and along the fringes of the covered pavilion, another chance to boogie.
—
Second set time; everyone's wet; after last night, everyone's expectations are huge.
And BOOM, those expectations are met from the first notes, as we're out of the gate with another highly-desired and semi-rare Phish chestnut, 'Punch You in the Eye,' a welcome piece of the Gamehenge puzzle which here gets this damp crowd electrified and moving. At this point I said, it's as though the Phish songbook has fully opened, at last. But 'at last' is a little unfair to the guys onstage—after playing only four shows in the last 10 months prior to this tour, we've got to give them a chance to get their Phish-legs back.
Next, a smooth transition from PYITE into The Who's 'Drowned,' a Mike Gordon-sung choice that's been in the repertoire since the 1995 Halloween costume of Quadrophenia, and often a major launch pad for improv. Here we all said, all right. Second set time—where would 'Drowned' go? If nothing else, it's clear that the band had chosen to acknowledge the water elements in play. At least they hadn't begun with 'Water in the Sky,' which is definitely a first-set song and not terribly appropriate to come out of a jam vehicle like 'Drowned,' and this despite a surprising deft Page-led transition. This sop to the weather, while clever and apt, however, still felt somewhat deflating. Not a fail, only a slight disappointment. Yeah, we get it; yeah, we're wet; yeah, you're leaving 'Drowned' jamming money on the table. But it's your show and your call, Phish. We honor thy choices and dance a jig to 'Water in the Sky'.
From here the flow of the set would continue without much of a break, and would feature the second appearance of the Apples in Stereo cut 'Energy,' with this 10-minute version now beginning to grow into its potential to launch us into jam territory. In this case it's all too brief again, but in seeing the band move so quickly into Type II territory we have strong indications that 'Energy' will continue to bring the definition of its name to the Phish stage. Not only that, but this gave drummer Fishman his second tour opportunity to try out the new marimba lumina that he's added to his percussive arsenal atop the drum riser.
From the abstract free-form end of this tune, however, minds were blown and hopes realized when we get a joyously smooth transition into the third of the three Major Trey Compositions to be tackled at the Alph, the beloved 'Fluffhead,' which as the first song the band played at their Hampton return gigs in 2009 occupies an even more storied place in the hearts of phans than it already did. With another flawless, passionate reading of a long and complicated tune, Phish proved that their 10,000 hours of practice, including a few recent frames leading up to this tour, have more than paid off with their ability and agility in pulling off this key piece of musical phistory. And, as an electrifying bonus, a perfectly executed 'Heartbreaker' tease that came and went like the cool breezes from the passing rainclouds.
Needless to say, it's a set so far full of terrific stuff, next leading with a slightly unfinished 'Fluffhead' ending straight into one of the more unconventional versions of 'Piper' to come down the pike, well, ever. Not only featuring a callback to 'Energy,' this rendition of a traditional jamming launchpad quickly went from its structure into one of the thickest and nastiest Phish jams in memory—at least since last week, that is. This kind of dark improv, which seems to have really taken hold back during the New Year's run with its stupendous and haunting 'Carini,' portends and presents Phish at their in-the-moment creative best.
With the sky the limit for how far such a musical interlude can go, this 'Piper,' which like the other jam tunes on this night doesn't take too long a peregrination down improv way, nonetheless stands as a benchmark version worth repeated spins on the iPod, and like the rest of the set is an indisputable keeper.
Of course, with such mighty improvisational leanings there's only one way for such a set to go, and that's straight into… a Trey ballad. Okay, so I'm being a persnickety here, but 'Fast Enough for You,' a lovely enough song on its own terms, felt significantly out of place and caused a serious case of pffffffft to roll through the crowd. Don't get me wrong, I love the song; I love hearing it. I didn't enjoy it all that much in what felt like a perfunctory version with terribly inorganic placement, particularly at a point when it seemed as though the set may be running out of time.
Wrong.
'Also Sprach Zarathustra' represents anything but a set-ending tune, so with its swampy and mysterious appearance, set two of Alpharetta two again felt on track and heading toward one more peak. In this case, '2001' as it is often shorthanded includes a repeated, Cactus-led tease of the old funk classic 'Flashlight,' making this tune another candidate for keeper status.
In what's becoming a 2013 tradition, the 'Mike's Groove' sandwich that came next substituted the traditional bridging instrumental known as 'I Am Hydrogen' for a more unconventional choice in 'The Wedge,' here making only its second appearance in the slot, following a fairly notable and well-known sequence featured on the 1999 'Hampton Comes Alive' box set that also included 'Simple.' At Alpharetta 2013, the surprise factor of this unusual song placement seemed to wow the crowd, but made for a clunky, awkward, sluggish transition into a 'Weekapaug Groove' that took a moment or two to get fully up to speed.
With that final sequence capping off a danceable, intriguing, memorable set of Phish music, we all stood damp and with only one question left: what would Phish play for the final encore at Encore Park, and how they would play it? The answer came, and in the form of the good-time singalong Bob Dylan cover 'Quinn the Eskimo.' Also a traditional Grateful Dead encore-slot crowd favorite (it would be the last song I'd ever hear the Dead perform), this tune doesn't have a terrific amount of deep meaning in the pantheon of Phish classics, but as we all sang the chorus along with the band, 'Quinn' felt like a wonderful, final dose of community and connection to draw a curtain on this only southeastern Phish stand of summer 2013.
With a cleansing, cool rain still falling, the satisfied and happy phans filed out to their vehicles, got one last dose of vendor action on Shakedown Street, and went home to dry out. The much-anticipated Chicago three-nighter looms, as does a webcast of the event, and for those of us jumping off tour at this point, only one serious question could replace the 'what/how they will play' notion: when would they announce fall tour, and how close would they be coming to us down South again this year. Only time will tell about that possibility, but for now we can close the books on Alpharetta 2013 with the idea that Phish brought their best to us, and for that we should all be duly thankful.
About dmac
James D. McCallister is a South Carolina author of novels, short stories, and creative nonfiction. His latest book, a story collection called The Year They Canceled Christmas, releases in November 2017.