Review (Live Music): PHISH, Fresh in Portsmouth 2014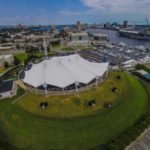 Amidst a series of higher profile weekend gigs like Randall's Island and MPP, Phish dropped back into what has become the East Coast's coolest outdoor shed with a pair of solid mid-week shows stuffed to the gills with tour debuts, a couple of which can be termed definite bustout material, and a number of satisfying jams. In other words, what we all keep coming to see.
At one-third the size of the typical shed, with a tented canvas roof that both facilitates clear sound as well as lighting effects, the Ntelos Wireless Pavilion features an all GA seating plan, a nice sized pit area, several seated tears, and a lawn that's but a sliver compared to the size of a place like Charlotte's enormous ski slope (dwarfed still yet by the actual ski slope of the Alpine Valley Music Theater's grassy lawn section). Staff are firm about keeping aisles clear and smoking materials extinguished, but in an easygoing manner.
In a jocular mood, I went up to a supervisor and said, why don't you people let us smoke/vape our sacraments? She shrugged and told me the restrictions against smoking don't have as much to do with the relative legality of burning exotic tobaccos, it's because of insurance liability relating to the non-metal roof. Makes sense. Cops standing around seemed more amused by it all than threatened. A chill scene. Twenty-first century vibes. Times are changing. For the better.
Meanwhile, an afternoon stroll along the waterfront and into Portsmouth proper reveals an interesting urban context: a nicely-preserved harbor town dating back to the 1700s, a tourist-oriented waterfront, Norfolk's much taller skyline across the wide river. Across from the marina next to the venue—you can sail or motor up to the Phish show here—is home to an interesting juxtaposition of cranes, naval warships wrapped in their own white-tented, 'dry-dock' configurations; an aircraft carrier, a couple of cutters. The flat-top looms like an enormous alligator sitting flat in the reeds, with the smaller ships a pair of sharp-nosed sharks, ready to slice in for the kill. The weapons of war and death, being refitted with all the current, up to date WMD the government-contracted vendor can muster. For defense, only. Billions and trillions. Fascinating, hard, and ugly, those looming, gray machines. So unnatural.
While the cacophony of echoing radio voices and clangorous goings-on beneath the white tents on the ships carried ghost-like and haunted across the still water of the blackwater river, the band, soundchecking 'Jennifer Dances,' a bluesy version that turns into 'Foxey Lady' and a spacey jam. Bizarre, walking down the waterfront in the brilliant late afternoon sun and hearing that construction soundtrack fade into Phish, onstage and fooling around with their own back catalog, as well as that of one of their heroes and influences. It's what they do.
—
But that was day two. Day one, and that vendor village is set up in the square right across from a traffic circle that leads to the venue, the marina, and, oh, ya know, the city police department and municipal complex. But you know what? The authorities seem cool with it all, so long as the vendors go and get a license or permit for the day. It's beautiful out—it feels so different from the hot and muggy air of Charlotte the Friday before. Barely eighty degrees. A sense of perfection and rightness to it all.
Stop one in the lot is the sesame noodle lady from whom I'll buy no fewer than three servings of her vegan wares, but she's off getting her permit squared away. I manage to buy from her assistant the first noodles of the day, but I find the guy isn't really the assistant, only watching the setup for her, but hey, he's there to clumsily serve the best he can. I say to him this is like the Blade Runner scene where Deckard is trying to negotiate his noodle order through the cityspeak of the Asian street vendor, but the dialogue falls on uncomprehending ears as he searches for the container of toasted black sesame seeds and Sriracha sauce.
A kind line scene on the grass approach to the gates. Except for whatever went down later, which I only heard about from second and third hand reports of what somebody heard or read from somebody else, and having to do with a rather famous phan who stands in a certain spot on the rail every. Freaking. Night. Forget it. I don't care that there was some altercation about the line and getting inside, but it was serious enough that the Phish tour manager came out on day two and set everyone straight about which line was for whom: railrats who had been camped out all day to the left, others less concerned with placement inside in the other lines farther to the right.
I mentioned waggishly to a fellow line-sitter that I've grown tired of every contentious issue in our culture being reduced to fitting into the left-right paradigm, that sometimes there are either more aspects to a given issue than an either-or debate can satisfy, but this commentary seems to the much younger showgoers like a nonsequitor and gets neither chuckle nor nod of recognition.
Enough atmosphere. The music itself:
Tuesday, July 29
Soundcheck: Devotion to a Dream
Set 1: Timber (Jerry) > Undermind > AC/DC Bag, 555, Divided Sky, Ocelot, Halfway to the Moon, Kill Devil Falls, Split Open and Melt, Good Times Bad Times
Set 2: Chalk Dust Torture[1] > If I Could, The Line > Birds of a Feather, A Song I Heard the Ocean Sing > Mike's Song > Prince Caspian[1] > Waves > Weekapaug Groove, Cavern > Golgi Apparatus > Run Like an Antelope
Encore: Wingsuit > The Squirming Coil
[1] Unfinished.
Teases:
· Birds of a Feather tease in Mike's Song
· Shock the Monkey tease & quote in Weekapaug Groove
Notes: Chalk Dust and Caspian were unfinished. Mike's Song contained a BOAF tease and Weekapaug contained a tease and quote of Shock the Monkey.
The excitement generated by the opening trifecta holds up throughout a tight, energetic, exploratory set. 'Divided Sky' is a note-perfect statement of Phish compositional and performance acuity; the more recent tunes are ripped through with aplomb, including ten minutes' worth of 'Ocelot,' which is growing tour by tour into a reliable late first-set groove. 'Split Open and Melt' comes off greasy and grungy and dark for all of its thirteen minutes, another statement of classic Phish that would be sufficient to end most first sets, but add in a Led Zeppelin classic to top off an outstanding first frame like a rock & roll cherry on a summer sundae, and Phish leaves this crowd in a state of hell-yeah that persists throughout the setbreak.
Set two: the jam vehicle of the summer tour as a whole has turned out to be perennially peppy rocker Chalkdust Torture, and at eighteen minutes this one is right up there as one of the best improv segments of the 2014 run of shows so far.
This particular writer experienced a real AH moment at what came next, however: after twenty years of seeing Phish, I had yet to catch the often majestic Trey ballad 'If I Could,' but setting out from home this time with the notion in mind that the long dry spell would fall at some point during the four shows I'd be catching this time around. As you can guess, hearing the first notes emerging from the CDT jam—at last—sent the writer drifting upward on a spiral of exultant gratitude. They'd soundchecked it at MPP a few nights ago. Not a total surprise, but still a kind of magical completion and satisfaction that only a dedicated songchaser like me could truly appreciate. To everyone else, a bust-out. To me, a much more personal and deeper meaning. When you're barely twenty years old yourself (like many of my cohorts around me during these two shows) it's hard to contemplate the feeling of a long quest coming to its end. When you're nearly fifty like me, and have more years behind than ahead, time starting to pile up . . . well, you get the idea. Arrival. Culmination.
The rest of the set, solid if unspectacular, with the potential jam vehicle 'Waves,' at only six minutes, not really gelling. A bit of a disappointment. A 'Wingsuit' into 'Squirming Coil' encore seemed puzzling to many. They wanted more energy, but hell, after the 'Cavern'>'Golgi'>'Antelope' rage fest to cap off the set, it was time to dissipate the high vibration and come back down to earth.
For me, however, who so loved the Halloween reveal of the new material and whose relationship with 'Coil' goes back that same traverse of time as my desire to solve the personally existential lyrical riddle at the heart of 'If I Could' relating to matters tangential to either Phish or jamband songchasing, this encore capped off a show that will always remain close to my heart. Maybe I do know how. At last. All I could think was Thank You, Phish, for the musical reward of recognition and achievement that I seemed to have earned on this night.
Wednesday, July 30
Soundcheck: Jennifer Dances, Foxy Lady
Set 1: Bathtub Gin, Devotion To a Dream, Yarmouth Road, Guelah Papyrus, Alaska, It's Ice > Poor Heart, Mountains in the Mist, Meat, Stealing Time From the Faulty Plan > David Bowie
Set 2: Fuego > Gotta Jibboo > Meatstick > Piper > Billy Breathes > Seven Below > Waste > Backwards Down the Number Line, First Tube
Encore: The Lizards
Teases:
· Long Tall Glasses tease in Bathtub Gin
· Fuego tease in Meatstick
Notes: The soundcheck's Jennifer Dances was a blues jam with quotes of Foxy Lady.  Bathtub Gin contained a Long Tall Glasses tease. Mountains in the Mist was played for the first time since December 27, 2010 (141 shows). Mike teased Fuego in Meatstick.
(all setlist info courtesy phish.net)
—
What we have on the second night of Portsmouth 2014 is an overall more solid show than the first. More rarities and tour debuts, including the first 'Mountains in the Mist' since 2010, a nearly twenty-minute 'Fuego,' a jam vehicle and fan favorite out of the new batch of songs, and in general a sense of setlist cohesion that would overshadow the first night's more choppy second set. Even 'Meatstick' features a nice jam, followed by a 'Piper' that continues the theme of comfortably flowing improvisation from song to song, including both a 'Billy Breathes' and 'Waste' sandwich with the semi-rare 'Seven Below' as interesting filler.
The late-set 'Number Line' brought the exuberance from Trey, which continued into an electric 'First Tube.' As he would in Alpharetta a few nights later when this song would also cap off a terrific second set, Trey could barely stop bouncing around the stage. The music, a high vibration for this tunesmith, his joy of creation infectious and thrilling.
Needless to say, an encore on this night of 'The Lizards,' a highly desirable Phish classic and core Gamehendge song, left the Portsmouth Phish audience buzzing and fulfilled. On a tour full of strong shows and jams, these would surely be considered two of the stronger shows, if by no one else but the attendees and this happy reviewer. Portsmouth 2015 can't get here soon enough.
Personal addendum: before the first show I managed to get interviewed by a features reporter for the Virginia Pilot, out news gathering for his Phish story intended for the upcoming Sunday paper. It turned out to be a magical moment of synchronicity: not only did this writer happen to have spent four years at my hometown paper back in Columbia, SC, when he asked who all I knew back there I mentioned the book reviewer who had given me my first publicity break when my novel King's Highway came out in 2007. "Hey, my desk was right next to hers the whole time I worked there." Interesting how these positive and affirming 'coincidences' come along in my life. In any case, he gave me a wonderful marquee spot in his piece, which can be read here.
About dmac
James D. McCallister is a South Carolina author of novels, short stories, and creative nonfiction. His latest book, a story collection called The Year They Canceled Christmas, releases in November 2017.