Review (Live Music Webcast): DEAD & COMPANY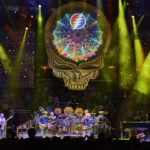 Dang if they haven't gone and done it.
Or so it seems to this longtime Deadhead.
Sponsorship. A corporate logo em-bugged in the corner of the youtube screen during the Saturday night live feed from Madison Square Garden, directed by no less a big-time, seasoned hand as Hollywood hit maker (if not precisely auteur) Brett Ratner.
As Jerry himself once mused late in their career, is this a whores and architecture situation with our once disreputable hippie jam band?
I'm tempted to update an old piece I wrote back when 'the Dead' played a Rock-the Vote political benefit alongside 'the Allman Brother[s]' for then-candidate Obama, a month before the election and in college town only a few years out from its shining moment as the home of Jerry Sandusky, maybe horsing around right then in a locker room across campus. Would Jerry (Garcia) have been down with that blatant political endorsement, as I debated and pondered? In the end, I doubted it.
How about an AMEX logo plastered all over the place?
Sure, it's a free show the company's throwing for the 10k in attendance and all of us here in webcast land. We know he'd have been down with all that. The Dead (Grateful) did that all the time. Back in the day. So maybe. Ten-thousand kids in the door for free? Hell, why not, he might have said.
As the show gets underway and the music sounds decent and warm and played with relative gusto, you know what? I find I can't go to that cynical a place anyway.
I've heard bits of the earlier gigs on this tour. It's fine. So many bands play the Dead now, at every level in every town across the land, to Dark Star Orchestra having become a mini-institution of its own, to the trope itself now of 'recreating' Dead shows having spread to the band members themselves, that it's getting hard to tell. Sometimes it feels fresh, sometimes it's like, how many more iterations of this tune can one hear before it all becomes rendering meaningless through sheer repetition.
So as for how much I'm enjoying tonight's Dead & Company webcast, I suppose that for yet another iteration of the Dead simulacra we've seen in now what are myriad forms, this band checks off quite a number of requisite boxes. Bobby has fully transformed into Jerry, with a white beard and a pot gut and a baggy black T-shirt, standing there in that spot like the old man did almost until the day he got out of that broken body of his and let go some of the weight, literal and otherwise, he carried. Two sets. Interplay. The big tunes like Shakedown and Help-Slipknot!-Franklin's. Drums and Space happens. A Jerry ballad, in this case, a solid Stella Blue, sung proud and true and strong by Bobby, carrying the torch as Ken Kesey had so bidden us all in the wake of Garcia's death. This sense of tribute and gravity and continuity is the way of things. Our Deadhead cups, they runneth over.
So where does this act land on the authenticity scale?
Yes, it's three guys who were part of the real deal; yes, it has some interesting new blood in the mix with blues and pop figure John Mayer and jamband vet and Allman Brother Oteil Burbridge on bass (early reports had Phish's Mike Gordon in the slot). But even now, I'm not sure what to say about the Fare Thee Well earlier this summer that supposedly drew the curtain on the act we think of as the Grateful Dead, except that now we are to think of this act as that, with iconic-in-his-own-right Trey Anastasio. My mom was quite ill during that admittedly joyful family gathering that I chose to forgo for all sorts of personal reasons, and it was hard to relax and get into the groove. Frankly, much of the time during those webcasts (rock solid compared to tonight's), I saw a band that for all the grandeur of the occasion could have used some more rehearsal and seasoning, which didn't help matters.
Here, though, I will admit to enjoying Mayer on this tour, and will furthermore point out that I don't think I really need to 'admit' doing so. He's shredding and reaching and bringing some new vibes to what are turning into a number of warhorse rock compositions, and not knowing his work from before, I harbored no prejudices. He seems to love this music. Puts his heart into every song. It's infectious.
But tonight? I will admit that it's disconcerting to see the AMEX logo. To see the mainstreaming that has fully absorbed the old hippie Dead scene. I don't think Jerry would have wanted it this way, but who the hell knows. At least the surviving Dead waited a respectful 20 years (and I guess with Phil's blessing, too) to take the sponsorship bucks. Only a couple of months after 'FTW' and the be-there-or-hang-fire-forever sales job on that may now feel the slightest bit crass. A teensy bit. Not calling anybody out or anything.
So all in all, it's fine. If folks are grooving and happy to pay to do it, I'm-a not-a gonna stop anybody from playing along. Once my stream settled into stability and I got over the AMEX bug in the corner, I found myself grooving along. I wondered if somewhere, knowing that a few of his pals still hung together and made music like in the old days—mostly—Jerry might well smile down on the venture, especially once he heard that big guitar peak like Mayer pulled off in that "Stella Blue" (complete with a few clams like Jerry himself probably would have dropped, all in service of reaching and striving for the power and magic of the living, spontaneous moment, of course).
Either way, nothing left now for Jerry, or any of us who continue to love and honor his music, to do but that—smile, smile, smile, like John Mayer tonight on "He's Gone," and again on the heartfelt "Brokedown Palace" finale. His appreciation for all things Dead certainly made me happy, corporate sponsorship and all.
Dead & Company are on tour through the end of the year.
About dmac
James D. McCallister is a South Carolina author of novels, short stories, and creative nonfiction. His latest book, a story collection called The Year They Canceled Christmas, releases in November 2017.