Review (Blu-ray): THE IMPOSSIBLE (2012)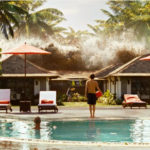 On my childhood vacations to exotic Myrtle Beach, at least once during the weeklong stay I'd always suffer a 'giant wave' nightmare: I'm sitting and playing on the beach (as I'd done for real all day long) when I realize a looming, enormous wave's about to crash down onto the beach, and me. The Impossible, written by Sergio G. Sánchez and directed by Juan Antonio Bayona, is that childhood nightmare made real, but more than that, it's simply one of the most riveting, wrenching, and realistic 'disaster' movies ever made.
Based on a true story, an English couple, Maria (Naomi Watts) and Henry Benedict (Ewan MacGregor), and their three puckish boys Lucas, Thomas, and Simon (Tom Holland, Samuel Joslin, and Oaklee Pendergast) take their Christmas 2004 holiday at an exclusive resort on the coast of Thailand, but what they don't know is that on Boxing Day will come a mind-bending, indeed, nightmarish tsunami that will devastate the Asian and Indonesian coast.
In the film's first ten minutes we only learn enough about the family to know that he's a bit of a workaholic, she's a doctor taking leave to raise her three sons, and that they seem terribly happy and satisfied with one another. But then the tsunami is depicted in a sudden, breathtaking, horrifying CGI sequence that outdoes any childhood bad dreams I might have had: the massive tidal wave explodes on the shoreline, sweeping away the resort, and with it, the Benedicts. We follow the gravely-injured Maria and eldest son Lucas through the swirling, filthy water, and the longest section of the film is then comprised of their initial survival and journey for help and medical care in the aftermath of the destruction. Meanwhile, we have no idea the fate of Henry and the other two boys.
When it's later revealed that all have survived, however, the movie's second half becomes a suspenseful progression toward the possibility that the family will, against what indeed seem to be impossible odds, find themselves reunited; a complication comes in that the weakened Maria needs urgent medical care to survive the deep puncture wounds sustained in the tsunami, and hovers near death.
Realistic and visceral perhaps to a fault, The Impossible received a number of year-end accolades (including a well-earned Oscar nom for resilient Naomi Watts), but failed to ignite the holiday season box office—perhaps its realism was either too much for viewers, or else it just didn't sound fun to live through such a natural disaster with two of the world's most attractive movie stars.
Financial success or not, however, this movie stands as a gripping and impeccably made docudrama about the courage and strength real people managed to muster in surviving a quite-real, almost impossible to fathom world catastrophe in which they found themselves swept up, and now deserves to find a wide audience on home video and streaming. From the performances (including by the capable and affecting child actors) to the craftsmanship of the picture to the heart-wrenching but never mawkishly sentimental nature of the material, I give The Impossible my highest recommendation.
About dmac
James D. McCallister is a South Carolina author of novels, short stories, and creative nonfiction. His latest book, a story collection called The Year They Canceled Christmas, releases in November 2017.