Review (Blu-ray): HANNAH AND HER SISTERS (1986)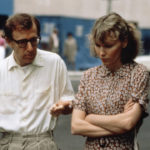 Seen at the time as a return to form for Woody Allen—never mind that prior to this movie he'd gotten wonderful reviews and Academy Award nominations for Broadway Danny Rose and The Purple Rose of Cairo (two of his best, incidentally)—Hannah and Her Sisters garnered as much commercial and Oscar acclaim as his prior, late 70s critical smashes Annie Hall (it won the Oscar over Star Wars) and Manhattan. Hannah, a Best Picture nominee and multiple winner in supporting actor (Michael Caine), actress (Diane Wiest, first of two Woody-directed acting Oscars), and screenplay categories, would in fact go on to represent a new benchmark as the biggest financial success of his career, surpassed only by the surprise worldwide hit that was 2011's Midnight in Paris.
I made my own contribution to the success of Hannah and Her Sisters, which I paid to see no fewer than four times at the beloved downtown Columbia, SC, movie palace, Jefferson Square. At the time I was a screenwriting and filmmaking student as well as a huge fan of Allen, and came out of the first screening in awe of the deft, poignant, and hilarious job the filmmaker did of juggling the various story lines and skirting the line between comedy and pathos. The crowd gasped and laughed and applauded at the life-affirming ending; we all walked out buzzing.
Hannah has a real rhythm and zing, never more than when the director himself is onscreen, appearing in Woody's classic neurotic, kvetching character archetype—it's his version of the Little Tramp, performed here with pitch-perfect comic timing. For a movie called Hannah and Her Sisters, it's Mickey Sacks (Allen), as the ex-husband of the titular Hannah (Mia Farrow), who provides the narrative spine and central comedic conceit of the movie: it's the people and little things we take for granted while looking for some grander 'meaning,' or pursuing wrongheaded emotional needs of the moment, that make our lives full and rich.
Meanwhile, Hannah, as a successful stage actress retired to be a wife and mother, Leigh (Barbara Hershey), a recovering alcoholic seemingly between careers, and Holly (Wiest) a cocaine-sniffing would-be actress who needs another in a series of loans and chances, all make for a rich and realistic set of sisters, but with relationships that are more complicated than they even realize. Hannah, besides dealing with her mysteriously unhappy husband, has as the eldest sister now become the matriarch to the whole family, including the aged parents for whom she must play referee. Ironically enough, it's Farrow's character who everyone seems to revolve around, yet isn't truly onscreen as much as one might expect.
What Hannah doesn't know is that her second husband Elliot (Caine), as a kind of secondary but familiar lovestruck Woody-esque protagonist, is pursuing a woman who represents forbidden fruit: his story involves an affair, unrequited at first, with Hannah's middle sister Leigh. By the time Mickey's story connects with the third, youngest and least accomplished sister, Holly, whose last shot at success is a script she's written inspired by her family, the movie culminates with the before-mentioned ending that so killed in those packed-house first run screenings.
From Carlo diPalma's naturalistically-lit images of New York to the top-drawer casting of numerous supporting parts with adept and familiar faces, Hannah and Her Sisters is in its details, overall plot and thematic pursuits one of the director's most compelling and complete statements of form. Only two years later Allen would in many ways top himself with Crimes and Misdemeanors, but for a time in the late 80s it was inarguable that Woody Allen had made in Hannah a movie that ranked with his very best. With that assessment seeming to hold even at this remove of 2013 (and this despite having over two dozen subsequent films to his credit), watching the new blu-ray edition felt like a treat.
For the most part.
Unlike last year's blu releases of Annie Hall and Manhattan, this title has not been given a terribly impressive transfer. While grain structure, detail, and the occasional but rare bright colors are often more than adequate, in a number of scenes what at first seems like grain becomes suspiciously more like video noise. This condition suggests that the blu-ray catalog release of Hannah and Her Sisters, while an improvement over the original DVD version, has been sourced from a clearly inferior video master. A shame. See it for its fabulous script and acting and satisfying story, but prepare to be not too terribly blown away by the appearance of this welcome but middling HD release.
About dmac
James D. McCallister is a South Carolina author of novels, short stories, and creative nonfiction. His latest book, a story collection called The Year They Canceled Christmas, releases in November 2017.