Pat Conroy Dead at 70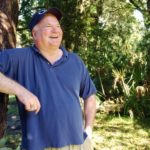 Not much to add this morning that many fine obits haven't already, except to note that on a personal level, this hurts deeper than I can fully describe.
At a time when I was reading great books and wondering not only how it was done, but if it could even be done at all by some kid from a little town in South Carolina, along comes Pat Conroy. The Lords of Discipline, a hot new book on the bestseller list set in Charleston at a fictionalized version of The Citadel, caught my eye. An acclaimed novel, the third, by some dude.
But wait—he's actually from some little town in South Carolina!
That meant it could be done!
Holy crap.
Fast forward to 2013, and I have come a long way—two novels in print, a few short story awards, magazine articles. But with more to achieve.
A miracle occurs—not only does the great Pat Conroy happen to start a fiction imprint at my alma mater, the University of South Carolina, but I get my foot in the door with a fat manuscript, at the time (pre-DIXIANA) my magnum opus, a personal, wrenching, and (I hoped) darkly baroque family drama inspired in part by the operatic tone of some of Conroy's work.
The miracle manifests—I get a request for a full.
Nirvana.
It all might work out. Whatever that meant.
"If we publish it," Conroy's editor said, "the book could appear maybe in spring 2016."
Well, damn. Pretty cosmic.
It didn't work out. It happens. I never even got to sit down with the esteemed low country bard to talk out the possibility of a revised version. Writing and submitting, a pitiless process. Big dreams, like a troubled character in the rejected manuscript, sometimes hit the cracked sidewalk hard.
One day while waiting to hear back, I parked on Pendleton Street behind the State Capitol to go to a book event at Thomas Cooper Library, and it struck me:
Holy shit, dude. You submitted a novel to Pat Conroy that ends quite spectacularly and horribly with a character hitting the pavement from the top of a downtown Columbia condo building… not unlike the man's own brother. In all my excitement about getting the book into his hands, I never once thought about Conroy's personal reaction to that element of MANSION OF HIGH GHOSTS.
Now I will never know.
My mom, herself dying of cancer, seemed more crushed than her son about the failure to connect with Conroy and make the deal on the manuscript. I couldn't let her know how much it hurt me. "Eh, that's the biz—if I'm gonna be a pro, gotta face up to failures and move on. I will have other opportunities. This opportunity felt like many threads culminating, but there are other tapestries to be woven…"
Or some such horseshit. In any case, as I insisted to my late mother, I won't let one more rejection slow me down, even one this big. And, I haven't.
But waking up this morning to news of Pat Conroy's death from pancreatic cancer has hit me pretty hard. As I posted on Facebook, here it is at the dawning of spring in the year 2016, and no book, no Conroy.
Damn.
It's fine. I have plenty of books written—eight more, in fact, and that doesn't count a couple of story collections I've sequenced. The next title will come out in the fall or early 2017, either self-pubbed or from a small press. But Pat Conroy, who inspired so many of my endeavors, won't be coming back. And that part sucks. Now if that isn't a raw feeling, show me one worse for this writer and lover of books, in particular the ones Pat Conroy wrote.
So, rest in peace, o sweet prince of the pen. If it weren't for your example, I'm certain I wouldn't have achieved even half of what I've managed. Thank you.
About dmac
James D. McCallister is a South Carolina author of novels, short stories, and creative nonfiction. His latest book, a story collection called The Year They Canceled Christmas, releases in November 2017.