Novels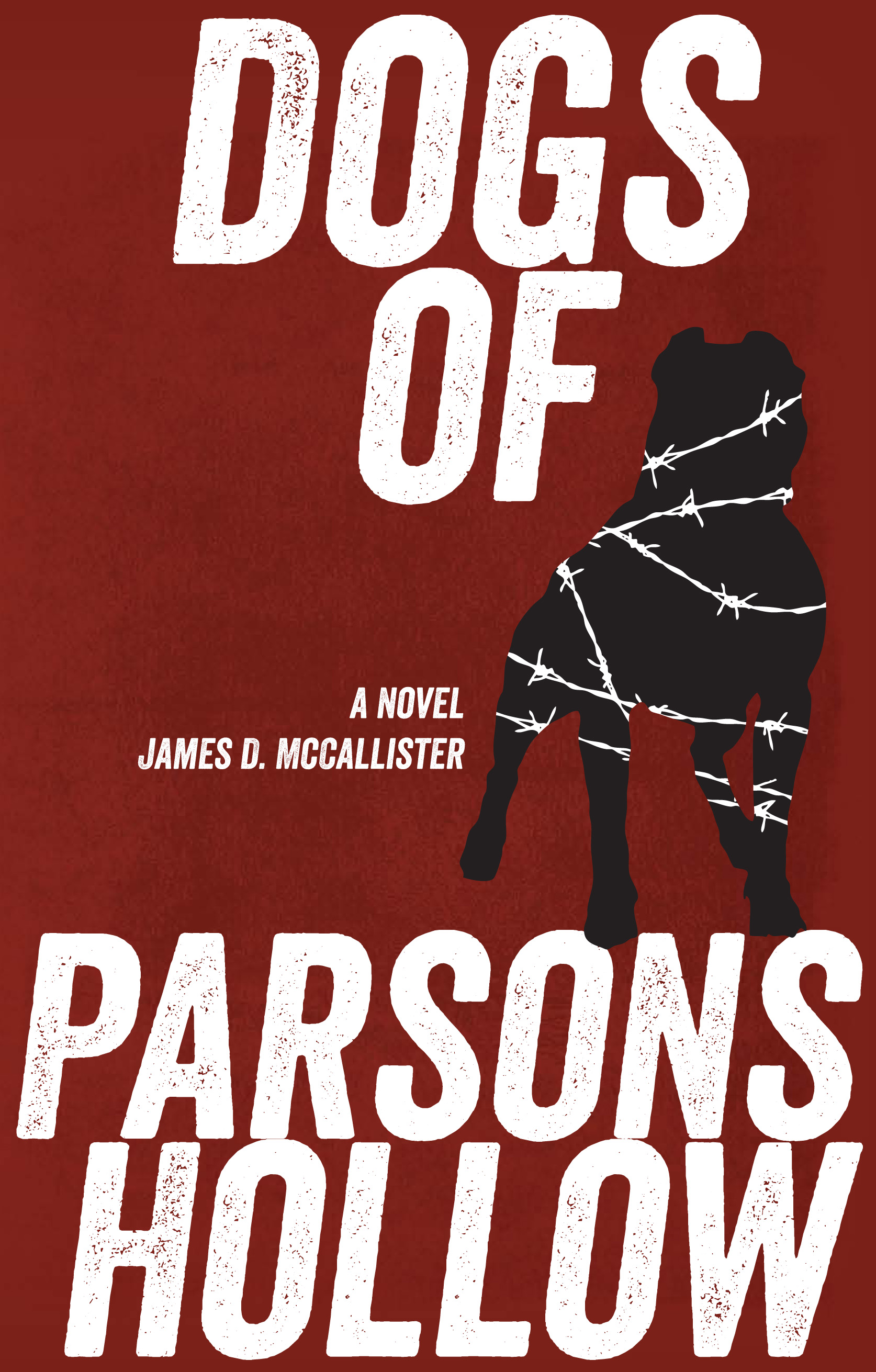 A bereaved mother seeking solace in the rural Carolina countryside instead finds herself embroiled in a depraved, backwoods fever dream, an animal lover's nightmare: Finding a beautiful, secluded home far from Randi Margrave's troubled life in the city seems like a step in the right direction–away from ruinous grief over her sweet son Denny, killed in a tragic accident.
Until, that is, she discovers her creampuff of a house sits uphill from a mysterious, camouflaged compound by the river, and from which she begins to hear a haunting chorus–dogs in distress. The sound of suffering.
And once Randi learns the shocking truth about her new neighbors and their dogs, she'll decide to risk all she has left–including her own life–to stop Esau and Julius Macon from ever abusing another innocent animal.
"Real depth of characterization… enough momentum to keep the pages turning." —Kirkus Reviews
"Once again, James D. McCallister has proven his mastery of the Southern novel. This story of a grieving mother's crusade to stop cruelty tugs at a range of emotions and is well worth the read." —Raegan Teller, Murder in Madden
Releases May 8, 2018
---
Tasked with selling the idea of an honorary public monument to a reluctant, reclusive rock superstar, Southern novelist Cort Beauchamp finds himself in confrontation with loneliness, stagnation, and the lasting relevance of his own work. For the most part, he'd just like to be left alone—but he's indebted to a mentor who made his own success possible, even if it now lies far in his own past.
Amidst a burgeoning creative revival in the community, a flowering of midlife romance, and a progressively personal beef with a Governor determined to undermine funding for the arts, Cort just might end up discovering fresh inspiration for his work . . . but only if his heart is in the right place.
Released on January 17, 2017
Reviews:
James D. McCallister's funny, verbose, and memorable Cort Beauchamp is many artists: desperate to create, yet always standing in his own way. This stumbling hero's journey is a most worthy read. —Carla Damron, The Stone Necklace
Let The Glory Pass Away is a satisfying and candid glimpse into an artist's world. We walk with the quintessential local writer as he struggles to navigate the challenges of creation, the burden of history, and a conflicting network of fellow artisans, family, and friends. Like a writer's life, this novel is a riotous mix of comedy, tragedy, and revelation. Artists and their patrons alike will enjoy McCallister's well-crafted and poignant tale. —James E. McTeer, Minnow

A witty, nuanced look at the struggles of a Columbia, South Carolina novelist trying to find his place in the wider creative landscape, while witnessing a creative blossoming in his hometown. Let the Glory Pass Away is big-hearted, sure-footed in its insights, and a whole heck of a lot of fun." —Karin Gillespie, Love Literary Style
---
Of her legions of followers, none seems to suffer the loss of Rose more than Brian 'Nibbs Niffy' Godbold, who succumbs to his grief in a fashion similar to that of his idol—too young, too soon. Now, best friend Ashton Tobias Zemp scours the journals and manuscripts Nibbs left behind, to seek a better answer to the question of his friend's death—an accidental overdose, or outright suicide? When he begins to suspect the truth—that Nibbs Niffy went to his grave harboring an appalling and ruinous secret—Ash is forced to reconsider his own past: was he a 'real' fan, or just a fellow traveler?
Reviews:
"Lyrical, funny, and deeply touching, Fellow Traveler takes readers on a remarkable journey, with characters and scenes that claim America's recent countercultural terrain as a proper–and powerful—subject for literature." —Nicholas G. Meriwether, Grateful Dead Archivist, University of California-Santa Cruz
"Fellow Traveler made me laugh, cry, reflect and remember–Deadheads and jamband fans who read this book will have an eerie sense of having been part of the story."—Rebecca Adams, co-editor, Deadhead Social Science
"A truly charming and deft literary achievement—a magical, captivating work of fiction."
—Gary McKinney, Darkness Bids the Dead Goodbye

"Fellow Traveler blends the mythology surrounding the Grateful Dead, and other bands in their mold, with a genuine love for the culture and its place in society." —Vincent Craig Wright, Redemption Center
"The novel is to a large degree about not only how first- and second-generation Deadheads keep in touch with what they learned from the Dead, but also how the music and its significance get carried on to another generation. Unburdened by claims to ethnographic truth, Fellow Traveler lives up to its epigraph: 'A good traveler has no fixed plans and is not intent upon arriving'." —Jay Williams, Senior Managing Editor, Critical Inquiry (writing in Dead Studies Vol. 3)
Fellow Traveler
 is as worthy a document of the latter-day Grateful Dead experience as any I've read, fictional or historical. —David Gans, 
This Is All a Dream We Dreamed: An Oral History of the Grateful Dead
James D. McCallister does a great job of both entertaining the reader and making us think . . . and maybe even pine a little bit for music that we never heard. (Or did we?) —Brian Robbins, jambands.com
---
Raymond "Ray-Ray" DeKalb has everything going for him, but it sure doesn't feel like it. At 19, he's living the college high life, his folks have money, and he's supposed to be going places—places his father has planned for him to go. For Ray, a career as a lawyer and politician are Nowheresville. Not that he has a better idea.
Add in the fact that his girlfriend's dumped him for his own ghastly brother, and there's nothing for it but to show them all that they can take their bourgeois, pre-planned ideas about his life and shove them where the sun doesn't shine: it's springtime 1978, it's the era of sex, drugs, and rock & roll, and Myrtle Beach, that Southern mecca of youthful angst and yearning, with its boulevard of boundless promise and pavilion of infinite hope, lies a few miles down the road. But callow Ray-Ray will soon learn that even on the King's Highway, a young man's troubles follow him wherever he goes.
Reviews:
Feel the warm breath of an ocean breeze. Taste the salt of the sea and sweat. Hear the laughs and screams from the creaky old wooden roller coaster. And remember the time in your life when all the answers seemed just out of reach. King's Highway is a journey not easily forgotten. —Carla Damron, The Stone Necklace
McCallister hits the bullseye with his main character, Myrtle Beach itself, the Cloud Cuckoo-Land of misspent youth—what we felt like when we thought the fun would never end, and what it felt like when it finally did. —Ben Steelman, Wilmington Star-Observer
Lost in an upwardly mobile world that doesn't interest him, "Ray-Ray" DeKalb is on a path to find himself—a path of desire, personal destruction, and ultimate disaster. King's Highway is a wonderfully written first novel by a writer who brings to life a bygone era on South Carolina's Grand Strand.' —Karen Petit, The Mystery at Foggy Bottom Lake
A coming-of-age story that any teenager, especially one who grew up in South Carolina, will recognize in many ways as his or her own. —Robert Lamb, Atlanta Blues and Striking Out
McCallister's witty, unhurried style make this book a winner. —Bert Goolsby, Harper's Joy