Notes on the DIXIANA Saga (Part 2)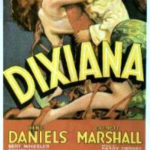 With the lengthy establishing act that is DIXIANA already described, we continue the synopsis of the seriocomic Southern literary journey of Roy Earl Pettus, Button Sykes, Christy Beaudock, and all the other characters driving the narrative of DOWN IN DIXIANA, the second volume of this three-novel series for which I'll soon begin seeking a publishing berth.
While book one covers only a few days, book two finds the characters a month after the death of Roy's grandfather Reynolds 'Rabbit' Pettus.
Click here for Part 1 of Notes on the Dixiana Saga
DOWN IN DIXIANA
Part One: Crackerbox Palace
With his estranged wife Creedence in rehab and grandmother Mama Runelle taking the death of her husband in stride, Roy zeroes in on his plan to tear down the town's old honkytonk The Dixiana and put in its place a mixed-use retail development anchored by his coffee shop brand, the Carolina Beanery. Everyone's fired except Button, in whom Roy thinks he might have found a new mate. Only problem is that she's not only like family? And all? But gay, dude, and pining for her lost love Heather Ponderview. Roy's challenges also include the fulfilling of his grandfather's last request, which is to put on a folk music festival on the town green, an event he'd never been allowed to stage by the stuffy, Old South fussbudgets running things around there.
Meanwhile, Christy Beaudock, fired Dixiana employee Newbie Harrell, and town wacko Howdy Shull form an unlikely friendship that coalesces around diminutive hippie chick Button Sykes, whose petition to put a Free Speech tent on the town green, a kind of information clearinghouse to hand out environmentally conscious literature, has been approved by town council (but only so long "as it don't turn into no Occupy Edgewater County mess," as she's warned). It's a quaint idea—she fancies herself a pamphleteer in the grand tradition of the American revolution. She's worried that the high cancer rates in Edgewater County, SC, have something to do with the aging Sugeree River Nuclear Station where they're building more reactors. She's also worried as heck about the sore throat that won't go away, and the stitch in her side, and the weight loss. Cancer runs in her family. Hell, she ought to know—her dad used to run the plant. Until he died of cancer.
Part Two: The Partners
Roy explores the idea of forming a merchant's association in Tillman Falls of like-minded individuals to challenge the existing power structures represented by the Edgewater Ladies' Munificence Society (ELMS) as well as the 'back room boys' like gangster Jezmund Rembert who have long directed the underground economy of Edgewater County, and who once did it out of the old 'upstairs' VIP rooms in The Dixiana. Roy, forging friendships with musician-slash-restauranteur Manny Theodore, who will become an unlikely and sudden housemate, arts center director Rebecca LaFreniere, as well as a former childhood bully and nemesis turned adult ally. In-depth backstory informs of important childhood partnerships such as with Dobbs Vandegrift, editor of the local rag the Edgewater Advocate, as well as folks on Roy's adult path to business success, which feels ever more hollow and meaningless.
Roy, still in confrontational mode, reveals his hateful plans for the beloved if decrepit honkytonk to find himself physically attacked both by the husband of the disgraced Dixiana manager he fired (Trudy Footwater, also an old girlfriend) as well as by his own cousin, Mervin, who wants to live in an old house Roy now owns. Some of Button's lectures about letting go and not using dark energy like anger to control others seem to settle in his spirit along with the blows he receives to his body. The old Roy would've reduced those attackers to rubble, verbally and maybe physically, though violence is far from his nature. His words are his broadsword, the metaphorical Black Blade. Now, he tries forgiveness and patience.
Part Three: Chapel Perilous
Christy discovers that Howdy Shull isn't as smart as he seems to be from all his lectures on ancient history and other esoteric subjects like, WAY over Christy's head, and yet not, somehow. In the spooky basement of the old mill, Christy and Newbie discover that Howdy may be into more than the gas he's huffing and the wacky history lessons he spins out in his mellifluous Old South brogue: his behavior seems downright ritualistic. A circle in the floor. A symbol on the wall. It's a hooked cross that Christy knows must be Satanic.
But a powerful sense of presence like Christy has never known comes over him. Forget that gas huffing, though. He'll leave that to Newbie, another little druggie and pill popper like Christy's no-good Daddy. He took care of that problem, didn't he, and would do the same to Newbie, Howdy, or anyone else he finds irritating. Who keep him from the flight simulator game he so loves. Best thing in his life. One day he will fly. His dreams confirm it. Maybe Roy Pettus, the big bossman and hobby pilot who keeps telling Christy to stay away from Button—grrrr, Christy thinks—will take him flying in his Piper Meridian one day. Christy loves Button. This cockblocking of Roy Pettus's, as Newbie explains the concept to emotionally inchoate, physically enormous teenager Christy, feels extra super duper irritating.
As he tries to reconnect with his reluctant and recovering wife, Roy comes to a new and more positive idea than the destruction of The Dixiana. Twin climaxes involve police shootings: one in which Roy's trying to help an injured pet, and another in which a hail of gunfire ushers a major character off the stage. In all this is revealed a possible supernatural element to the proceedings, a firebug of a ghost named Agatha of Aberdeen who appears to several characters in the roiling flames of what becomes an involuntary self-immolation no one involved will ever forget. Fires have plagued Edgewater County for two hundred years. Agatha, a busy and nefarious spirit.
In the end much remains unsettled, but a trip to Heather Ponderview's mountain estate sets Button on a path of possible reconciliation with her own long-lost great love, while the revelation of a secret from Heather's past casts in a different light everything that happened between them. Roy's inability to reconnect with his wife Creedence, who has grown into her independent role running the coffee shop down on Sedge Island where they had lived together, remains his primary conflict, and while he's growing spiritually and learning to let go, our hero nonetheless makes a dark bargain that belies this progress: instead of trusting Creedence's growth and recovery, he pays an island cop, Phil Webhannet, to keep tabs on her. What Roy doesn't know, however, is just how much his estranged wife, lonely and confused, has become attracted to the same policeman he's paying to shadow her.
Next: the story concludes in DIXIANA DARLING
About dmac
James D. McCallister is a South Carolina author of novels, short stories, and creative nonfiction. His latest book, a story collection called The Year They Canceled Christmas, releases in November 2017.