Notes on LET THE GLORY PASS AWAY — Part Three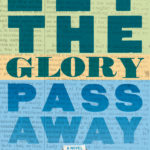 QUESTIONS OF CHARACTER
Five years ago when I first sat down to draft my upcoming novel, I intended to do so in one fell swoop, a nonstop creative endeavor bringing to bear all my experience and purported talent. By this, my fifth longform manuscript, I felt not only eager but seasoned to prove how fully cogent and developed an experience I could concoct on the first draft . . . and this time at bat, without much of an outline.
The idea and the main characters—that was all. Where would the story take me?
The setup: while questing to land the white whale of a reluctant rock star's approval for an arts committee's public monument to his career success, a middle aged writer-narrator, mired in creative stagnation, encounters a series of erudite and accomplished figures in the local arts scene who help him find new inspiration. The principal complication? The rock star won't budge. 
I wouldn't find out until I began to write LTGPA, however, that in order to effectively let the story shape itself, I needed many, many more characters at hand than my narrator and his reticent rock musician. And as it turned out, the rock star himself would become an elusive, absent presence until much later, when the protagonist would have to finally catch the big fish that sets all this in motion.
As any fiction writer will tell you, the real magic in the writing process doesn't begin until one has characters not simply in mind, but when the scribe begins to know them as people. Luckily for me, as my writing summer wore on and the draft tumbled out from my flying fingers, the cast that I concocted began to make their own decisions. At times, the characters I came up began to surprise me with their attitudes and actions. That's when you know you're cooking with gas—when your fictional people begin to tell you how the story should proceed.
Here's a brief look at the LTGPA "family" of folks.
---
MAJOR PLAYERS
CORTLAND (CORT) BEAUCHAMP Our humble narrator, a son of Edgewater County, needs to get his mojo back on all fronts: creative, romantic, and professional. Readers soon find out that Cort, weighed down by the baggage of tragedies past and more recent, suffers a conflict less external in nature than with the man in the mirror. Irritated by his difficult assignment, to persuade a wealthy, accomplished man to accept the approbation of the community—what artist wouldn't revel in that?—our writer who cannot produce would be happier if he could only come up with another book, not pestered by what he sees as an extraneous obligation.
LEORA WOOD-COBB Nearing retirement age but still doggedly pursuing her life's work, Leora is the face of the arts in Columbia, SC. Her work includes not only running a state government-funded arts organization called the Council on the Performing Arts (COPA) but spearheading local events like the book festival and the new CityArt Fest taking place downtown. Leora calls on Cort Beauchamp to come out of his cabin in the woods and get involved. "This city needs you," she tells him over lunch, but he's loathe to show his face unless it's to promote his own career with a featured slot at the annual book festival, which isn't happening. Why would it? He has no new books—what could he possibly have to offer? Leora has an idea: talk a rock star into coming out of retirement.
DUNCAN DEVEREAUX  Following a tragic concert stampede that ended the life of several of his most ardent fans right as it seemed he was about to shift into a new phase of his musical evolution, this reclusive heavy-rock superstar walked away from show business. For nearly fifteen years he's been living in seclusion on his palatial estate on the tip of South Carolina's most exclusive low country coastal resort, Sedge Island, but what he's been doing since retiring is anyone's guess. Despite the honor being offered, the Duncan Devereaux Committee has gotten only a cold silence in response. Perhaps Cort, who once wrote a glowing profile of the up-and-coming rock star, can persuade him to not only give his approval, but actually perform in public for the first time since the tragedy.
MARCY BAUMBACH Cort has heard songbird Marcy Baumbach accompanying herself on the keys many times as part of the regular dinner entertainment at D'elassandro's, a swanky Italian joint where, until recently, anyway, the now-sober Cort polished the bar with his elbows. When his first committee meeting spills over from the conference room to the dinner table, Cort embarks upon an entirely new narrative thread: a fresh romance. Awkwardness ensues: Marcy is the best pal of Cort's ex, Opal.
OPAL D'ELASSANDRO Brassy, sexy, and foul-mouthed, former punk rocker Opal is far more than Cort's ex-girlfriend—besides being the third generation owner of one of the top restaurants in the city, she's the president of the Downtown Business Alliance, and also serves as chair of the DDC. Her relationship with Cort sounds contentious—they once had sparks, but personality-wise they seem like oil and water. At the news Cort has designs on Marcy, Opal is at first upset, then oddly supportive about the idea.
RICK WRAGG To further complicate the interpersonal matters, committee member Rick Wragg is not only Marcy's ex, but excited to meet Cort because this Southern novelist is someone who can do Rick another huge favor besides getting Duncan to say "yes": also take a look at some writing Rick has done. Rick and Cort aren't otherwise much alike, but their rapport has an instantaneous bedrock connection to bind them: Rick also walks the path of sobriety, both of them doing so amidst a social scene that often revolves around cocktails.
GOVERNOR SANDRA THREE-RIVERS Despite a purported Native American heritage, Gov. "Sandy" Three-Rivers is a right wing political nemesis to the arts community, and provides an antagonist not only to Cort, but everyone who believes in the importance of art to the health of the community. Cort will have two key confrontations with the former newscaster turned leader of his state, both under high pressure circumstances.
---
THE SUPPORTING CAST
"UNCLE" CLETE BEAUCHAMP  The elderly Clete and Cort have business to clear up—what will become of Hillsborough, the old Beauchamp family estate?
CADENCE WRAGG  Rick's nine year-old son Cade, mildly autistic, forms a touching friendship with Cort
FELICITY BELINDA "FEEBEE" ELMENDORF Feebee is Opal's executive director on the Downtown Business Alliance board and a key member of the DDC
MEREDITH BAUMBACH Marcy's mother, battling cancer, requests an audience with the new boyfriend
F. GORDON BLAKE The grizzled, hard-drinking elder statesman of the local literary scene, Blake and Cort are both tapped to speak at the funeral of another major character
GENDRY LIZETTE Gendry represents "the fans" on the DDC; her obvious love for Duncan inspires Cort to try harder
JASPER GLASSCOCK Small-town lawyer by day and guitar picker by night, Cort will pay a visit to Jasper's open mic night at The Dixiana, a famous honkytonk in Tillman Falls, Cort's hometown
REYNOLDS "RABBIT" PETTUS A WW2-era veteran and original proprietor of The Dixiana, Rabbit still works the door at his music club like he did over fifty years ago—a living legend.
REYNALDO HUSK Duncan's aide-de-camp and bodyguard presents a formidable obstacle to those wishing access to the reclusive rock star
WALID One of Cort's writing students at Edgewater Technical College, Walid gives Cort another perspective on the legacy of William Gilmore Simms
LAYLA Another writing student, one who impresses Cort with her heartfelt prose
DARREN WOCZINSKI Rick Wragg's partner in Glimmer Twins Sound & Light, he will prove crucial to the ongoing success of the DDC
ELVIN LACHICOTTE  DDC committee member, a journalist who asks Cort a dreaded question: if he has a new book coming
DOOBER DOUGIE Legendary local classic rock DJ and committee member
GOODMAN CHAMPAGNE DDC committee member, a clothing store magnate and arts supporter 
As these characters came together, I thought, now this feels like a cast. A few more minor-minor characters would follow, the necessity of whom became apparent in the course of the composition. For the most part, however, these are the key people who (almost) all have at least some dialogue or presence. Once I had them in mind, even as mere sketches, I found myself off to the storytelling races.
---
In the fourth and final Notes on Let the Glory Pass Away, we'll feature an interview with the author (that's me) conducted by my publicist, which will answer other questions about the book. I hope this novel will not only entertain and enlighten, but also open the door to many new readers interested in exploring what will be an entire series of Edgewater County stories, including two collections of shorter pieces.
Here are links to the first two "Notes On…" segments. Thanks for reading!
About dmac
James D. McCallister is a South Carolina author of novels, short stories, and creative nonfiction. His latest book, a story collection called The Year They Canceled Christmas, releases in November 2017.