New DIXIANA Draft Completed!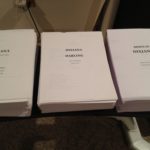 Here at the end of 2014, there's no greater news I could announce than to make this post trumpeting the completion of the third draft of my three-novel saga entitled DIXIANA, about which I've blogged in an extensive and ongoing fashion.
Twenty months into a two-year timeframe to completion, with the current version I feel as though I've already managed as fully realized a draft as I could have realistically hoped to pull off in that amount of time. With four months to go until the hard deadline, today I find myself ahead of the game and feeling very accomplished.
Next in my process will be, of course, another read-through and edit, another draft, so by April 30 (I started on May 1, 2013) we're shooting for what will be called the fourth draft. The schedule will entail getting through DIXIANA (182,000 words) in February, DIXIANA DARLING (158,000) in March, DOWN IN DIXIANA (155,000) in April. Brutal. One more round of serious literary discipline.
In the meantime, however, the scribe will rest on laurels a bit. Reading copies are prepared of all three manuscripts, and while continuing to revise and edit I'll be seeking intrepid beta readers for those—come with me on this mad and magical journey to DIXIANA, he exhorted, which readers will find is more a state of mind than a place.
The current pitch:
Having inherited his granddaddy's honkytonk The Dixiana, cuckolded fruitshake millionaire and hobby pilot Roy Earl Pettus flies himself home to rural Edgewater County, SC with a tailwind borne of prodigal-son hubris and hurt. Back home he aims to settle old heartbreaks current and past, ultimately deciding to remake his hometown into a modern, monied image of small business success. Literary comedy-drama. One long story told in three novels, those manuscripts further divided into nine sub-books that could be serialized as novellas.
In a couple of weeks I'll be posting a full 'State of the Projects' career assessment, along with a few new reviews and other writing updates. If the blog has seemed cooler of late, the photo below should demonstrate why. Happy 2015 to my readers, friends, colleagues, and family who follow my writing career here on Edgewater County Confidential.
About dmac
James D. McCallister is a South Carolina author of novels, short stories, and creative nonfiction. His latest book, a story collection called The Year They Canceled Christmas, releases in November 2017.