My Tidbit in David Browne's SO MANY ROADS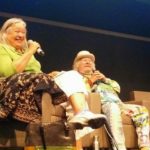 As documented on this blog and elsewhere, in November 2014 I was fortunate and honored to present Fellow Traveler at the national Grateful Dead academic conference called So Many Roads: The World in the Grateful Dead. It happened that my panel included Rolling Stone and Men's Journal contributing editor David Browne, who had a new biography of the Dead coming out that next spring from Da Capo Press. . . which also happened to be called So Many Roads. All pretty cool.
Being on the panel with David (along with memoirist Rhoney Stanley) made for a terrific time. Add in catching up with friends from the Dead academic scene as well as hobnobbing with iconic scenesters like Carolyn "Mountain Girl" Garcia, Wavy Gravy, Trixie Garcia, Steve Marcus, Rhino Records president Mark Pinkus,  archivist Nicholas G. Meriwether, keeper of the vault David Lemieux, and even band member Bill Kreutzmann (who had his own panel about his own autobiography about to drop), and the astute among you may guess my attendance and participation in this conference felt like a once-in-a-lifetime event. And, needless to say, I highly anticipated reading David's book when it came out the next spring.
Of course, the impending 50th anniversary of the band would see no shortage of new tomes, special magazines, and ultimately the concert tributes that would become Fare Thee Well in June and July 2015. I didn't know what David's book would have to say about this already well-documented musical and sociological phenomenon, but once I read it, I knew he had delivered the goods: it was as solid and revealing as any Dead biography I'd read.
Fast-forward a few months: as part of Rolling Stone's coverage of the 50th anniversary and Fare Thee Well itself, on an otherwise uneventful afternoon I found myself on the horn with RS writer David Browne, who called to get my thoughts on the upcoming shows, the Dead's legacy, and all sorts of other topics over the course of what became a twenty-minute phone interview.
Somebody pinch me—was I giving an interview to Rolling Stone? Really? Not too shabby. I'm not exactly an insider, or even a primary fan of the band—at "only" fifty, I'm far too young. And yet, Rolling Stone called.
But then again, since 1985 I've put in my share of scholarship and devotion, both in the form of academic articles and my novel, and in an even more personal fashion through my co-ownership of a rock & roll retail shop called Loose Lucy's, which for the last 23 years has plied its trade nestled next door to a captive audience in the form of a massive state university. The store sells incense, tapestries, patches, stickers, and tie-dyed T-shirts—lots of T-shirts, in particular ones featuring Grateful Dead iconography. It's really cool every August to see a new crop of young people coming into the store and being either curious or amazed by our little scene.
But later came some disappointing news: the extensive coverage in Rolling Stone ("The Grateful Dead's Long Goodbye") got cut by a thousand words, and with it went my quotes in Browne's article.
Alas… but c'est la vie. The piece would have made a nice platform from which to get a little free promotion for both Loose Lucy's as well as the authorial career, but hey, not everything works out.
Redemption, however, would come later in 2015: in preparing the paperback edition of Browne's So Many Roads, he had composed an afterword designed to cover the events of the 50th year of the Dead, and in doing so utilized some of his cut material from the RS piece.
And so (insert drumroll), my little segment found its way into this material after all! In many ways my inclusion in this new edition of his book is even more of an honor, and gives my contribution a bit more of a lasting connotation than simply being mentioned in a more ephemeral magazine piece.
In any case, I'm thrilled anew to have a few thoughts included in the book, which as I said is one of the finest and most interesting Grateful Dead biographies I've read—and trust me, I've read them all. Fans of the band will do themselves a favor in getting this book—not so much for my minuscule contribution to its text, but rather the fine job David Browne did of researching and depicting the life, career, and cultural impact of these iconic American musicians. Great job, David! And thanks again for including me.
About dmac
James D. McCallister is a South Carolina author of novels, short stories, and creative nonfiction. His latest book, a story collection called The Year They Canceled Christmas, releases in November 2017.