MoHG Rising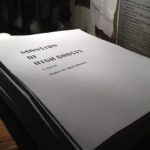 The news dropped today that my long-in-gestation literary novel MANSION OF HIGH GHOSTS, now out on submission, has made it through the initial reading at Pat Conroy's new fiction imprint Story River Press, though not selected for the first round of releases coming in 2014.
When is a rejection not a rejection? When you've made the cut, at least part of the way!
Apparently quite a few manuscripts (including another of mine) were rejected outright, so to have made the grade this far, and at my alma mater's venerable publishing arm, stands as a win. With any luck, we'll see this book eventually picked up, though at this point not before the second group of titles that begin coming out in Fall 2015. Sounds like a long way off, but that's the way it is in this business.
More concrete MoHG news as it develops, but knowing the piece is in contention for publication is certainly good enough for today.
About dmac
James D. McCallister is a South Carolina author of novels, short stories, and creative nonfiction. His latest book, a story collection called The Year They Canceled Christmas, releases in November 2017.