LET THE GLORY PASS AWAY Promo Art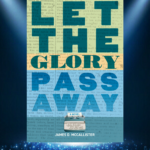 Here's a nifty poster that the PR team created for local use in promoting the upcoming release of Let the Glory Pass Away. I think this key art does a fine job of visualizing in an ironic and attractive way one of the novel's principal themes. Feel free to share it in your social media feeds!
About dmac
James D. McCallister is a South Carolina author of novels, short stories, and creative nonfiction. His latest book, a story collection called The Year They Canceled Christmas, releases in November 2017.