FELLOW TRAVELER Approaches Publication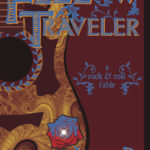 It's a wonderful time in this writer's life! My long-gestating novel Fellow Traveler is now on the fast track for an October 2012 release—the galleys are almost ready for my scrutiny, the cover is underway, and promotional events are being planned! There will be much more to say about this novel as its release nears, but for now, let it be said that to have this project come to fruition after such a lengthy time of development indeed feels like an accomplishment of which I may be justifiably proud. Only you, the readers, will be able to tell me how well I succeeded in crafting the narrative itself—however the material is eventually received, for now I sit in relief that the project is finally coming to publication. Much more to come on this!
About dmac
James D. McCallister is a South Carolina author of novels, short stories, and creative nonfiction. His latest book, a story collection called The Year They Canceled Christmas, releases in November 2017.