Edgewater County Map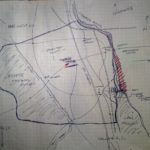 Here's something fun for Monday morning… a WIP sketch of the layout of my fictional Edgewater County, SC. Needs more detail and a couple of town names yet, but this is good enough for the moment. Looking forward to seeing this fully rendered.
NOTE: The action in DOGS OF PARSONS HOLLOW takes place in the upper right corner of the county, near where the railroad tracks cross the Sugeree (soo-ga-ree) River. Between Parsons Hollow and the river is the 'ridge' to which Randi Margrave moves in search of solace and healing, only to discover just down the hill from her new home a veritable house of horrors. This situation provides our protagonist with a new question: how far is she willing to go to save the dogs of Parsons Hollow?
About dmac
James D. McCallister is a South Carolina author of novels, short stories, and creative nonfiction. His latest book, a story collection called The Year They Canceled Christmas, releases in November 2017.