Edgewater County Confidential Returns!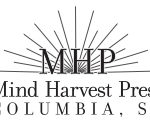 Some of you may have noticed that Edgewater County Confidential has been dark all summer. Inactive. It's been quiet around here—too quiet. 
It's all good. Two words to keep in mind (with props to Douglas Adams):
DON'T PANIC.
This hiatus allowed for more creative time on various book projects, as well as preparation for me to return to teaching, which has been quite fulfilling. (For Columbia, SC area aspiring writers, classes begin again in January—more on this in a subsequent post). 
The main project, of course, has been prepping for January's release of Let the Glory Pass Away, including a redesign and relaunch of the good old online author persona. While this work is ongoing, let this post serve as a peek-out, a greeting to new readers, or maybe only a "welcome back" to all my faithful followers of the site since 2012, when upon the publication of Fellow Traveler and my signing with an agent. That's when I finally got off my duff and stepped up the blogging game I'd been avoiding—back then, I had quite a few manuscripts to complete.
But here's the best news: like the approach of tall ships bearing treasure, bigger and cooler things are now visible on the horizon. Over the summer, it's been about much more than merely preparing LTGPA for publication: my team and I have formed our own imprint called Mind Harvest Press!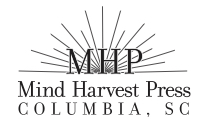 As longtime readers of the blog already know, the looming backlog of polished, character-driven manuscripts in my Edgewater County series of Neo-Southern Gothic novels is formidable: Besides the forthcoming LTGPA, other titles include Dogs of Parsons Hollow (literary suspense), Reconstruction of the Fables (1980s coming of age), the epic Dixiana series (my stab at a tragicomic, multi-book treatment of the fabled GAN), and Mansion of High Ghosts (heartfelt, shocking Southern family drama, also serving as a prequel to Dixiana).
But wait, there's more—in addition to the novels, a couple of story collections exist that will fill out the series, all of which is set firmly in my fictionalized South Carolina county. Many of the stories feature characters and situations that dovetail with the plots of the novels. I've worked with diligence to make sure it al hangs together. As James Baldwin once said, the goal of any writer should be to leave behind a nice little shelf of books, so that's what I have tried to do. It's my hope that committed and faithful readers will be duly surprised and delighted by the manner in which it all hangs together across a variety of voices and styles of storytelling.
For now, the push is on toward January 17, 2017, when LTGPA becomes officially available in both print and ebook editions. ARCs are going out to influential early readers and reviewers; the final cover design is under construction; and we'll soon unveil a sweet crowdfunding platform offering incentives and opportunities to explore bonus online content that supplements the published books. (Prior visitors to the old jamesdmccallister.com will likely recall the Fellow Traveler  bonus material.)
One thing's for sure—I couldn't have done any of this without the Mind Harvest Press team of Elizabeth Leverton, Marc Cardwell, and Catherine Schuler. Friends and scholars all, my heartfelt gratitude goes out to them, and to all of you. Happy reading!
About dmac
James D. McCallister is a South Carolina author of novels, short stories, and creative nonfiction. His latest book, a story collection called The Year They Canceled Christmas, releases in November 2017.