UPDATED: DOGS OF PARSONS HOLLOW Screenplay Progress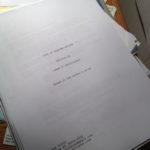 UPDATED 2/27/13 11:20am EST
All right! The first draft of DOGS OF PARSONS HOLLOW, the screenplay, is in the can. Thank goodness. At 131 pages I feel that it's too long, but a revision will sort out problems of pacing and length. In any case, it's a wonderful feeling to yet again realize a long-held goal and project.
Original post below. Now, it's back to the MIRIAM MULLINS revision… onward!
—
And… action!
As my literary thriller DOGS OF PARSONS HOLLOW was always planned (and ultimately executed) primarily as a commercial piece of entertainment, the notion of adapting the story for the screen has never been far from my mind. I knew that the plot, coupled with my collegiate background in filmmaking and scriptwriting, provided me many of the tools and thought processes to write an adaption of DOGS, and yet despite a detailed set of characters, situations, and most of all, emotions, for the longest time I just couldn't commit to a script.
Even after a couple of beta readers suggested that it could make a strong screenplay, I could never quite get around to the project—there are always more novels to write, and those take up so much spirit, intellect, and time that the idea for a DOGS script languished only as a few dusty notecards comprising the scene breakdown. Or at least that was my excuse. (Fortunately, though, there's a lot of other work to show for ignoring this project for so long.)
Once I signed last November with my agent Michelle L. Johnson, however, and the process of shopping the MS to publishers began, I found myself reminded of all the potential the narrative has not only to become a conversation-starter in the book world, but also of those beta-readers and their enthusiasm for a script: "I could really see this as a movie," more than one said.
In that moment, and with the typing of the words FADE IN, a new sense of urgency came over me, and a screenplay adaptation was born. Here's the first page and a half; it is what it is, a first draft that needs to get these characters on their way. Not terribly exciting, but hey, it's only an initial stab at this, and the only good writing is re-writing, yadda yadda and so on.
Apologies for the formatting—wordpress is being wonky for me today and won't allow the centering of the dialogue.
—
FADE IN:
EXT. HILL COUNTRY — DAY — ESTABLISHING
The rolling green countryside of CAROLINA HILL COUNTRY, bisected by a river and an interstate highway snaking off into the distance. Serene, lovely, a SUN-DAPPLED AFTERNOON.
Our attention is drawn to a year-2000 model WHITE ESCALADE exiting and taking a two-lane road. We continue into BACKWOODS COUNTRY — old mobile homes with rusted out JUNKERS in the yard, decrepit, sagging FARMHOUSES set back in the woods, old abandoned gas stations, etc.
As we PASS BY A HIGHWAY SIGN, with opposing arrows and distances:
TILLMAN FALLS 6
PARSONS HOLLOW 3
We HEAR the voices of VINCE ELLENSHAW and who we'll find are his clients: the MARGRAVES, CULLEN and RANDI:
CULLEN (O.S)
Vince — dude. How far off the freeway is this one?
Parsons Hollow is still in South Carolina, right?
VINCE (O.S.)
Brotherman, you've gotta take a chill pill. Prof —
you are not going to believe this place.
INT. ESCALADE – DAY (CONTINUOUS)
Cullen, in the passenger seat, a BOOKISH type—tweedy and bespectacled; Vince, the neck and broad body of a former linebacker, POURED into his dress shirt and coat. Behind them in the back seat, a shadowy FIGURE.
CULLEN
Sounds familiar. A broken record, in fact.
VINCE
Professor Margrave, you yourself said the last couple houses lost
out only because of the neighborhoods.
CULLEN
The vinyl villages, you mean?
Vince is HURT.
VINCE
Ouch — you're hitting me where I live, bro.
The SHAPE IN THE BACK AT LAST SPEAKS:
RANDI
Cullen —
CULLEN
(mocking)
Randi —
RANDI
(motherly)
Settle down. And I mean it.
ON RANDI'S HANDS
A pair of RAGGED CLAWS — fingertips nailbitten to the point of BLEEDING. Two hands GRIPPING ONE ANOTHER.
RANDI (CONT'D)
Vince is doing us a favor with all these trips. And he's right — from the photos online, this one looks downright . . . magisterial.
ON RANDI
Slumped behind Vince's BROAD SHOULDER, we finally SEE Mrs. Margrave: pinched, drawn, pale, stringy-haired, dressed in knockaround sweats.
VINCE (O.C.)
Ms. Brandi, I don't really know what that means, and all?
But you're right. It's got that something-something.
—
And so begins the first draft of the DOGS screenplay. Later today I'll be finishing up this initial stab at adapting the novel, and already I can tell how good it will feel to have finally realized this script, which has (luckily) all but written itself. To be updated after completing the draft
About dmac
James D. McCallister is a South Carolina author of novels, short stories, and creative nonfiction. His latest book, a story collection called The Year They Canceled Christmas, releases in November 2017.