DIXIANA Progress Report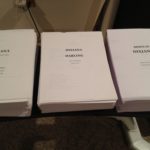 And it's an exciting one! On February 17 I completed a close line edit on what's known as the fifth draft of DIXIANA, or rather, the first of the three volumes. With an April 30 deadline looming for the completion of all three manuscripts, I find myself not only pleased with the work, but well ahead of schedule.
Now begins the markup of DOWN IN DIXIANA (this is a title swap with volume 3, which is now called DIXIANA DARLING). At a rate of 28 pages a day, the average so far on this edit, I should be done in three weeks, leaving ample time for book three. A creative voyage such as this is a game of numbers and discipline, and at this stage—the work is fairly complete already—I'm way ahead on points.
Perhaps too much so: these manuscripts clock in at 750, 600, and 650 pages, a half-million multiple POV words of seriocomic Southernisms, relationship drama, and existential crises. In the near term, I'm hoping to engage an external editor to assist in identifying passages to cut or compress. The work can always be shorter. Fresh eyes may see what the author cannot.
This spring and summer I'll be posting much more about this Southern literary novel series, the Edgewater County universe, the writing and editing process, as well as the form the DIXIANA saga takes in the world of publication, however it may manifest. More as developments warrant.
About dmac
James D. McCallister is a South Carolina author of novels, short stories, and creative nonfiction. His latest book, a story collection called The Year They Canceled Christmas, releases in November 2017.