DIXIANA Named Finalist in 2015 Faulkner-Wisdom Competition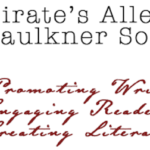 Almost two years to the day since finishing the first draft of the most challenging project of my writing career, it gives me no small amount of pleasure to announce that DIXIANA has emerged as a Finalist in the 2015 William Faulkner-William Wisdom Literary Competition!
May I add that this news came the day before my fiftieth birthday? And that I had hoped to get such good news in time to share with my critically ill mother, who is near death?
Yep. Wishes and dreams do come true.
While the first volume in my seriocomic Southern literary series didn't make the shortlist for the big prizes, landing as a finalist in this prestigious competition still feels like a major win. With plans afoot to get LET THE GLORY PASS AWAY (2013 Faulkner-Wisdom shortlist!) into publication shape for next spring, this exciting milestone feels like a step in the right direction for the Edgewater County books. My deepest and most sincere appreciation goes out to Rosemary James and the Pirate's Alley Faulkner Society for their consistent and encouraging support of my work.
So, here's to DIXIANA and to the future of my writing career! Not a bad birthday present.
About dmac
James D. McCallister is a South Carolina author of novels, short stories, and creative nonfiction. His latest book, a story collection called The Year They Canceled Christmas, releases in November 2017.