DIXIANA Logline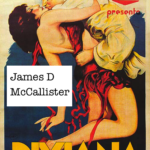 While a close edit of my Southern literary epic DIXIANA is ongoing, the end is in sight, and discussions are beginning with outside candidates to continue the editorial process after the author's composition period ends on April 30. My thoughts at this time are also turning toward notions of shopping or self-pubbing this literary project, so naturally support materials are also being prepared.
To this end, here's the latest attempt at a logline. Unwieldy like the manuscript itself, it's a good summation of the central driving 'A' story at the heart of this multilayered, 'Altman movie' of a narrative.
Cuckolded 'fruitshake' millionaire Roy Earl Pettus inherits his granddaddy's legendary honkytonk The Dixiana, an unwelcome complication in a troubled but financially successful life. Back home in rural Edgewater County, SC, this prodigal son must not only navigate the heartbreak of a failed marriage and resolve an existential crisis precipitated by his personal success, but will ultimately decide to use his brand of ruthless entrepreneurial wizardry to remake the sleepy town of Tillman Falls in what he sees as his own modern, exceptionally American image.
I'm pleased with this—for today. Pound for pound, it's as succinct a summation as I've managed. Not sure if it constitutes much of a wow-factor elevator pitch, but if nothing else this describes in detail the central storyline providing the narrative archetype, thematic spine, and quite a bit of the emotional heart of the three DIXIANA volumes. Good enough for now.
And speaking of now, back to the edit!
About dmac
James D. McCallister is a South Carolina author of novels, short stories, and creative nonfiction. His latest book, a story collection called The Year They Canceled Christmas, releases in November 2017.