DIXIANA Artwork!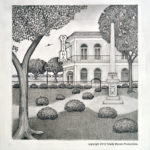 We're still a long, long way from seeing the DIXIANA novel series in print. In fact, the world will read LET THE GLORY PASS AWAY and RECONSTRUCTION OF THE FABLES (formerly KUNK) first.
But for now, how about a lovely teaser image?
It's too soon to know whether this will end up as cover artwork, or used in some other fashion. In any case, seeing this image that feels pulled from my imagination remains quite a thrill. Many thanks to the artist, Patrick Mahoney.
A detailed post on the new book project, as well as my plans to bring the Edgewater County novels (and story collections) to publication, is in the works for just after the first of the year. Stay tuned!
About dmac
James D. McCallister is a South Carolina author of novels, short stories, and creative nonfiction. His latest book, a story collection called The Year They Canceled Christmas, releases in November 2017.