DECKLE EDGE Is On!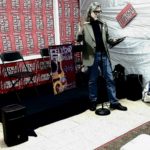 Here's a quick report about my two events yesterday at Columbia, SC's inaugural Deckle Edge Literary Festival!
First, I gave a workshop focused on the concept of world building, which I described from the standpoint of my own "Edgewater County" mini-universe, all the way to much more imaginative fare like Frank Herbert's Dune. While no photos of this event have come my way, I pulled a high quality audio recording that's now in the process of being edited into the first of what I hope will be a series of ECC podcasts regarding various literary and related topics. More on this aspect of the blog as it develops.
Later, I hosted a Grateful Dead listening session promoting good old Fellow Traveler. Now into its fourth year of publication life, such an event probably represents one of the last times this novel may receive this level of attention . . . but with Let the Glory Pass Away coming this fall, now we'll have a new title to promote and discuss here at ECC! So it's all good, y'all!
In the new week I'll have more to say about Deckle Edge, including a report about a panel I'm hosting tomorrow featuring literary luminaries Nikki Finney, Ed Madden, George Singleton, Bret Lott, and Jo Humphreys. Here they'll discuss their contributions to Hub City Press's fine new coffee table-style book Carolina Writers at Home.
In the meantime, stay tuned for more deets on all the cool Deckle Edge goings-on. As I've said before, it remains a terrific honor to have been included in this kickoff edition of a wonderful new book lover's tradition here in Columbia.
About dmac
James D. McCallister is a South Carolina author of novels, short stories, and creative nonfiction. His latest book, a story collection called The Year They Canceled Christmas, releases in November 2017.