DECKLE EDGE is Almost Here!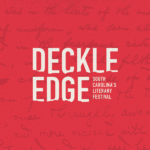 South Carolina's newest literary event is almost here—next weekend brings the debut of Deckle Edge!
Successor to the late, lamented SC Book Festival (its swan song came in 2015), book lovers, young readers, educators, and writers of all skill levels will find activities to stimulate their particular field of interest.
My own contribution comes in the form of a new workshop I'm offering called The Principle of Minimal Departure: World Building "Edgewater County," a ninety-minute, intensive look into the process of crafting believable fictional world platforms on which to spin tales, be they fanciful or closer to home.
That's certainly the case with my own minimal-departure universe of Edgewater County. Be'll also discuss more well known examples of interconnected and fully realized fictional universes, in particular Frank Herbert's influential and unusual DUNE series, as well as more recent works.
In addition, I've also been asked to host a Fellow Traveler-themed event, a music-listening session and discussion of the Grateful Dead experience that informed the creation of my novel.
Regardless of one's interest in my two sessions, local readers, writers, and supporters of the arts should make an effort to support this new festival—with strong public support, Deckle Edge will soon take its place as one of the Southeast's premiere literary events! Be a part of it!
About dmac
James D. McCallister is a South Carolina author of novels, short stories, and creative nonfiction. His latest book, a story collection called The Year They Canceled Christmas, releases in November 2017.