DECKLE EDGE 2017 is Coming!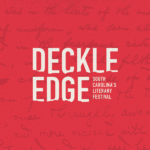 After a terrific inaugural showing in 2016, South Carolina's new book festival Deckle Edge returns February 24-26 in downtown Columbia!
Last year I was honored to be included in several events, including conducting a world-building workshop and moderating a panel featuring a number of writers whom I respect and admire. With warm memories of all that in mind, I'm eager and excited to report about this year's participation by your humble narrator:
Sunday, February 19, 8-10pm: a pre-festival event called An Evening with Columbia Authors at the Art Bar. Expect readings and other literary shenanigans.
Thursday, February 23, 9:30-11:30am: Self-Publishing with SELF-E, a panel discussion at the SC State Library about distributing your indie publication to libraries. Not an official DE event, but scheduled to coincide with the festival. I'll be talking about my indie publishing journey with Let the Glory Pass Away.
Friday, February 24, 11:30am-12:45pm: Techniques of Tenacity, a workshop I'm conducting (also at the SC State Library) that's designed to get you on the road to writing discipline. $30 admission fee. Tickets are available here.
Sunday, February 26, 3:00-5:00pm: Local Author Showcase at Richland County Public Library (main branch on Assembly Street.) I'll be part of a whole gaggle of local authors hawking a wide variety of indie-published titles.
Remember, Deckle Edge is still growing as an event, and needs your support and participation. Whatever you do that last weekend in February, don't miss this chance to mingle with our many unique writing voices here in SC!
About dmac
James D. McCallister is a South Carolina author of novels, short stories, and creative nonfiction. His latest book, a story collection called The Year They Canceled Christmas, releases in November 2017.