BLUE VELVET Interview in Free Times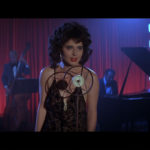 Having long made no secret of my affinity for all things David Lynch, last week I found myself interviewed by the local alt weekly for thoughts concerning 1980s cinema classic Blue Velvet, now enjoying special 30th anniversary screenings at our local arthouse, The Nickelodeon.  Thanks to fellow scribe David Travis Bland and the Free Times for including my remarks in the piece, and for bringing back fond memories of my college Media Arts days.
Two Locals Discuss the Cult-Classic David Lynch Film Blue Velvet, Which Turns 30 This Year
Screenings at the Nickelodeon Theatre May 4 and 7
Blue Velvet turns 30 year, and Columbia's Nickelodeon Theatre is celebrating with a pair of screenings.
In 1986, local author James D. McCallister was a media arts student making short films and writing scripts. All roads were leading to his first encounter with Blue Velvet.
"I had no idea what to expect. I saw it on opening night in a long-demolished corporate shoebox cinema at the same multiplex where I worked off and on during college," he recalls. "The crowd was not into it — lots of hooting and jeering. Fellow scriptwriting students I saw it with thought it was absurd."
"As for me, by the end I was trembling with excitement," McCallister continues. "I thought it was one of the most compelling and transgressive films I'd ever seen. … It was hilarious, frightening, inscrutable. I couldn't wait to see it again, but I felt like an outlier."
About dmac
James D. McCallister is a South Carolina author of novels, short stories, and creative nonfiction. His latest book, a story collection called The Year They Canceled Christmas, releases in November 2017.