Archival Phish Review: Raleigh '99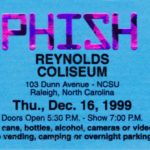 In honor of today's LivePhish archival release of the band's show from Reynolds Coliseum in Raleigh, NC on December 16, 1999, here's a partially tongue-in-cheek review I submitted to the original Phish reviews page, maintained in those days by my good friend and former University of South Carolina Newsfilm Library colleague Dan Schar.
At the time, I felt some Phish burnout, as I think the tone of this review attests. Having recently revisited this show, I can tell you that now, however, I think it's a terrific statement of the period for the band, but at the time I allowed the intensity and youthfulness of the scene to color my musical experience.
In any case, it was a blast tonight for me to revisit this quasi-amusing piece of anonymous internet writing from over a decade and a half ago. Thanks, Dan, for all you did to organize and make these reviews accessible back in the early days of the net, and to the folks at phish.net for maintaining this section of original fan reviews for posterity (even silly ones like mine—I don't really mean that snark about Raleigh, all anonymous internet schtick, but the opinions of the music itself are how I legitimately felt)!
Here's the review:
Date: Sun, 19 Dec 1999 09:57:20 -0500
From: [email protected] [NOTE: A fake email]
To: Daniel W. Schar
Subject: Raleigh Review
Raleigh 12-16-99
12/16/99 Reynolds Coliseum – Raleigh, NC
I: (1:18) Wilson > Chalkdust Torture, Lawn Boy, Limb by Limb, Horn, Get Back On The Train, Roggae, Heavy Things, Camel Walk, Possum
II: (1:14) Sand (23 Min), The Mango Song, Wading in the Velvet Sea > Jam > Tweezer (30 Min) > Runaway Jim
E: (0:09) Bittersweet Motel > Tweezer Reprise
Here's the lowdown on this show.  Attending were myself (Skutch to my friends, you all can call me something else), and my associates Chip and Ernie Douglas.  We made the drive from Columbia, SC, AKA "the Paris of the South", to Raleigh in just under 3 hours.
Raleigh is neither a great place to visit nor live, a bland combination of university wankers and tobacco merchants that makes for an offensive and annoying collection of crackers.  This bunch wouldn't know the words "sophisticated" or "cosmopolitan" if they were printed on every pack of Marlboros.  Why phish chose this place to play is beyond me, except for perhaps the chance to drop a kind of lame show on the world before jetting off to Hampton to rip it up for the weekend (or did they?)
The venue itself is perhaps the oldest basketball facility in the ACC, an 11,000 seat dinosaur with poor ventilation and a staff unprepared for big concerts.  It's a low building nestled among other such buildings, and was difficult to recognize as an arena from even as close as a block away. (It had to be pointed out to Ernie D. even as we were standing right in front of the sign that said Reynolds Coliseum.  Then again, Ernie is not the brightest star in the evening sky.)
We parked just outside campus at a shopping center to avoid traffic delays, and made the 10 minute walk in a relaxed manner, chortling at all the wide-eyed concert goers stuck in a line of traffic.  Parking was at a premium near the venue, and by the time we got down there (about 5pm) the main lot and parking deck seemed full.  There was a scene in full swing, but we avoided it and went straight to will call to pick up ducats.
The area around will call was swarming with desperate phans that had not gotten tix to this recently sold-out show.  I was offered all manner of things for my tickets, from fresh fruit to $75 dollars from a young lady whose friend "just had to get in".  I turned it all down, and felt lucky to get away from the mob with my dignity intact.
Here too were some yellow shirts giving out wrist bands that would allow access to the floor inside.  We all got one, as did quite a few others. As I found out later, though, many others would not get these precious bracelets of blue, and there would be much wailing and gnashing of teeth once concert-goers discovered that they would be denied access to the floor without this important item.  (More editorializing on this and other behavior later).
The Heat was in great abundance it seemed, though they weren't bothering anyone in the line.  I have heard that they were harsh in the lot.  Well, what does one expect from these knuckle-dragging rednecks?  A bouquet of flowers, perchance?  Not likely.  These aren't the most sensitive and enlightened folk in this part of the country, after all, so why should the cops show kindness or tolerance?  Once particularly offensive member of NC's finest remarked, "If I caught any of my kids at something like this, I'd KILL them."  I thought to myself, with a father like you, they'd probably be better off dead.
As usual, entrance to the venue was delayed well beyond the 5:30 opening time, and the GA mob was growing larger and more restless.  Nothing like letting things get to a fever pitch before opening the doors.  Using a combination of charm and mind manipulation, the Douglas brothers and I made ourselves a spot near the front of the line, and were soon being funneled into the show.  Inside was a strange place, tiny lobby areas, little hallways that snaked this way and that, weird restroom placement, and so on. Thankfully I was not on anything too awfully heavy, as I can see how it would be uncool to be on some kind of head trip when jammed into these little passageways.
On the floor, we made our way to the sweet spot and joined some FOB cats on their blanket.  We signed onto to the team and became for the rest of the evening, the FOB Mafia.  No one would enter our territory uninvited, and from those that would try, we would exact a terrible price.  (Don't worry, the bodies will be found one day when the arena is razed.)
As show time approached, passed, and then approached again, it became apparent that the floor would remain pretty empty.  This was good and bad, as it made the notion of the FOB team getting busted all the more possible. I was concerned about this, as I assumed the section tapes would suck, in this decrepit, low ceiling, venue.  (They do.)  It never happened, though, and I wondered if sometimes they let the FOB folks roll because they know that nothing good will come out of the section.  In any case, I didn't see any other tapers down there, so we may have the only "good" tape of this show.  No grovels please.
Around the two entrances to the floor, a growing mob seemed to get more frenzied each time I ventured out. Many people were somewhat late getting in due to traffic, and many of these folks knew nothing of the wristband scheme.  They were clamoring to get on the floor, even early on when there were plenty of good seats left on the sides.  One young fellow implored me to "give me your wrist band, man," after I went past the security checkpoint.  What is the big deal, really? There's an undercurrent of spoiled brat behavior at these shows that is symptomatic of society at large, and it's quite annoying.  It seems as though an entire generation of people has been raised without ever having been denied anything, and when they are, it as though the fabric of their very being has been ripped asunder.  I say just make the best of such situations and calm down.   It's a tiny venue, how many "bad" places are there?
Another such incident happened after the show as we were getting our shit squared away. A sweaty young tourhead brushed past me, and upon seeing my bottle of water, demanded that I give him a drink.  Now, normally I would be fine with this, but at this time of year, there's just too much flu going
around.  At this point I had managed to not share germs with anyone through water sharing, pipe-smoking, or deep kissing, and I didn't want to risk it with this fellow.  Hell, I wanted that water for the trip back to the car.  Anyway, I considered his request, then decided no.  I told him so, and when I did, his indignation bloomed like the First Rose of Spring.
"Why man?  Huh, why?" he demanded, and I simply said that I'd rather not.He stood his ground though, and finally I said, "well shit man, just take it."  He did, and walked off without even a thank you.  Brat.
On to the show.  Band came out (finally) and opened up with Wilson, which I had had a premonition of in the lobby earlier.  I also foresaw Harpua, but I was oh-so wrong about that one.  Wilson was a little shaky at times, but then went right into Chalkdust, which was pretty good.  I was happy to see Lawn Boy next, even though I have seen this one quite a few times in my phish career (20+ shows since spring '94).  Nothing spectacular here, just page's lounge act.  Limb By Limb would prove to be about my favorite part of the show. This is one of my favorite of the newer songs (well not so new now, but you know what I mean), and I though this version was solid.  Horn followed, and was a sweet surprise. GBOTT is another cool tune, and at this point I was grooving.  Roggae to follow was a bit of a letdown, although I think it was pretty well-played for a non-jam tune. Heavy Things I like very much, and was happy to get it, even though I figured that we would since it is in such heavy (tee hee) rotation right now.  Camel Walk, the evening's biggest surprise, followed, and gets points for rarity, but didn't exactly take off like a rocket.  Possum was an energetic set closer, and was solidly played.
At the break I wandered around, and was left with a profound feeling of "eh" as I thought about the set.  Nothing really wrong with it per se, but not all that exciting.  I didn't feel a great vibe in the room.  Maybe it was just me.  I talked to a few kids who thought that it had been "great", but I remained unconvinced.
Second set opened up with Sand.  For 23 minutes.  Now, normally I want some tune to be jammed out as long as possible, but I found this to be somewhat bland.  I kind of like the song though.
Next, I got a charge as they started Mango.  I haven't seen this one since my second show back in '94, and I was pumped.  Alas, this version would be referred to as the Mangled Song, as it was utterly botched.  Trey seemed to really struggle with this one both musically and lyrically, and at one point I swear that all four members of the band were in different places.  I have since heard comments that this too was "great", but people, listen to it. A major disappointment, and should have been the set highlight for me.
After this we get a passable Velvet Sea, although this seemed to me a poor choice energy-wise.  Tweezer starts up next, and I realize that we're going to get one of those 4 or 5 song sets.  Tweezer I thought was pretty good, nothing too exciting, and includes a big bliss jam that sounded more like the build up in Slave than Tweezer.  This was good, and got the crowd excited. After this there seemed to be a little bit of meandering as a decision was made, and then Trey started Jim.  This song selection left me cold (although I was physically far from it, as the heat by now in the venue was stifling.) I would say that Jim was adequately played, but nothing spectacular.
Encores?  When they start Bittersweet Motel, I was greatly let down. Nothing wrong with this tune, but as an encore?  Nah man.  I sensed the Tweeprise would be next, and I was all ready to get out at that point. And then it was over.
I got a great veggie burrito on the way out.  Within minutes we were back on the road to Columbia, and I drove silently, sort of annoyed that I hadn't gotten a really good show, only a mostly-ok one.  Of all that I have seen, it was my least favorite Phish show.  It seemed light years from my peak experiences (Halloween '96 and Hampton '97).  One wonders if the much talked about "break" after next summer is needed even sooner.
Hope everyone has a great time at NYE.
About dmac
James D. McCallister is a South Carolina author of novels, short stories, and creative nonfiction. His latest book, a story collection called The Year They Canceled Christmas, releases in November 2017.