Another Fine FELLOW TRAVELER Review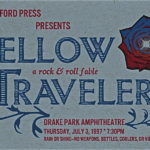 The gratifying journey of Fellow Traveler continues this morning with another positive review, this one from jambands.com, courtesy journalist Brian Robbins.
Here's an excerpt:
Some books are murder mysteries; Fellow Traveler is a life mystery. Newly-divorced-and-somewhat-adrift Ashton Tobias "Z" Zemp is trying to make some sense of the life (and recent death) of his best friend – and discovers some questions and answers about his own life in the process… 
Vets of the road will nod with appreciation at scenes from tour; those who have never experienced it can get a realistic taste; and Brian Godbold becomes an unnervingly real study of how the thin line between passion and obsession becomes blurred to the point of disappearing.
Read the full review here. Thanks, Brian, and thanks to jambands.com.
About dmac
James D. McCallister is a South Carolina author of novels, short stories, and creative nonfiction. His latest book, a story collection called The Year They Canceled Christmas, releases in November 2017.