A Wonderful FELLOW TRAVELER Review!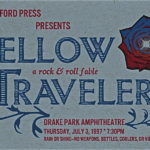 One of the most complimentary reviews yet for Fellow Traveler comes from longtime Deadhead author, musician, Grateful Dead Hour and Tales from the Golden Road radio host David Gans, posted tonight on his blog.
A choice pull quote begins the review:
"Fellow Traveler is as worthy a document of the latter-day Grateful Dead experience as any I've read, fictional or historical." 
And that's only the beginning. Full text here. Thank you so much, David, for these kind words!
About dmac
James D. McCallister is a South Carolina author of novels, short stories, and creative nonfiction. His latest book, a story collection called The Year They Canceled Christmas, releases in November 2017.